Controversial crypto stablecoin Tether continues at full speed ahead as recent data shows its daily transactions are the highest they have ever been.
A recent Reddit post shows Tether reached 208,107 daily transactions on May 25th, 2020, which equated to $1.2 billion in value.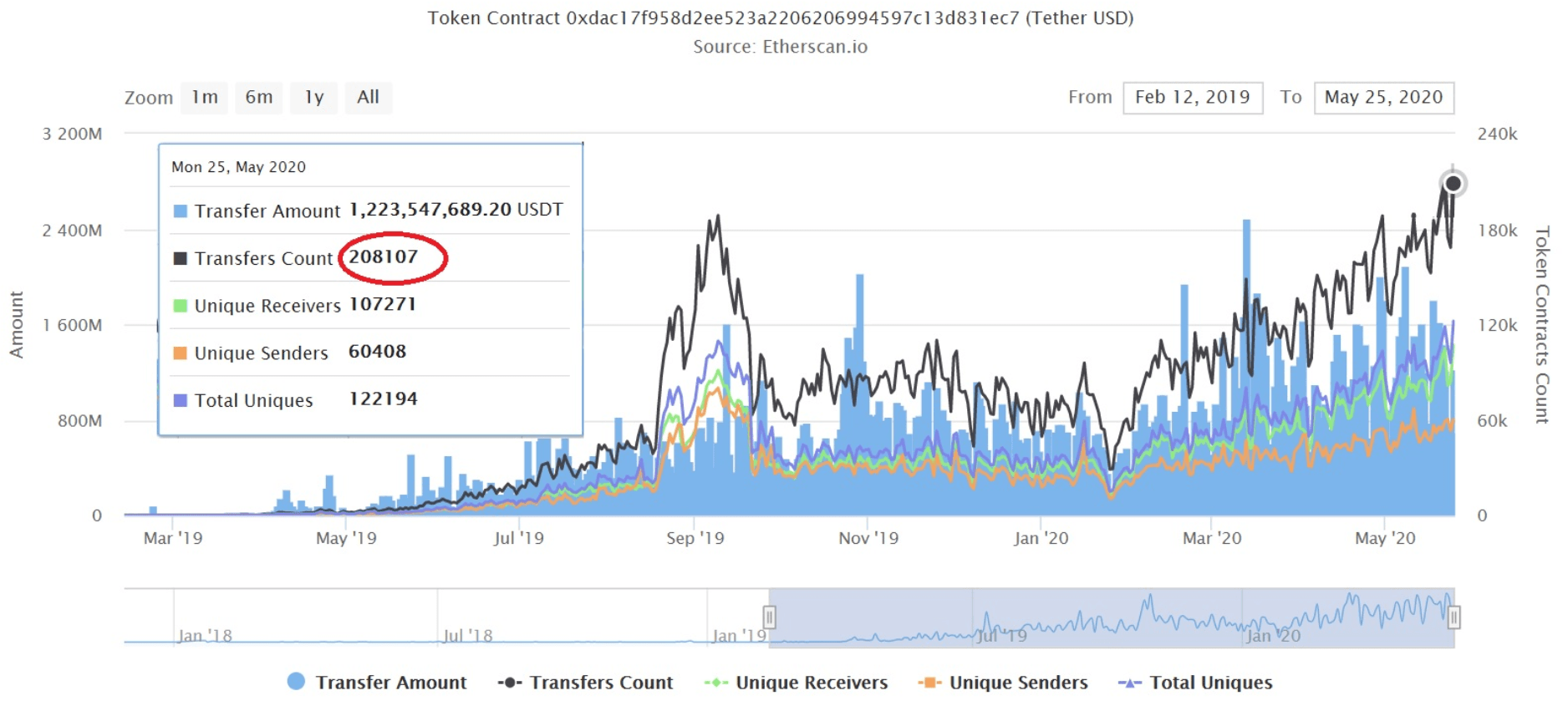 What's more, daily transactions have been in an ascending channel, following a dip in February 2020, as characterized by higher lows since then. And having broken previous resistance set in September 2019, of around 190k daily transactions, it looks set to continue on this path.
However, at present there's still an overhanging court case being heard at the New York Supreme Court. Prosecutors allege that Tether Limited, in conjunction with its sister company, crypto exchange Bitfinex colluded to mint and issue as much as $900 million in unbacked funds.
But despite that, as well as vocal and blunt criticisms from prominent figures within the crypto community, Tether continues to go from strength to strength.
Constant Criticisms of Tether are not Going Away
According to Tether's own whitepaper, Tether crypto tokens are 1:1 backed with fiat currency, which, in this case is the USD.
"In order to maintain accountability and to ensure stability in exchange price, we propose a method to maintain a one ­to ­one reserve ratio between a cryptocurrency token, called tethers, and its associated real ­world asset, fiat currency."
In fact, the entire basis for crypto stablecoins is supposed to center around equivalence, as the pegged commodities are redeemable on demand.
But with Tether's successful stay with the New York Supreme Court, in which they won a motion to avoid handing over documents relevant to the running of the operation, as well its guarded accounting practices, accusations that the firm does not hold matching USD reserves will not go away.
With that, noted analyst, Peter Brandt recently likened Tether to a "Nigerian Trinket," saying even a short term holding of the controversial stablecoin flys in the face of common sense.
Brandt then went on to dispel rumors that holding Tether will shake the IRS in its pursuit of tax dodgers, as well as calling into question the legitimacy of the entire Tether/Bitfinex corporate set up.
Tether. Now that is an interesting story. Holding tether is about as safe as holding the Nigerian Trinket. I think people are fools for holding wealth — even overnight — in tether. It is a joke when ppl condemn USD as fiat, yet hold tether.

— Peter Brandt (@PeterLBrandt) April 29, 2020
Tether Becomes Third Largest Crypto by Market Cap
All the same, in spite of this, the market can't seem to get enough Tether. Just last week, USDT rose the CoinMarketCap rankings to flip XRP as the third-largest by market cap.
It was the second time, in as many months, that this happened. Currently, Tether's market cap exceeds that of XRP by some $200 million, meaning XRP has every chance of retaking third in the near future.
However, yesterday's record daily transfer count shows that Tether demand is not dying down at any time soon, which could be problematic considering some say its existence is detrimental to the crypto space.
@Joe_Saz claimed that Tether shenanigans have already interfered with Bitcoin's natural price discovery, in effect holding BTC back from cracking resistance at the $10k level.
Ok so 10k was the top. We won't break it until a bottomis in and it'll take months to establish that due to massive price discovery mutilation caused by inorganic market elements like tether

— Joe Saz (@Joe_Saz) May 23, 2020
Taking all of this into account, the question then becomes, why is USDT much more popular than its next nearest rival, Coinbase's USDC?