Stellar (XLM) has seen some notable underperformance of Bitcoin and the aggregated crypto market throughout 2019 and even 2020, largely being caught within an extended bout of sideways trading.
Analysts are now noting that the crypto just broke above an important technical level that it has been caught beneath for many years, with the movement past this level being a notable development that could mean major upside is imminent.
Other traders are taking note of Stellar's growing technical strength, as some are explaining that it could now target an upside movement as large as 50% in the days and weeks ahead.
Stellar Just Posted a Notable Breakout as Crypto Market Grows Bullish 
The entire crypto market has been building greater strength throughout the past several weeks, primarily being led higher by Bitcoin's notable climb from its mid-March lows of $3,800.
Stellar is one such crypto that has seen some notable upside during the course of this recent uptrend, although it has been lagging slightly behind BTC and many of its other peers.
It now appears that its technical strength is beginning to reach a boiling point, however, as it was just able to break above its Kumo cloud.
This marks the first break of this level that the cryptocurrency has seen since 2018, with this being a notable technical development that could mean it is about to see a parabolic uptrend.
Crypto analyst Josh Olszewicz spoke about this breakout in a recent tweet, saying:
"2D XLM (USD) first kumo breakout since 2018."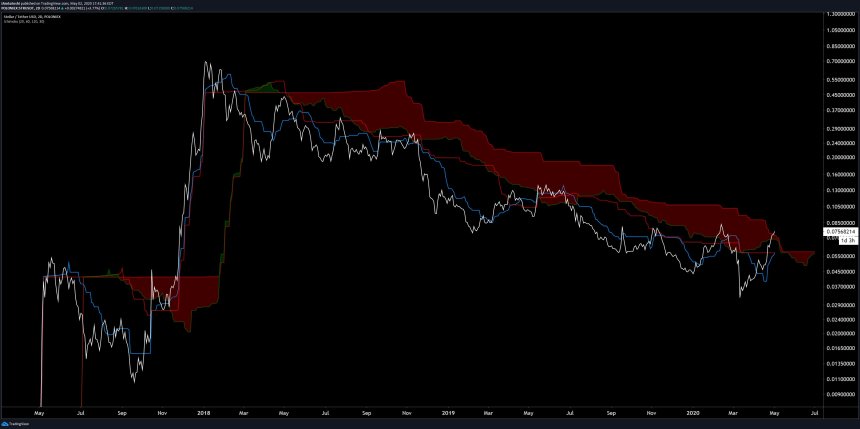 This isn't the only positive technical factor currently playing to XLM's favor, as analysts have also been pointing to the crypto's overt strength seen against its BTC trading pair as a reason for why it may climb higher in the near term.
"Not many charts looking as good as XLM vs BTC right now," another analyst noted.
XLM Could Rally 50% Due to This Strength
As for how high this technical strength could lead the crypto, one popular trader is explaining that he is now targeting a 50% upside movement in the days and weeks ahead.
His reasoning behind this is that XLM has been caught within a year-long accumulation pattern, with the potential resolution to this pattern being enough to catapult it higher.
"XLM Accumulation. Has been trading sideways for almost a year. Once this breaks to the upside, this thing will run fast and hard. First target is +50% away from the range high," he said.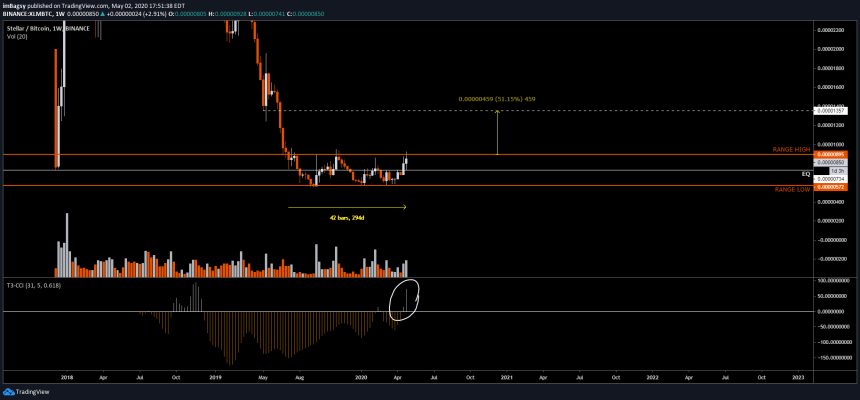 How the crypto trends in the days ahead should offer significant insight into its mid-term trend, and it is a strong possibility that Bitcoin's reaction to its current resistance will have heavy influence over that of Stellar.
Featured image from Unplash.