Since the beginning of 2015, Bitcoin startups have begun to abandon bitcoins due to their highly volatile price. In January this year, Bitcoin mining company CoinTerra was sued for over $5 million as it failed to pay its bills when the price of bitcoins dropped. Bitcoin firm Digital CC terminated its mining services, as it was losing cash in the operations.
Therefore, it is necessary to know how the mining companies are performing now, given that the price of Bitcoin is almost twice what it was at the start of the year. NewsBTC.com talked to three prominent companies in this field—F2Pool, BTCC, and Slush's Pool—and here is what they had to say.
F2Pool
"Right now, we have ~15% more connection[s] . . . than a few months before. The recent hash rate rise is mostly attributed to the availability of [a] new generation of miners. For most users, one connection is one mining machine."
We took the liberty to ask  an F2Pool if they expected the price rise to sustain going forward, and we were not disappointed:
"I expect the price to rise in the next 6 months."
BTCC
BTCC's chief executive officer Bobby Lee was very confident that we'd witness a strong pick-up in Bitcoin mining activity with Bitcoin's recent rally.
"Bitcoin mining is more exciting again now that Bitcoin prices have essentially doubled since earlier this year. I expect more mining activity and increased investments in mining in the coming months. The recent increase in Bitcoin prices means mining hardware is much more profitable for miners, as the latest generation ASICs were designed when Bitcoin prices were much lower.
In turn, this will lead to more people being interested in buying mining equipment. Mining activity will also increase because people are trying to squeeze out the last few months of the high reward of 25 bitcoins per block before the block halving that is scheduled to happen next June."
Bobby Lee is strongly bullish on bitcoins in the long-term:
"Generally, I expect Bitcoin prices to go up over the coming years and decades, so I am very bullish on Bitcoin price appreciation."
Slush's Pool
Miners are profiting as the Bitcoin price buoys above $400 US. However, Slush's Pool predicts that it may attract strong competition among mining pools.
"Current price increase is improving the profitability of miners and the mining activity is definitely rising significantly in the last few weeks."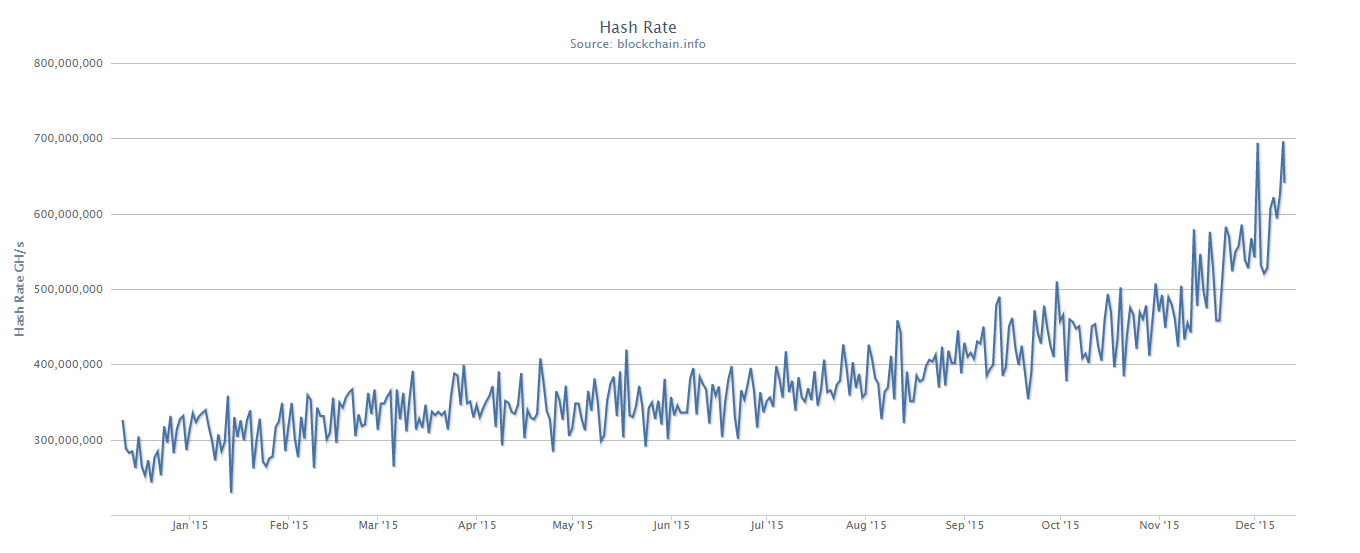 Image
Slush's Pool clarified that things won't be easier for miners going ahead with the advent of new and powerful machines in the industry.
"However, since there are new and more powerful devices coming to the market right now, we expect the hash rate and consequently the difficulty of the network to rise in the next few months.
Bitcoin mining has moved from the hobby to serious investment business, and we expect [a] few more big players controlling significant hash rate[s] coming to the market. Therefore, we have developed special monitoring tools and special services for them, and we are ready to welcome them on the board of our pool."
Slush's Pool further added that the halving of the block reward may further contribute to the increase in the price of Bitcoin.
The three leading companies are very optimistic (and confident) about the Bitcoin mining industry, with relief coming from the higher valuations of the cryptocurrency. All remain very bullish from a medium-term to long-term perspective, citing halving of the block reward as a major reason.