The past few weeks have brought a positive twist in the flow of events within the cryptocurrency market, especially for Uniswap. Lots of the crypto assets are gaining more value in their prices. This overturns after the severe crypto winter that puts lots of protocol at the edge.
Most witnessed drastic price drops up to 50% since January 2022. The last chaos in the crypto space was better imagined than described.
Additionally, the collapse of the algorithmic Terra stablecoin and its native token, LUNA, spiked the downward trend. Several investors lost millions of dollars, creating tension in the entire crypto industry. Some crypto service companies were thrown off balance as they struggled to be their ship afloat.
However, a few of them still went bankrupt with most of their depositors' funds locked on their platforms. Some participants in the industry are beginning to lose confidence in digital assets as fear, uncertainty, and doubt gradually crept in.
All seems to be going progressively well for Uniswap, as its native token, UNI, increases its price value. The strength of its price increase has put Uniswap in ranking by market cap among the top 15 cryptocurrencies.
In addition, the Ethereum-based decentralized protocol has experienced a significant surge in value, reaching 150% over the past seven weeks.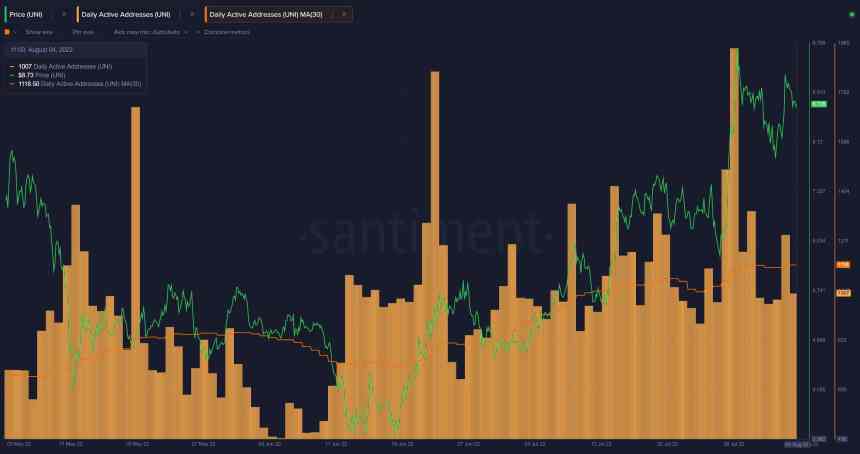 According to data from Santiment, an on-chain analytics firm, there has been an increased and substantial whale accumulation of the UNI tokens. This explains its recent price rally as well as the surging address activity.
Santiment reported that the Uniswap daily active addresses have risen to over 1,100. With the presence of strong address activity on the network, the protocol has the potential to sustain the current price action.
Uniswap Whale Addresses Push Positive Moves
Uniswap whale addresses have shown a positive move since the crypto crash of May 2022. The addresses have accumulated vast amounts of UNI tokens ranging in massive percentages. In their performance, whale addresses containing up to 100 thousand to 1 million UNI tokens have undergone massive accumulation within the past two weeks.
Also, Santiment noted that the level of transactions they deem to be prominent are those taking about $100,000 or more. It mentioned that such transactions are from the whales and moving back to those seen in May levels.
So, it stated that all the recent significant transactions from the whales are noticeable. This is because such moves accumulated just in the past week before the price climbed to $9.69.
Besides its price rally, Uniswap has increased its active average trader returns. It currently recorded over 22.5% in its 30-day MVRV.
According to the report from Santiment, the current value is clearly above the danger zone. Despite Uniswap's impressive price rally, Santiment has advised investors to tread with caution with the protocol.
Featured image from Pexels, charts from TradingView.com