Since the beginning of 2015, a growing number of financial establishments and banking groups have adopted the Bitcoin blockchain technology to create decentralized financial applications and platforms.
Multi-billion dollar banks have been conducting collaborative research and co-developing blockchain-based experimental applications to explore the potential and technical advantages of the distributed ledger technology in the finance sector.
Visa Europe, a membership association and cooperative of over 3,700 European banks and alternative payment services providers which operate Visa branded products further emphasized that 2015 has turned the blockchain technology into a vital technology which the industry cannot live without.
"It is no longer a choice anymore. Recent news speculating about the identity of its creator and the formalisation of virtual money as a commodity, just makes it more real than ever before," said the organization.
The blockchain technology and its decentralized and transparent nature has significant advantage over existing financial and remittance applications. It is secured by an unprecedented level of computing power generated by millions of miners in the network settling and clearing transactions.
Such feature of the blockchain technology enables anyone in the network to send payments instantaneously, with extremely low fees. Due to the Bitcoin blockchain network's low transaction fees, an increasing number of remittance startups have begun to offer bitcoin-based international payment services.
According to Visa Europe, traditional fintech and remittance startups including TransferWise have achieved billion dollar valuations and attracted prominent venture capital firms and angel investors into the industry. However, the organization predicts that the blockchain technology will disrupt the existing remittance industry with a more efficient and secure solution.
"The challenges for blockchain and bitcoin in the year ahead will be two-fold. Proponents will have to further address the lack of trust, a challenge they've faced since their creation. Then, the challenge of turning these technologies to tackle more real-world scenarios, such as sending money overseas," Visa Europe explained.
Today, remittance outlets settle around US$600 million a month on average. TransferWise for example, settle around US$700 million every month while saving over US$32 million in the process.
"Exceeding the £500m a month milestone is important as it shows a fundamental shift in people's awareness of how banks, brokers and others take advantage of customers by hiding the real cost of international transactions," explained TransferWise co-founder Taavet Hinrikus.
"We transfer tens of millions of customer money everyday and we have approximately two per cent UK market share of the international money transfer business. This figure is only going to grow as customers become fed up with the traditional banking sector and look for fairer alternatives like TransferWise," he continued.
While TransferWise has successfully developed a cheaper alternative to current banking solutions, its costs are still much higher than decentralized and peer to peer payment networks.
Over the next few years, VISA Europe and world's leading banking groups expect bitcoin to outperform existing remittance outlets and payment giants including Western Union and TransferWise.
In 2016, the daily transaction volume of bitcoin is expected to surpass Paypal and American credit card networks including Discover.
According to the data chart provided by Coinometrics, the transaction volume of Discover (PULSE network) and Paypal currently stands at around US$400 million.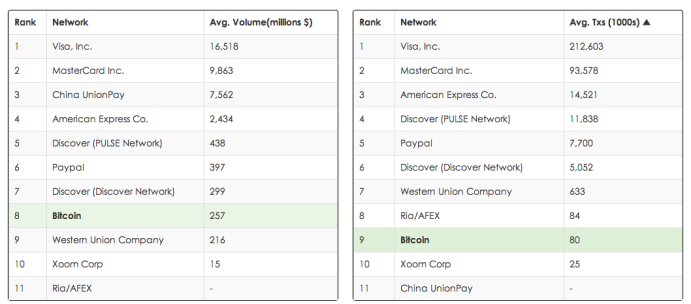 However, with bitcoin's rising trend and the growing interest from banks and financial establishments, bitcoin and financial experts predict bitcoin to surpass the volumes of prominent financial establishments soon.