Unlike traditional assets, Bitcoin (BTC) and other cryptocurrencies are predicated on decentralization, giving their users an opportunity to "be their own bank." While many have embraced this premise, there have been some that are wary, as a loss of a private key could result in a loss of thousands, if not millions of dollars.
In fact, one early crypto investor famously lost tens of thousands of BTC, now valued in the dozens of millions of dollars, on a computer hard drive that ended up in his local landfill. But fear not, that's where the Ledger Nano lineup, TREZOR devices, and other Bitcoin hardware wallets from industry startups come in, as they allow users to effectively fully mitigate the risk of over-the-Internet hacks. And NewsBTC is here to help you decipher which each device does, in a bid to give you, the reader, a chance to learn more about cryptocurrency security.
Here are some of the industry's best hardware wallets in no particular order.
Ledger Nano S
The Nano S is the world's foremost cryptocurrency storage device, created by French industry startup Ledger. This piece of Bitcoin-friendly hardware is so well-known that it was even featured in an episode of Showtime's "Billions" as a plot device. Simply put, the Nano S is the "certified benchmark of crypto security," having the most recognizable look — a USB-esque design, two physical buttons, a small screen, a streamlined appearance, and a small but functional screen. But what does the device actually do?
This hardware wallet is a device that allows consumers to take control of their private keys, by securing them in an offline, "cold" container on a single device, this being the Nano S. Ledger allows
The device, which comes in black, yellow, pink, green, blue, and transparent white, stores upwards of 1,100 cryptocurrencies, namely Bitcoin, Ethereum, Ripple's XRP, Litecoin, Monero. Effectively all assets in top 20, and all established Ethereum-based ERC-20 tokens are supported by the Nano S. Ledger, however, does have plans to add all crypto assets it can technically support over time.
The Nano S is secured through an onboard secure chip, which has stood up to harsh technical tests, disallowing hackers to either physically or electronically breach the private keys stored solely on the Nano. On the software side, the device is powered by BOLOS, a Ledger-developed operating system that further cements the security of a user's crypto holdings. Ledger's proprietary system has been certified by ANSSI, the French cybersecurity agency.
The easy-to-use wallet is best used in tandem with Ledger Live, the startup's desktop (and now mobile) application that allows users to view their account balances, sign transactions, and manage on-device applications. The Nano S can be used with services like the Monero core wallet, Electrum, and MyEtherWallet though, as some cryptocurrencies and blockchain functions aren't natively supported in the Live application.
Ledger's flagship product can be ordered for the crypto or fiat equivalent of approximately $60 U.S. dollars worldwide through Ledger's website (free shipping, duties not included), Amazon, and certain resellers. But, the device has sold for even less in flash deals and bundle packages.
Ledger Nano X
The reason why the Nano S is currently selling for a hot price is due to the launch of the Ledger Nano X — the spiritual successor to the Nano S.
Unlike its predecessor, the Nano X sports support for Bluetooth, thereby giving its users the opportunity to transact with Bitcoin and other digital assets on-the-go, all with your mobile device. While many have discussed the security flaws of Bluetooth, Ledger has affirmed that its wireless system will be just as secure, if not more secure than the Nano S, making this a logical upgrade.
Save for aforementioned feature, a larger screen, refreshed design, updated CC EAL5+ chip, and larger storage space, the Nano X is near-identical to the S in many respects.
While the Nano S is selling for bargain bin prices, the Nano X sells for $119, due to its newfangled features. Like its predecessors, it can be ordered through the official company website, Amazon, or other resellers.
NewsBTC will have a full review of the device in the coming weeks — stay tuned.
TREZOR One
Next up on the chopping block is TREZOR, or the TREZOR One and TREZOR Model T rather. TREZOR, or SatoshiLabs as the parent company is known, launched in 2014 as the world's first Bitcoin hardware wallet provider, first offering the TREZOR One device, which has remained the company's "gold standard" to this day.
The One device is a traditional hardware wallet, with a monochrome small screen, two buttons for verification and navigation, and a USB port for computer or mobile phone connectivity. It ensures that attackers cannot gain access to your cryptocurrencies, as it gives users the opportunity to store their holdings offline in cold storage, rather than an online hot wallet, like Blockchain.com or Coinbase.
TREZOR accomplished this security feat through a number of tried and true security measures: firmware verification, which ensures the OS used by the TREZOR is SatoshiLabs-approved; an "ultrasound hardware seal"; a write-protected bootloader, which prevents man-in-the-middle attacks, and protected key operations. All this limits the attack surface and ensures that TREZOR is operating on what it calls the "zero trust principle."
Much like competing devices, the TREZOR One, which ships in black and white variants, supports approximately 1,100 cryptocurrencies, including most assets in the top 20, like Bitcoin, Stellar Lumens, Tether, and Dash, and all ERC-20 tokens that have an established track record. The One does not, however, support the cold storage of XRP, Cardano, Monero, or Tezos at this time, presumably due to the aged architecture of the device.
One is best used with what is known as the "TREZOR Bridge," which is a communication tool for Windows, Mac OS, and Linux that connects the gap between your offline private keys on TREZOR and your Internet browser. Bridge is much like Ledger Live, in that it allows users to track their holdings and send and receive transactions, making it an all-in-one shop for TREZOR users.
The device can also be used with certain mobile wallets, namely Mycelium. Mycelium, a barebones wallet solution for Bitcoin, allows users to hook up the TREZOR Ones to Android devices, thereby creating an on-the-go hardware-secured account.
One sells for €69 ($77.5 U.S.) on TREZOR's website for Bitcoin or credit card, and for similar prices on Amazon and through resellers. It is comparatively slightly more expensive than the $60 Ledger Nano S, especially considering the lack of free international shipping.
TREZOR Model T
Just as there's a Ledger Nano X to the Ledger Nano S, there is a TREZOR Model T to the TREZOR One. The Model T is a refreshed take on the One, providing users with a larger, color screen, a bigger footprint, a faster USB-C connection option, and support for more cryptocurrencies than its predecessor. It supports XRP and Monero, for example, while the One does not.
What makes the Model T unique is that TREZOR has expanded its capabilities beyond cryptocurrencies and blockchain, giving users the ability to manage passwords, the SSH, GPG, and U2F protocols through the hardware, providing an additional value proposition.
Model T currently sells for €149 ($170 U.S.) on TREZOR's website for Bitcoin or credit card, and for similar prices on Amazon and through resellers.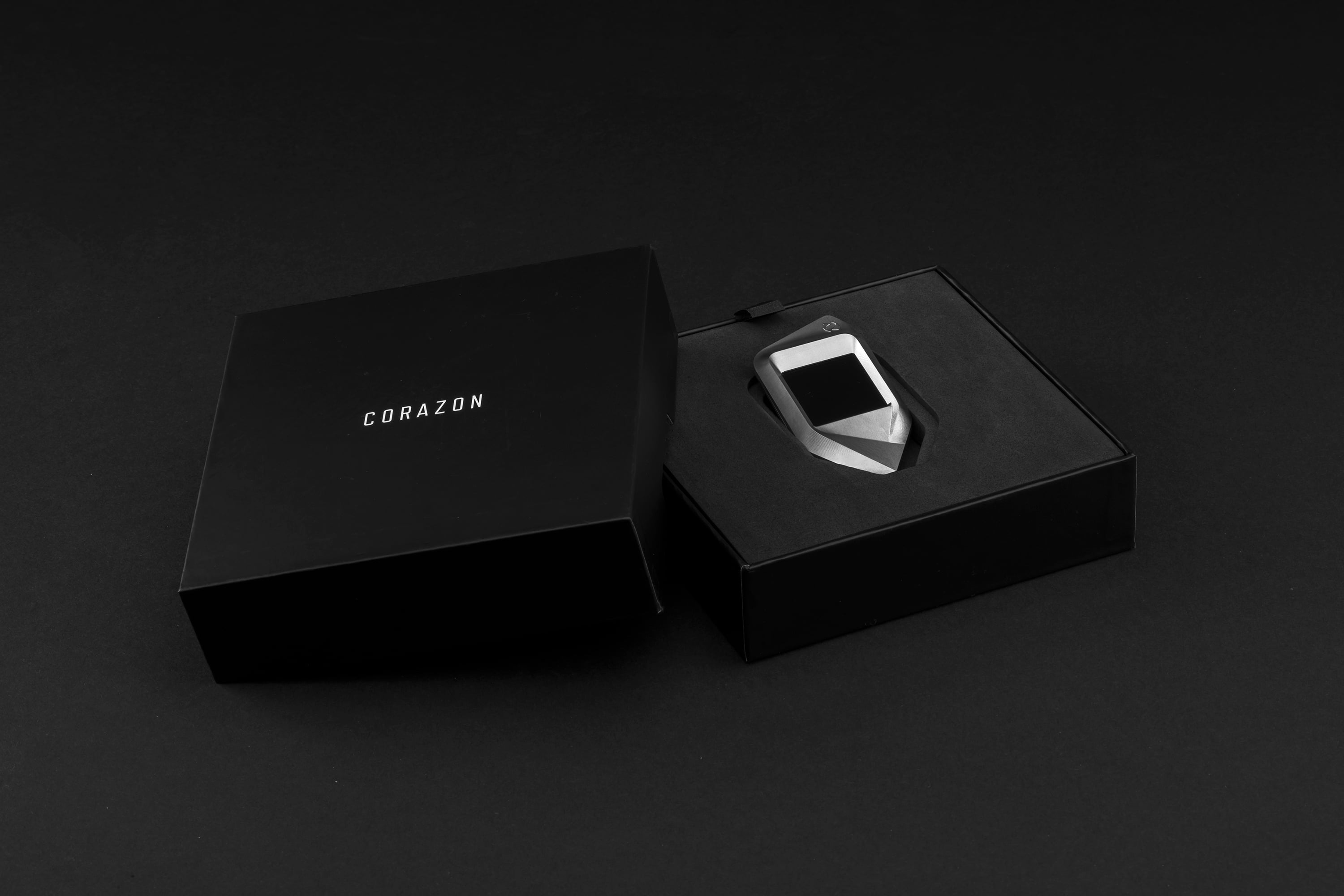 NewsBTC recently received a Corazon Titanium from GRAY, a Singapore-based hardware company. The Titanium is essentially a specced out Trezor Model T that includes a titanium body, nicer finish, and better unboxing experience.
After our review of the device, we can conclude that using the Model T is a great experience all around.
KeepKey
The KeepKey is a long-standing, Bitcoin-centric hardware wallet provider that is currently owned by ShapeShift, crypto pioneer Erik Voorhees' startup. The firm only offers a single device — the KeepKey, and it's rather simple but effective.
The Importance Of Crypto & Bitcoin Security
Featured Image from Shutterstock, Product Images Courtesy of Their Respective Companies