A dip below $7,000 has been on the cards for Bitcoin for some time now. What is surprising though is that the altcoins have been pummeled again with several high cap crypto asserts dropping as much as 8 percent overnight.
Bitcoin Back Below $7k
After almost three weeks of consolidation the big Bitcoin move finally arrived and, as expected, it was down again. Things went south in late US trading when BTC plunged from $7,100 to just above $6,800 in a 4% purge according to Tradingview.com.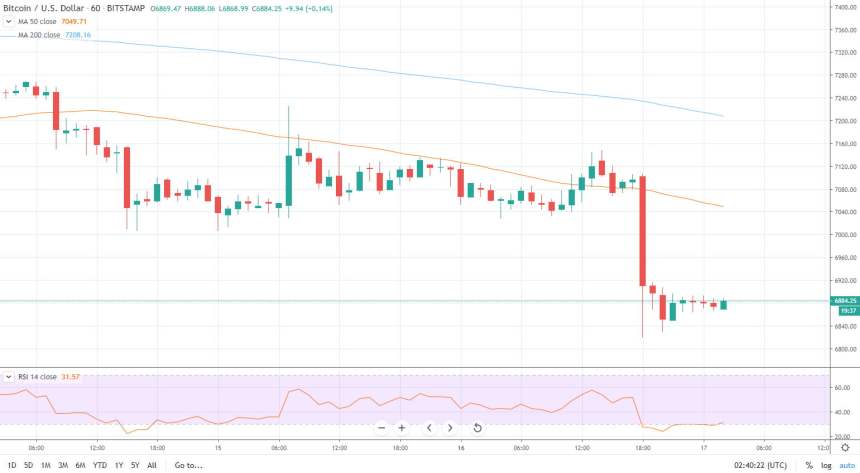 The crypto asset is trading back where it was during a brief dip at the end of last month. The difference this time is that there has been no bounce and it appears to have settled below $7k.
This could lead to further consolidation here or another drop down to support at $6,600. This would not be unexpected either as there have been more bearish predictions for BTC that those opposing the current trend.
The BTC fear and greed index is still buried in the twenties showing 'extreme fear', a sentiment that is unlikely to change for the rest of the year.
Bitcoin investor and analyst 'PlanB' has observed the increase in BTC dominance even with the latest purge.
https://twitter.com/100trillionUSD/status/1206653870862196736
This can only mean one thing – a lot more pain for the altcoins.
Crypto Avalanche
Over the past few hours around $7 billion has been dumped out of crypto markets and altcoins are feeling the pressure again.
The move has sent many of them barreling back towards their prices this time last year when 80-90 percent corrections were commonplace.
Ethereum has dumped 6% to a nine month low of $134. It is now not far off its yearly bottom and a long way from the 2019 top.
Crypto twitter tribalism and the further propagation of ETH FUD from rival blockchain supporters and Bitcoin maximalists have done it no favors either.
Ethereum is not the worst performing altcoin in the top ten though as Litecoin, EOS and Binance Coin have dumped 7-8% in the past few hours.
LTC is on the verge of dropping below $40 which is almost at crypto winter levels, and EOS is not far behind. More pain is going on further down the table with Stellar, Cardano, Cosmos, IOTA, Maker and Dash.
There is only one real survivor at the moment and that is Tezos which has actually gained over night adding over 3% to reach $1.70.
CMC is also posting some spurious market cap figures for something called MINDOL as it surges up the chart pumping 20% today according to the site.
Another crypto winter appears imminent for the altcoins at least as gains in 2019 become a distant and frozen memory.
Image from Shutterstock