XRP has been like a rocket ship ready for a moon mission, with crypto speculators predicting an immense rally against the dollar and Bitcoin.
But either XRP is refueling its jets before more upside or has just taken a detour back into a selloff, as the price of the number three cryptocurrency by market cap just plummed below 27 cents in a matter of minutes.
XRP to the Moon? It's Headed the Wrong Way
While crypto analysts have been calling for an explosive end to XRP's 680-day long bear trend, the cryptocurrency often referred to as Ripple, just collapsed in a terrifying crypto market flash crash.
Related Reading | Ethereum Nosedives to $250 in Massive Crypto Market Dump 
Across Bitcoin, Ethereum, and other altcoins, a rapid drop wiped out billions from the crypto market. XRP was also impacted, and the crypto asset fell by over 8% in an hour. The total fall from today's high is over 12%.
The drop took XRP from nearly 31 cents to as low as 27 cents in a flash. Just five hourly candles exist between the high and low, but most of it came during the last hour, dropping from over 29 cents to 27 cents in just minutes.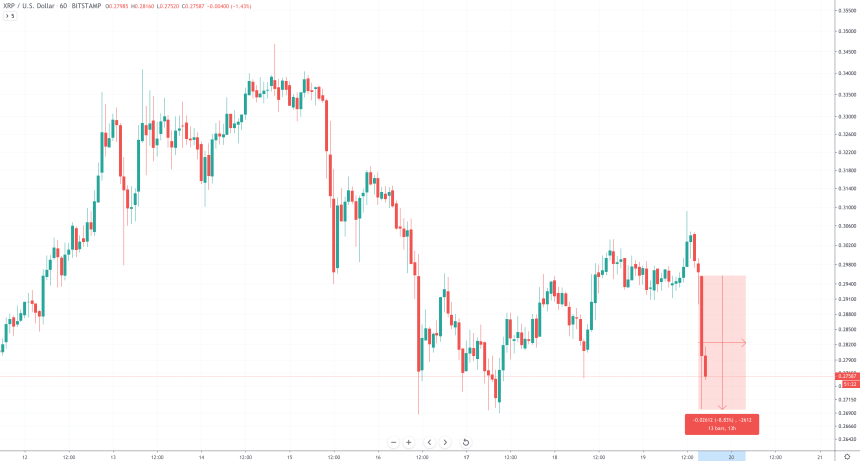 Support below 27 cents must hold, or the entire rally is in jeopardy of retracing. New lows may even be set, as a failure to set a new high could crush what little confidence Ripple investors have regained since the rally began.
Before the rally made up for some lost ground, XRP was among the crypto market's worst performers two years running and was among the few assets to set a new low in 2019 after a bear market low was set in 2018 by most other cryptocurrencies.
Will XRP Reach $14 Or Is the Rally Already Finished?
But all that poor performance can be undone in as fast as this crypto crash occurred. When XPR does finally explode out from the current low trading range, it is likely to see face-melting gains.
In the past, once Ripple broke out, XRP rose by 6,000% against the dollar and as much as 2,000% against Bitcoin.
If the same thing happens, XRP could rocket to as high as $14 per token during the next bull market.
Related Reading | Bitcoin Craters to $9,300, Liquidating $120 Million in BitMEX Longs
That's of course if bulls can continue to push the rally further to new highs, and prevent bears from pushing the price of cryptocurrencies like XRP back down to set new lows for 2020.