XRP, the cryptocurrency often referred to as Ripple, is the third-largest crypto, yet it was one of the year's worst performers in terms of the top ten cryptocurrencies by market cap. It not only closed the year at a loss but also set a new, fresh, bear market low during the course of the last year of price action.
This year, the losses look to continue right out of the gate, as XRP appears ready to break down from a two-week-long bear pennant, driving the price of the controversial crypto token even lower, potentially to levels not seen in years.
XRP Continues Bear Market Mayhem For Crypto Investors
According to one prominent crypto analyst, XRP has been trading within a bear pennant for the last two full weeks, and appears to have closed a 4H candle outside of the bottom support trendline, and is now confirming the trendline as support flipped resistance.
To be continued…$XRP pic.twitter.com/MVrzSfYQDA

— Livercoin (@livercoin) January 2, 2020
If the crypto asset confirms resistance at current prices, the asset is likely to fall even lower, potentially to levels as low as 13 cents per XRP token.
Related Reading | Analyst: Ripple Distribution Almost Complete, XRP Mark Down Could Follow 
Despite the bear pennant pattern leaning heavily bearish, it can indeed break bullish, so XRP bulls aren't fully in danger until former support is confirmed as resistance. Throughout 2019, XRP's price was driven lower by repeated occurrences of bear pennant chart patterns, however, one such instance the pattern broke upward, kicking off a short-lived rally.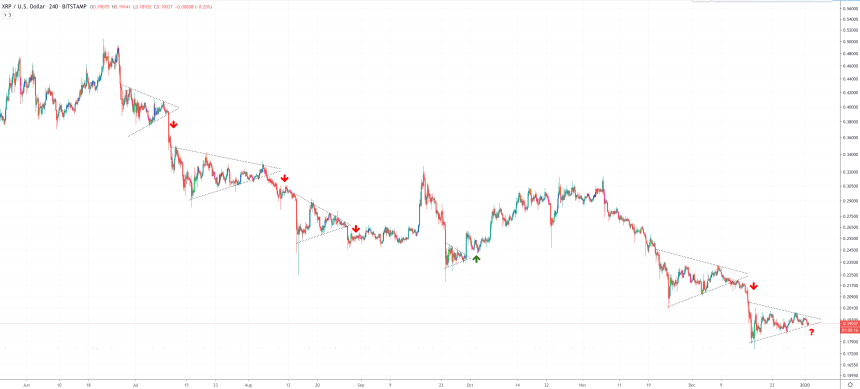 Ripple Ready For a Much Larger Drop Ahead?
If XRP cannot hold current levels, it is at risk of making a much larger drop to historic levels not traded at since before the crypto mania peaked in late 2017. Following the peak, the crypto bubble popped and assets like XRP have been falling ever since.
XRP/USD price charts on daily timeframes show very little support remaining at current levels, with a zone between 13 and 15 cents per XRP acting as the last line of defense before bears have a chance of pushing the third-largest cryptocurrency by market cap back to prices closer to a penny per XRP.
Below the last stand for bulls, the crypto asset could fall to two cents per XRP. Below that, investors would be looking at prices of a fraction of a penny.
Related Reading | Why Crypto Companies Must Go Bankrupt Before Next Bull Market Begins
While it's difficult to imagine an asset that just two years ago traded at nearly $4 per token to drop to just a fraction of a penny, but it was less than one year prior that the asset was trading at 0.004 cents. Considering the explosive, nearly 100,000% increase, suffering losses of as much as 99% shouldn't be too surprising, given the asset's classes notorious volatility.
Featured image from Shutterstock