Yearn Finance's governance token YFI plunged Wednesday as traders secured their short-term profits from its supersonic rally.
The YFI/USD exchange rate dropped 4.34 percent to $22,915 after forming a 47-day high near $25,000. The descent also came as a part of a downside correction that typically appears after every bullish move in an uptrend. YFI later found support near $20,000, reflecting traders' inclination to continue the bull run.
Yearn Finance Upgrade
A stronger buying demand for YFI surfaced after its parent protocol, Yearn Finance, implemented a new improvement proposal. As NewsBTC covered earlier, the YIP-54 upgrade has introduced a so-called "Operations Fund" to "buy back YFI or other assets at its discretion."
.@iearnfinance proposal to buyback $YFI has 99% approval!

In the past 4 months, Yearn vaults earned ~$3.4M in fees.

Part of this may now be used to conduct actual buybacks (not just burning supply) to reward contributors ?https://t.co/DbyLTRJADC

— Jason Choi (@mrjasonchoi) November 15, 2020
Traders believe that YIP-54 would further boost YFI's utility, with angel investor Jason Choi praising the proposal's intention to allocate the token to support hackathons, security audits, grants, bug bounties, as well as pay wages to Yearn Finance contributors.
"[YIP-54] is a better model than buy and burn," said angel investor Jason Choi. "It 1) introduces actual buy demand for token and ties [the] value of the platform to value of the token, and 2) creates skin in the game for contributors as part of op funds will be in native token now."
Another analyst commented:
"Instead of the old, complex model of anything over $500k+ going to stakers, now 50% of the protocol income goes to ops. Even more exciting, this allows Yearn-ops the ability to purchase YFI on the open market to give to devs/strategists!"
Fundamental Meets Strong Technicals
YFI is looking further bullish because of a supportive technical setup that aims to send the token back to $30,000.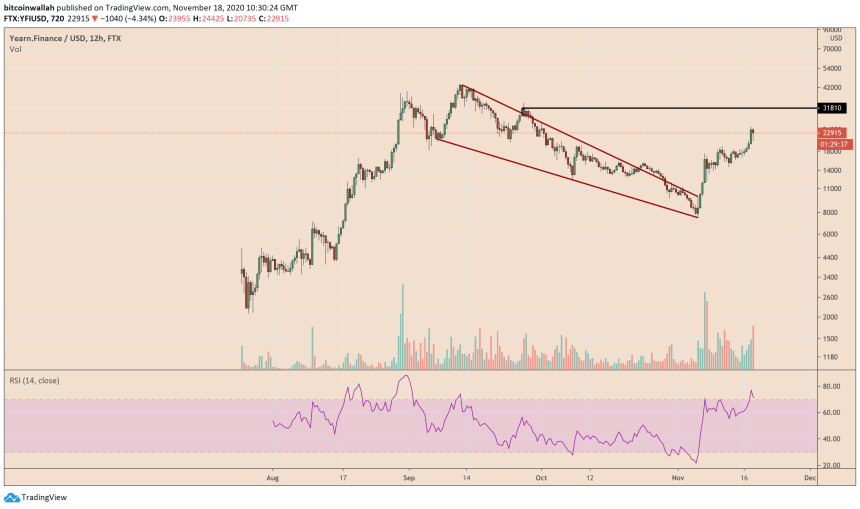 Yearn Finance is pursuing a Falling Wedge breakout. Source: YFIUSD on TradingView.com
As shown in the chart above, the YFI/USD exchange rate has broken out of a Falling Wedge range. The bullish reversal pattern appears when an asset's price trends lower between two converging trendlines. After reaching the structure's apex, the price breaks out to the upside, rising as far as the maximum distance between the two trendlines.
YFI fits almost all the criteria of a Falling Wedge pattern. It is on the cusp of hitting the structure's upside target, which is about $23,380 above from the point of breakout. That is near $30,000 (almost).
Conversely, failing to build a bullish momentum after the recent correction risks crashing YFI/USD back below $20,000.
At its all-time high, the Yearn Finance token was trading at $44,000.