Yearn Finance's governance token YFI surged Thursday as traders assessed its acceptance at MakerDao as a collateral asset.
The YFI/USD exchange rate ascended 6.62 percent to $27,193, a multi-week high that appeared as a part of an explosive bull run in which it has jumped close to 300 percent in two weeks. The pair peaked in September 2020 to $44,026 before undergoing a stupefying crash to $7,015, a bottom established in early November 2020.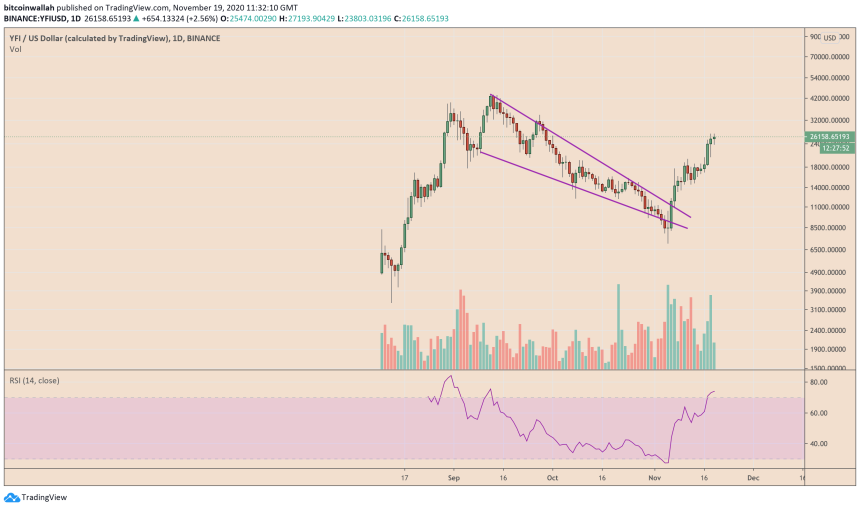 Yearn Finance logs a bullish reversal after crashing 78 percent. Source: YFIUSD on TradingView.com
This time, the YFI token could form a steady bull run, according to many independent analysts on Twitter. Their bullish bias came out of Yearn Finance's growth as a decentralized asset management platform, primarily after it started making beneficial updates to its protocol via democratic means.
Bullish Upgrades
The platform passed four key YIP proposals this week, a backronym for "Yield Improvement Proposal." Their effective integration into the Yearn Finance protocol enabled new fee structures, YFI-enabled reward distributions, quarterly financial audits, and operations funding.
The recent parade of $YFI yearn improvement protocols (YIPs) are highly underrated in terms of what they do for the future of @iearnfinance. I am extremely more bullish than I was when I first purchased $YFI. Why?

A thread:

— Matterhorn (@matterhorn_eth) November 15, 2020
The week also saw MakerDAO accepting YFI to open collateralized debt positions and mint stablecoin DAI. The Yearn Finance's weekly newsletter commented:
"The acceptance of YFI on MakerDAO's system is an important milestone for the Yearn ecosystem as it opens up the possibility that YFI can be used to mint DAI in upcoming v2 yVaults that utilize YFI as the base asset."
YFI's uptrend also coincided highly with the bull run in the Bitcoin market. The flagship cryptocurrency surged from $14,115 on November 5 to as high as $18,488 on November 18. But while BTC/USD was correcting lower in the previous 24 hours, YFI stayed upward.
A $30K YFI?
As covered earlier, the Yearn Finance token is en route to $30,000, according to a textbook bullish setup.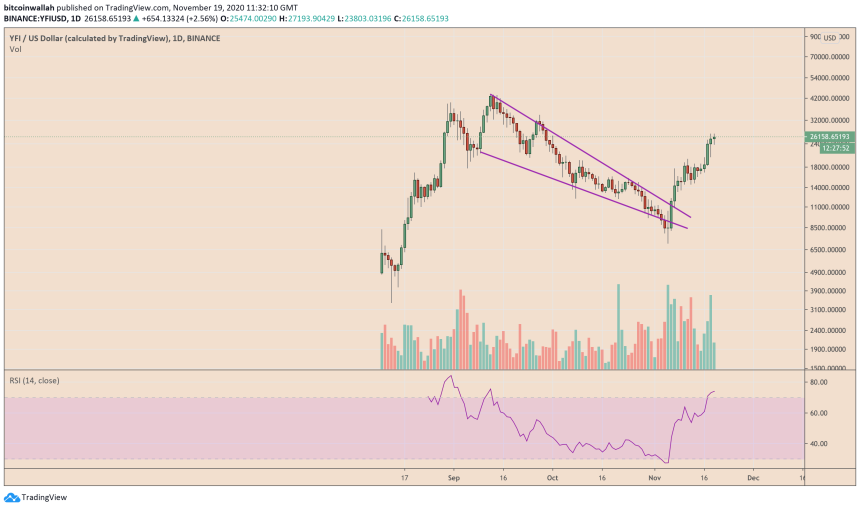 Yearn Finance Falling Wedge setup. Source: YFIUSD on TradingView.com
Dubbed as Falling Wedge, the structure points to a strong bullish reversal after an asset trades lower inside a pattern with two converging trendlines. After reaching the structure's apex, the price breaks out to the upside, rising as far as the two trendlines' maximum distance.
YFI is now going through the final stage, with a Wedge target sitting about $23,380 above the breakout point. That is near $30,000 (almost).
Conversely, failing to build a bullish momentum after the recent correction risks crashing YFI/USD back below $20,000.