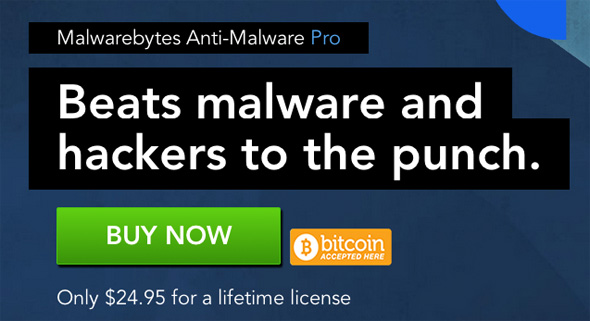 Perhaps it was bound to happen, but anti-malware software Malwarebytes is now accepting bitcoin for the purchasing of their 'Pro' version of the software.
The highly-praised program is used by great numbers from around the world for the removal of malevolent software from personal and business computers, and has been a go-to solution for many IT professionals.
Malwarebytes has partnered up with Coinbase in order to process the digital transactions, which effectively would allow them to immediately convert that bitcoin income into traditional fiat currency, if they choose.
"Embracing the latest technology has always been something which we have done at Malwarebytes. In fact, it is central to the creation and design of our whole product and is the reason why we are effective against cutting-edge malware," said Malwarebytes CEO Marcin Kleczynski. "Accepting Bitcoin is a natural extension of this ethos. Not only do we see it as a sustainable and secure payment method, we also believe that it provides our users with what they want, choice. We have always striven to provide the widest range of options for keeping people safe from malware, whether it's on mobile or using a free product, and accepting Bitcoin is another example of this."
What's notable here is that Malwarebytes is a relatively high-profile software, and we can't help but to wonder if this will start a trend in the anti-malware industry.