Description:
2019 ChainPlus Asia Blockchain M&E Industry Forum(Japan) which will take place 16-17th May in Tokyo which organized by The Blockchainer together with League of Blockchain Games.
Organizers:
Chain Plus is a blockchain brand summit led by The Blockchainer, a global multi-node super incubator. It has been successfully held in New York、 silicon valley、Berlin、Switzerland、Shanghai、 Seoul、 Tokyo and other cities. It focuses on blockchain finance, infrastructure, entertainment and other subdivisions. Resources based on multiple nodes in the world bring the latest and most cutting-edge information services and resource integration to the industry and promote the block chain industry developed with healthy and sustainable.
Event Hightlights:
Game + Content: In-depth Industry Analysis
First Asian Blockchain Conference on M&E Industries
Support from Authoritative Government Department and Media
1 Top Blockchain Game Hackathon
2 Entertainment Blocks: Games and Contents
40 Top Distinguished Guests Views Sharing
50 Exhibition Booths
100 Investors Deeply Involved. 30 Top Exhibition Booths
Proportion of Participates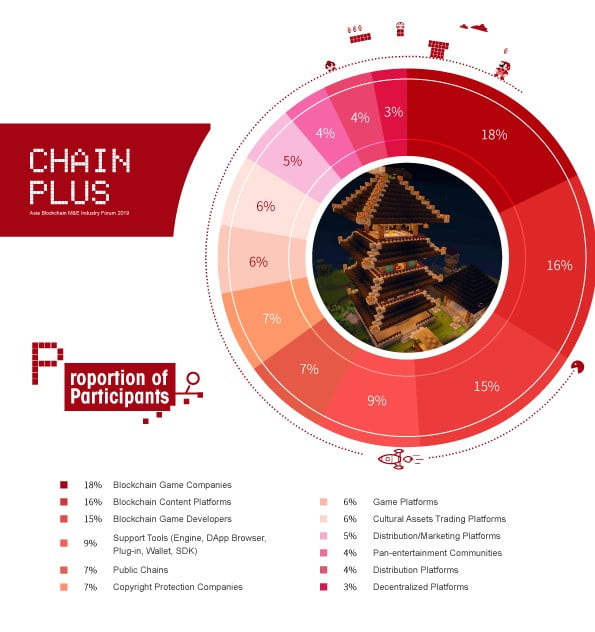 Previous Speakers:

Background:
In the next five years, the global entertainment industry will continue to expand with an average annual compound growth rate of 4.4%. The market growth rate of 26 countries and regions including China and Japan will be higher than the global GDP growth rate.
Under the Background of Upgraded Consumption, the awareness and willingness of new generation post-90s has been greatly enhanced. However, in the development of entertainment industry, there are still some urgent problems to be solved, such as the concentration of head resources, lack of transparency.
The emergence and rapid development of blockchain technology has provided new ideas and possibilities for solving the problems of global entertainment industry. With the development of blockchain technology, more and more industries are applying it to solve practical problems. The centralization and non-tampering of the blockchain has natural advantages in solving the problems of centralization in the entertainment industry.
Contact details:
Media & BD Cooperation
Rae Mao | Media Partnership Manager
Mobile: +86 15821816854 Wechat: rolanjona_
Email: [email protected] | [email protected]
Linkedin:www.linkedin.com/in/rae-mao
Telegram:@Raemao
Twitter: @Super_RaeMao