Tbitex is the newest major player in the crypto derivatives space. Being marketed as a trading platform that provides equal investment opportunities for all, Tbitex offers users a wide range of crypto trading services to help users to achieve financial success.
Core Advantages of Tbitex
What sets Tbitex apart from other crypto trading platforms is its unique features that provide optimal value-creation opportunities with great user-inspired design to create an overall exceptional user experience.
Separate Position Mode
Most futures trading products only support two positions for one currency. Typically, any new orders made hedging in the same direction will be automatically merged into either a long position or a short position. This means with cross positioning, it is impossible for users to manage each individual order independently.
Tbitex has developed a solution to this through an innovative feature known as 'Separate Position mode,' which allows users to separate orders hedging in the same direction.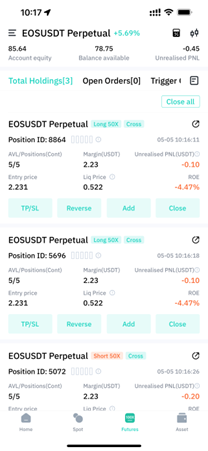 What are the Benefits of Using Separate Position Mode?
Tbitex is the first exchange in the world to offer a Separate Position mode. This feature enables users to open up to 10 independent positions on one asset and add closing positions for each of those orders (including limit order and market order).
For example, if a user places three orders for the BTC/USDT trading pair and one reaches the target price, they can choose to close that specific order and leave the two others running. Separate Position mode allows advanced traders to better adjust their trading strategies according to market movements whilst also helping beginners learn how to trade like a professional.
Trading Benefits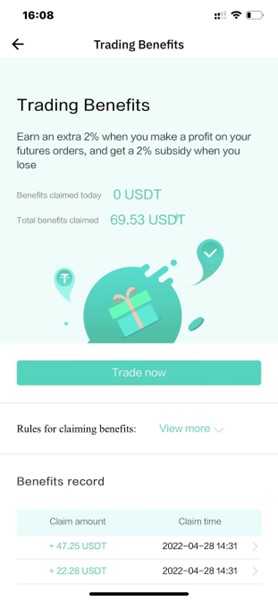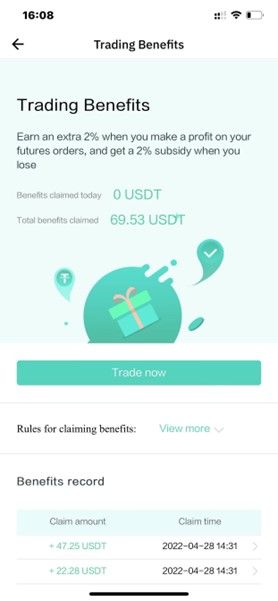 Tbitex features a Trading Benefits scheme that encourages users to trade by rewarding them in USDT. Through this program, users can earn up to 1,000 USDT, or 100 USDT per day based on their profits and losses.
How Does the Trading Benefits Program Work?
A. When an order results in a profit of more than 200 USDT and the profit rate is greater than 100%, the user will receive 2% of the net profit generated from that order as a bonus reward.
For example, if Bob closes a winning position and earns 500 USDT, he will receive an additional 10USDT bonus reward. The formula for determining rewards is:  500 USDT*2% = 10 USDT.
B. When a user suffers a loss exceeding 200 USDT, they will receive 2% of the margin for the order as a subsidy. For example, if Alice closes a losing position and loses 500 USDT, she will receive 10USDT as a subsidy, reducing the total loss to 490 USDT. The formula for determining subsidy is: 500 USDT*2% = 10 USDT.
Reverse Positioning
Tbitex has a Reverse Position function that allows users to reverse short or long positions when the market is trending unfavorably. The system will automatically close all holding positions at the best market price and open the same position amount in the opposite direction simultaneously to avoid mismatched pricing.
This feature is highly beneficial as it means users can avoid losses when the direction of a price trend has changed.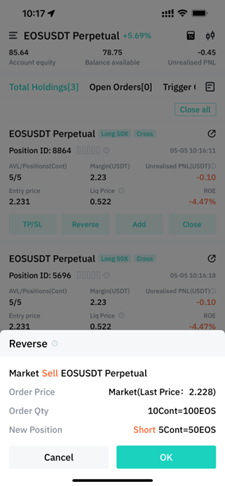 Full Compensation Program
Tbitex places the security and convenience of its users above all else. As an extension of this principle, the exchange offers a "Full Compensation program" that provides full compensation to users who experience abnormal loss due to extreme price spikes, slippage greater than 0.3%, network errors, or system downtime.
How to Apply for Full Compensation
Below are the steps to follow upon experiencing abnormal loss whilst using Tbitex.
Contact online customer support.
Submit a ticket.
Wait for the team review.
Once the team has verified the loss, the insurance fund will reimburse the assets.
Wait for the compensation fund to arrive in your account within 24 hours.
The Bottom Line
Tbitex is a reliable crypto trading platform with multiple innovative features that can help anyone to achieve their investment goals. For 2022, the platform is expected to list over 100 new coins and tokens, as well as doubling its trading volume. Currently, the company is in the process of upgrading its web UI/UX to offer a better trading experience to its users and implementing additional features such as copy trading and financial management.
Don't miss out on our $110 Welcome Bonus! CLAIM NOW.
Connect with us:
Telegram:https://t.me/tbitexglobal_english
Twitter:https://twitter.com/Tbitex_
FB:https://www.facebook.com/Tbitexofficial/
Medium:https://medium.com/@Tbitex
instagram:https://www.instagram.com/tbitex_official/
YouTube:https://www.youtube.com/c/tbitex
LinkedIn:https://www.linkedin.com/company/tbit-global/