SCPT could emerge as the top cryptocurrency investment opportunity at the beginning of 2023. The project has shown success during its new cryptocurrency presale, with exciting developments planned for the coming years.
In the Alpha round, over 8,807,936 tokens were sold, showing a continuous upward trend. People are paying substantial attention to this innovative project, causing a surge in buying activity.
With early presale success and groundbreaking developments set to launch in the years ahead, experts predict that Script Network will dominate the GameFi industry.
Script Network presale could be the best crypto to invest in now
This exciting watch-to-earn gamified live tv project draws a great deal of interest, prompting high buying pressure, and the numbers are growing.
There are five significant reasons why Script TV is one of the best cryptos to invest in now:
A unique watch-to-earn gamified live tv platform 24/7/365
A complete ecosystem for television and film on blockchain, the first to do so in web3
For the first time, claim, buy and get rewarded based on spontaneous releases of NFTs during shows/films being aired.
Multi-accessible network for content-based NFTs and projects to build and distribute through Script Network
Users can interact with each other, create content clubs, and yield further benefits from being part of groups.
SCPT could reach $5 in 2025
Investing in SCPT presents a rare opportunity to capitalize on a nascent cryptocurrency with tremendous growth potential. The presale event is expected to increase SCPT's value from $0.007 to $0.00974, with 70 percent of the token supply released for early bird investors.
Following the presale, SCPT will be listed on exchanges, offering viewers a game-changing experience with its deflationary tokenomics. This development is expected to attract many investors, potentially propelling SCPT's value skywards.
SCPT is projected to grow exponentially, reaching an impressive $1 in 2023. With such bullish predictions, SCPT emerges as one of the most promising cryptocurrencies. If the current trend continues, SCPT could reach a value of $5 by 2025.
What is Script Network?
Script Network is a live TV platform that uses gamification to reward users for watching and offers multiple web3 products. It aims to redefine advertising in the crypto industry. Users can watch live TV on various channels and earn rewards on and off the blockchain.
By empowering creators and enabling them to earn more from their work, they aim to revolutionize the entertainment industry. Content creators receive fair compensation for their work and control over their intellectual property in their ecosystem.
How does the SCPT work?
The Script. TV platform employs two tokens to manage its network: SCRIPT ($SCPT) for staking, governance and advertising, and SPAY ($SPAY) for rewards, transactions, and ScriptGLASS upgrades. SPAY is integral to all blockchain transactions, including payments for video streaming, smart contract interactions, NFT transaction fees, and more.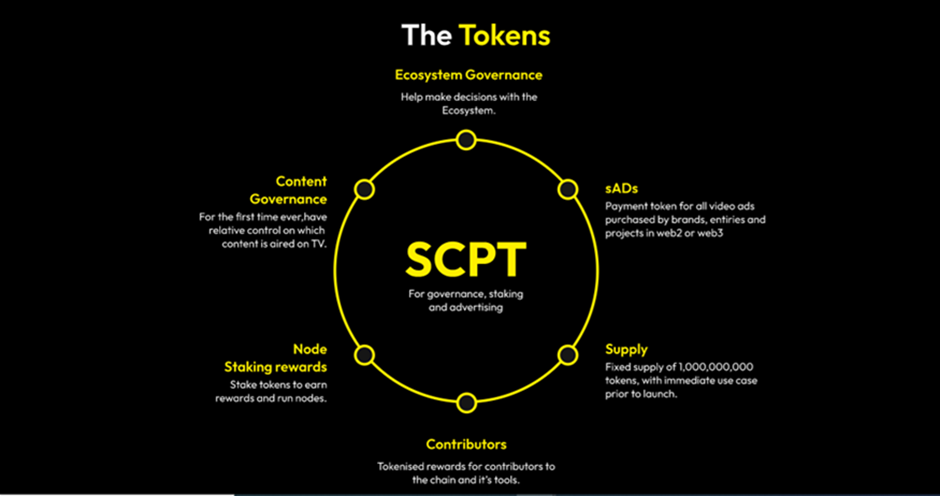 SCPT is a game changer
SCPT is a game changer in the entertainment industry, offering gameFi and socialFi elements that allow users to earn rewards while enjoying their favorite media content. This innovative initiative is driving the growth of blockchain technology, positioning SCPT as one of the most promising cryptocurrencies to invest in.
The Script Network is disrupting the entertainment industry by introducing a gamified ecosystem encompassing various media, including movies, TV shows, and games. By generating, curating, and sharing content, users can earn Script Tokens, contributing to the platform's growth and expansion.

With the global gamification market valued at $476 billion and projected to reach $676.6 billion by 2027, with a CAGR of 11.6%, Script Network has significant potential for growth. Moreover, with a target audience of over 4 billion people, the platform can reach a massive user base, making it an exciting investment opportunity.
Is the new cryptocurrency SCPT worth buying?
Investing in SCPT presents a rare and compelling opportunity, with the platform expected to experience explosive growth in the coming years. With prices unlikely to return to their current levels, the presale period represents a golden opportunity to join the party and reap the rewards.
Script TV Network is on track to reach over 100 million devices worldwide by Q2 2023, establishing it as a major player in the market. Based on predictions, SCPT is expected to soar to $1 in 2023, marking a 143-fold increase from its presale price, making it a top investment opportunity.
In summary, the SCPT cryptocurrency is a worthy investment option with enormous potential for growth in the entertainment industry. Its promising future and predicted value appreciation make it an exciting prospect for investors seeking high returns.
Reference:  https://presale.script.tv/
Disclaimer: This is a paid release. The statements, views and opinions expressed in this column are solely those of the content provider and do not necessarily represent those of NewsBTC. NewsBTC does not guarantee the accuracy or timeliness of information available in such content. Do your research and invest at your own risk.