Crypto tokens that are based on memes are known for their ability to attract a large number of investors quickly, leading to massive price surges. While Dogecoin is the most famous example of this trend, numerous other meme coins have emerged in recent years.
AiDoge is one of the latest meme coins that has generated a lot of excitement, not just for its hype, but also for its practical applications. That is why investors are eagerly participating in its presale, which has already raised over $5 million.
We explain what AiDoge is and why it is making so many headlines.
AiDoge is a New Kind of Meme Coin Platform
AiDoge provides users with an AI-powered meme generation experience tailored to the ever-changing crypto landscape. The platform includes an AI-driven meme generator, text-based prompts, and Ai tokens for credit purchases, making it a complete solution.
Using AiDoge, generating memes is easy, with users inputting text prompts that the AI algorithm converts into engaging, relevant memes. The platform ensures that creating memes is accessible to everyone.
Ai tokens are the primary currency utilized within the AiDoge platform, used for purchasing credits for generating memes. This guarantees the sustainability and continuous improvement of the platform.
AiDoge's voting system allows users to vote for memes, either up or down, impacting their position on the public wall. Memes with higher scores receive more visibility, encouraging users to generate high-quality content and engage with the platform.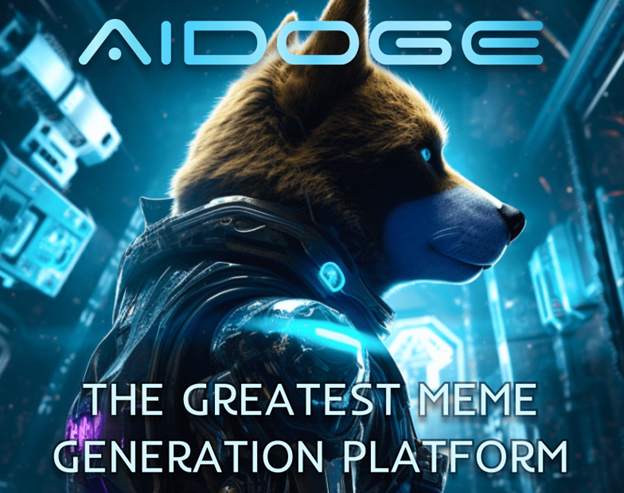 AiDoge offers an incentive program that rewards meme creators and voters with $Ai tokens for top-performing memes. Every month, the platform selects winning memes based on their scores, and their creators receive $Ai token rewards. This program motivates content creators to create engaging content and contribute to the growth and success of the AiDoge community.
When a user creates a meme, it is instantly added to the Public Wall, a virtual arena where users can distribute their memes to receive upvotes or downvotes. The memes with the highest scores on the Public Wall are rewarded with $Ai tokens, which introduces a unique GameFi mechanism known as meme-to-earn. This mechanism encourages engagement on the platform by challenging users to use AI technology creatively and think outside the box.
The GameFi mechanism has been extensively used in play-to-earn movements, which reward gamers for playing their favorite games, and move-to-earn initiatives that offer incentives for leading a healthy lifestyle. AiDoge is now combining meme culture with AI to create an innovative AI-powered meme reward platform. As the AiDoge community expands, the rewards for top creators on the platform will continue to grow.
The AiDoge Presale is Racking Up Huge Numbers
Amazing news, #AiDogeArmy! 🎉

We have raised over $5 Million in our #Presale! 🤯💰

🙏Thank you to our entire community, you guys are the best!

Get your $AI tokens today before stage 8 runs out! 😎
👉 https://t.co/5j5tt4smcs#MemeCoin #AiDoge $PEPE $SPONGE $JEFF $BEN $FLOKI pic.twitter.com/PSfG8sSPbh

— aidogecrypto (@aidogecrypto) May 10, 2023
The Ai token, based on the ERC-20 standard, boasts all the typical characteristics of tokens built on this standard, and it has a total supply of 1 trillion tokens. The AiDoge project is currently offering a presale, and during the first round, each Ai token is valued at $0.000028.
The presale will consist of 20 rounds, with 25 million tokens available for purchase in each round. Investors are advised to join early, as tokens are expected to sell out quickly. Payment options for the tokens include ETH, USDT (ERC 20), BNB, USDT (BEP20), and cards. The token is expected to be listed at a price of $0.0000336 in Q3 2023, with a hard cap of $14.9 million for the presale.
There isn't much more time for the current presale round, with about 4 days left before it ends. The project is certainly going to attract a lot more attention as more people catch wind of it and what it can do. The project will surely have more in store as well, which could greatly change how the meme coin niche operates.
Watch Out For AiDoge and What it Has to Offer
AiDoge is poised to transform the landscape of meme coins by incorporating innovative features onto the existing strengths of this genre. The project has drawn considerable attention, and those intrigued by its potential are encouraged to explore the ongoing presale as soon as possible.
Disclaimer: This is a paid release. The statements, views and opinions expressed in this column are solely those of the content provider and do not necessarily represent those of NewsBTC. NewsBTC does not guarantee the accuracy or timeliness of information available in such content. Do your research and invest at your own risk.