Since the inception of Bitcoin in 2009, thousands of altcoins have sprung up with unique features and use cases. While popular altcoins like Dogecoin and Shiba Inu have gained significant community attention, a new breed of cryptocurrencies are revolutionizing the industry. These are AI-based cryptocurrencies leveraging the power of artificial intelligence to provide efficiency and security. One such project at the forefront of the AI crypto movement is Avorak AI.
What Is AI Crypto?
AI Crypto refers to cryptocurrencies utilizing blockchain platforms and artificial intelligence to enhance security, scalability, user experience, and market prediction. Using AI algorithms, AI crypto chatbots offer personalized customer support and handle queries, reducing the need for human intervention. AI cryptocurrency offers innovative solutions that enhance the user experience and solve real-world problems by leveraging the power of blockchain and AI technology.
What Is Avorak AI?
Avorak AI is an AI crypto project offering a suite of one-stop-shop solutions, including trade bots, chatbots, and image generators powered by blockchain technology. Avorak AI focuses on providing AI solutions to real-world problems. Having undergone two audits, Avorak deploys first-to-market solutions. For example, Avorak Write improves on the current text generators' shortcomings of plagiarized and repetitive content. It uses a pure language-to-image process that autocorrects and edits text. In addition, Avorak AI's image generator uses a pure language-to-image process, allowing users to generate images with simple textual inputs.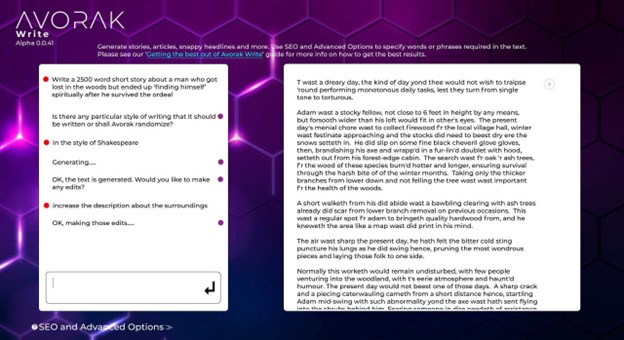 In phase five of ICO, Avorak has witnessed a 250% surge in value to $0.210.Investors are treated to a 6% bonus and price increases toward the launch as it gears up for a $1 rise and eventual Azbit listing.
Avorak AI's trade bot handles voluminous data, monitors markets 24/7, and can work in multiple exchanges across asset classes. For instance, Avorak's trading bots can work across exchanges and asset classes, making it easier for traders to manage their diversified portfolios. Avorak Trade strives for accurate price predictions based on correct market trends and signals.
Will Dogecoin Go Up?
Since its creation, Dogecoin has experienced dramatic price actions by rising fast and dropping rapidly. The Elon Musk factor has been the main driver of fluctuating prices. For instance, his Twitter logo replacement of the blue bird with a DOGE instantly impacted a price rally, but as is the characteristic of meme coins, it was down the following day. Such actions prompted some investors to head to court, suing Elon Musk. Dogecoin's potential for growth can be achieved through more DOGE use cases rather than just being a tipping coin. However, it's impossible to predict with certainty.it is worth considering that meme coins have no intrinsic value.
Is Shiba Inu Dead?
Shiba Inu is not dead and actively trading in various DEXs, despite its price volatility. Although Shiba Inu is a meme coin with no intrinsic value, developers are looking at introducing new use cases for the SHIB currency. Shiba Inu is a promising meme coin with more use cases lined up, with some stores are already accepting the coin, raising its growth momentum.
Conclusion
Whereas altcoins like Dogecoin and Shiba Inu have gained massive popularity, other cryptocurrencies are pushing the boundaries of what's possible in the industry. AI crypto like Avorak AI are leveraging the power of artificial intelligence and the transparency and security of blockchain technology.
Read more on Avorak AI and its ICO here:
Website: https://avorak.ai
Buy AVRK: https://invest.avorak.ai/register
Disclaimer: This is a paid release. The statements, views and opinions expressed in this column are solely those of the content provider and do not necessarily represent those of NewsBTC. NewsBTC does not guarantee the accuracy or timeliness of information available in such content. Do your research and invest at your own risk.