Ben Armstrong, also known as YouTuber BitBoy, seems to be good at staying in the news. His controversies range from screaming at a Bitcoin convention to constantly advertising scams on his YouTube account. Nonetheless, ben.eth made the decision to sell his $BEN token to the crypto personality a few months ago – and the project has since soared. PEPE coin, a rival meme coin, has seen exponential success in the last few months too. With a market cap of over $560M, PEPE coin has been rapidly climbing the ranks. Meanwhile, the new meme coin Caged Beasts (BEASTS) launches this year, hoping to rival the success of both these coins.
What is $BEN Token?
Created by ben.eth, this token has no apparent utility to date. A classic meme coin in every sense, it was created to pay homage to those named 'Ben.' The token had a challenging start, with Ben Armstrong promising not to sell his tokens for six months before immediately going against his word. However, the YouTube star has implied that Stake.com, a crypto gambling website, will sponsor $BEN token in the future.
The project has skyrocketed, breaking over $100M market cap and continuing to climb the ranks. The success of tokens like this proves just how influential social media is on the crypto climate, for better or for worse.
How Does PEPE Coin Compare?
$BEN token could be hot on the heels of this impressive cryptocurrency. With a market cap of over half a billion, almost reaching $2 billion at one point, PEPE coin has taken the crypto market by complete surprise. Based on the popular 2016 meme, PEPE coin quickly gained traction in 2023 and has since provided huge gains to early investors. Some keen enthusiasts have the coin pegged as the next Dogecoin (DOGE).
The developers have asserted that there is no intrinsic value to the coin and that it's for 'entertainment purposes' only. As a result, the PEPE coin website is filled with internet jokes, and the supply of tokens is 420,690,000,000,000. The anonymous developers have left no roadmap or formal team; instead, the coin is left to become whatever the community makes it.
Caged Beasts Takes Crypto Entertainment to New Heights
If you enjoy the artistic, entertainment side of cryptocurrencies, then this new meme coin will be for you. Unlike the other meme coins discussed here, Caged Beasts (BEASTS) has a defined roadmap. The project follows a series of caged animals fighting to break free from the confines of traditional banking. Rebelling against centralized banks, this coin tracks RABBIT 4001 as it injects the animals with mutagens at each presale stage. Eventually, the beasts will break free and choose to either liberate the world… or destroy it.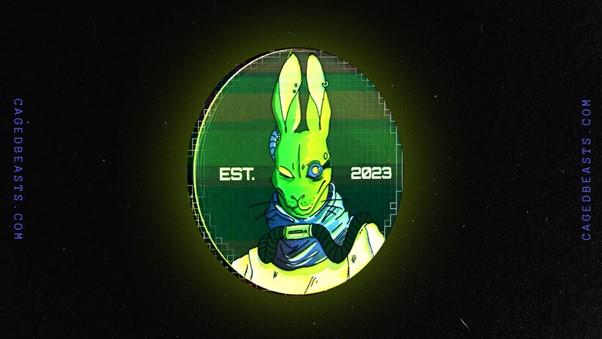 This project further differs from $BEN and $PEPE by offering a unique NFT collection alongside the token. Post-launch, Caged Beasts has pledged to donate to animal welfare charities and host community-driven initiatives. With the entertainment aspect of $BEN and $PEPE paired with the long-term durability of their roadmap, Caged Beasts has an exciting future ahead.
To get in early and start the race to freedom, sign up via their email list now – the presale stage 1 is coming soon, and it will offer the best ROI!
Caged Beasts
Website: https://cagedbeasts.com
Twitter: https://twitter.com/CAGED_BEASTS
Telegram: https://t.me/CAGEDBEASTS
Disclaimer: This is a paid release. The statements, views and opinions expressed in this column are solely those of the content provider and do not necessarily represent those of NewsBTC. NewsBTC does not guarantee the accuracy or timeliness of information available in such content. Do your research and invest at your own risk.