The rise of meme coins has been a hot topic in the world of cryptocurrency, and Big Eyes Coin (BIG) is a prominent player in this emerging market. With the presale phase coming to a close, the team behind BIG has recently announced their listing on BitGet, CoinEx, and BitForex, which has caused a stir in the crypto communities.
In this article, we will analyse and compare the potential positives of these listings and how they can contribute to the growth of BIG during the meme coin season.
Big Eyes Coin – The Future of Meme Coin Season
Big Eyes Coin (BIG) operates as a meme coin, which means that it is based on an internet meme or social media trend. However, unlike most meme coins, BIG has a real-world use case, which makes it unique in the meme coin world.
The coin aims to be a store of value for creators and artists, allowing them to monetise their content without the need for intermediaries or middlemen. With the rise of non-fungible tokens (NFTs), the demand for such a platform has never been higher, and BIG aims to fill this gap.
The Benefits of Listing on BitGet, CoinEx, and BitForex
Listing on major exchanges is a significant milestone for any cryptocurrency, and it comes with numerous benefits. The first and most obvious benefit is increased exposure. By listing on BitGet, CoinEx, and BitForex, Big Eyes Coin (BIG) can tap into a wider user base and expand its reach beyond its existing community. This can lead to increased liquidity, which is vital for any cryptocurrency to thrive.
Another benefit of listing on these exchanges is increased credibility. Exchanges like BitGet, CoinEx, and BitForex have a reputation to uphold, and they conduct rigorous due diligence before listing any cryptocurrency. By passing their vetting process, BIG gains credibility in the eyes of investors and traders, which can boost investor confidence and attract more investment.
Finally, listing on exchanges can also increase trading volumes. As more people buy and sell BIG, the trading volume increases, which can lead to a price increase. This is especially true for meme coins that have a strong community behind them. As the hype around BIG grows, more people are likely to buy in, which can lead to a surge in price.
The Potential Positives of Big Eyes Coin Listings
BitGet, CoinEx, and BitForex are major exchanges that attract a lot of traders and investors. The listing of Big Eyes Coin (BIG) on these exchanges can potentially lead to an increase in demand for the coin, resulting in a surge in price. This, in turn, can attract more investors, creating a positive feedback loop that can lead to sustained growth.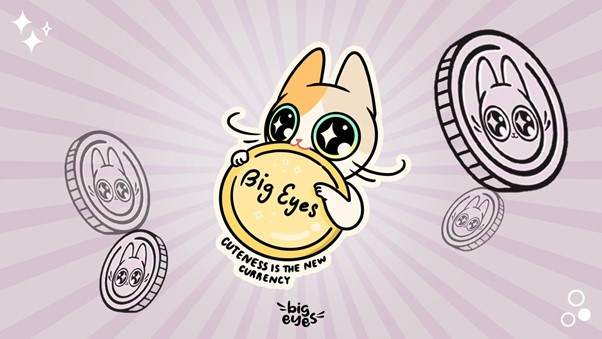 In addition, the increased liquidity that comes with listing on exchanges can benefit the creators and artists who use BIG as a store of value. With more liquidity, it becomes easier for them to sell their content and receive payment in BIG, which they can then convert to other cryptocurrencies or fiat.
Big Eyes Coin (BIG) is a promising meme coin with a real-world use case that sets it apart from other meme coins. The recent announcement of its listing on BitGet, CoinEx, and BitForex is a significant milestone that can lead to increased exposure, credibility, and liquidity.
As more people become aware of BIG and its potential, its price is likely to surge, attracting more investors and traders. As the meme coin season continues to grow, BIG is positioned to become one of the top 10 meme coins and one of the most exciting potential investments of the year.

Find out more about Big Eyes Coin (BIG):
Presale: https://buy.bigeyes.space/
Website: https://bigeyes.space/
Telegram: https://t.me/BIGEYESOFFICIAL
OpenSea: https://opensea.io/collection/big-eyes-lootbox-cards
Twitter: https://twitter.com/BigEyesCoin
Disclaimer: This is a paid release. The statements, views and opinions expressed in this column are solely those of the content provider and do not necessarily represent those of NewsBTC. NewsBTC does not guarantee the accuracy or timeliness of information available in such content. Do your research and invest at your own risk.