One of the major drawbacks of cryptocurrencies today is price volatility. The volatility level of cryptocurrencies and digital tokens was particularly high in the past year. For instance, investors and traders' crypto assets easily slide to almost zero irrespective of the type crypto asset or currency they hold or are invested into. In a nutshell, if you are not a professional crypto trader or investor, you most certainly will get it wrong with crypto investments. Although, in the near future the price volatility will certainly improve for the better as we continue to experience increased crypto adoption.
In order to solve this problem, BISS.COM has successfully united the stock market (for the first time in crypto history) with the crypto market, with the aim of attracting stocks investors to crypto assets and investment opportunities. We strongly believe that doing this will help increase the valuation of crypto assets as we are set to see increased crypto adoption and the entrant of new buyers in the crypto market. While the majority of crypto assets continue to depreciate in value, a lot of stocks have continued to perform well value for the past ten years. For instance, the market value of Alibaba increased to 500 billion, Apple and Amazon became the first two companies to hit the 1 trillion market capitalization. These kinds of assets with huge market capitalization will most definitely rub off on the crypto market.
BISS as a professional Exchange Platform was born out of the desire to help crypto enthusiasts (traders and investors) minimize the loss in crypto trading and investments.
Eager to know if BISS Exchange is all about Token Trading? Leverage? Perpetual Swaps/contracts? Actually, none of the above ☺. BISS Exchange is aimed at offering only the best assets trading. As an Exchange dedicated to simplicity, quality and profit, BISS' basic duty is to provide quality trading assets for our traders and investors.
Unfortunately, most of the assets in this industry cannot be regarded as good and most of the best resource remains in the US stock. For example, having the option to choose between two assets where one is a bad asset (in terms of quality and ROI potential), and another the other is Apple or Alibaba stocks, which one would you prefer?The answer is obvious ☺.
The world's first Token-to-Token and Token-to-Stock Exchange
The launch of the BISS' exchange platform will effectively allow users to trade US stocks against USDT. In addition, our product is designed to help investors maintain and appreciate the value of their assets. Beyond trading token-to-stock assets, BISS will continue to list high-quality crypto assets for crypto to crypto trading. BISS will only list the Stocks, which can be purchased through USDT directly.
As the world's first Token-To-Stock, and Token-To-Token Exchange platform, below are the comparative advantages of choosing BISS over other crypto exchange platform.
No need to open a stock account to trade US stocks. You can trade Stocks with USDT at BISS (only one account sign up). The eight steps below typify how traditional stocks exchanges operate in order to trade US stocks:
The most difficult step in the eight steps above is purchasing USD, and most potential investors and traders cannot trade US stock because of this. However, in BISS Exchange, users only need to complete these three steps below to purchase US stocks:
Trading the best assets with one BISS account. We'll expand our asset class from US stocks to Hong Kong stocks, London Stocks and other 35000 trading products in the future.
Anyone can trade best assets just with one BISS account irrespective of their location or nationality. Isn't this awesome! ☺. In our years of experience as a team, we know that investors prefer to be the shareholders of Apple, Tesla, Alibaba and other valuable companies, rather than trading rubbish stock or coin that could become zero overnight. After all, they have true value behind them. Token-to-Stock is already available, come and maximize your asset and make more trading profit with us.
We know you have multiple questions; hence, we prepared an FAQ list in order to answer the most basic and frequent questions.
Are you sure you are trading real stock?
Technically, it is a kind of a creative Contract of difference (CFD). For instance, when BISS will buy one share Tesla from NASDAQ, and you buy the Tesla share from BISS with USDT, the illustration below explains how it works: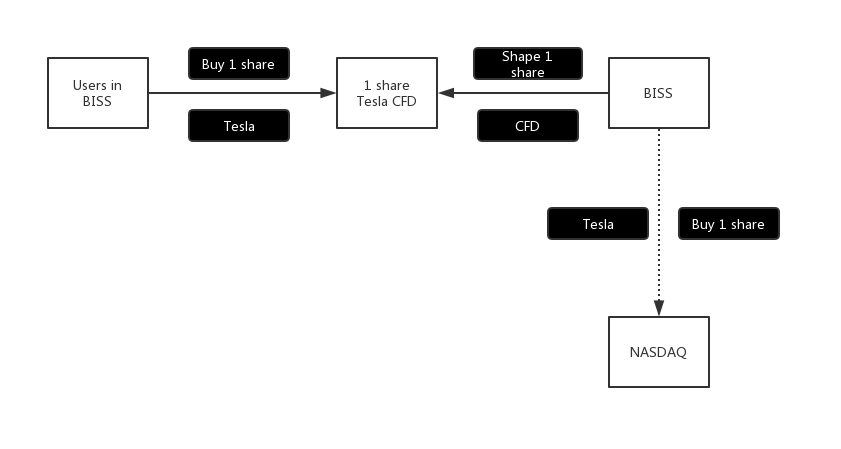 And When you sell this Tesla share, BISS will also sell it on NASDAQ, the profit you made from selling the share will be transferred to your BISS account in USDT. Therefore, means that one true stock will be generated each time a user buys one CFD stock In BISS. In summary, BISS does not trade stocks, rather, we connect BISS users with NASDAQ through USDT thereby cutting off the difficulty involved with trading stocks.
What is the difference between CFD and true stock? Any profit-sharing?
At this level, CFD is exactly the same as true stock, if the stock has profit-sharing for investors, BISS will credit your profit equivalent in USDT to your BISS account.
Why did BISS choose to trade US stock?
Trading Cryptocurrency assets alone are still very low in market cap compared to
NASDAQ value alone. And we wanted our traders to make good profit each time they use the BISS exchange. In addition, we know that increasing cryptocurrency value and use cases are dependent on increased adoption, and we believe the stocks market have the population size and money that can help increase the value of cryptocurrencies and digital assets in general. And we are convinced that this is a big step towards enhancing the adoption, circulation, and valuation of crypto assets through Stocks market which already has more global significance.
Can I withdraw the stock?
No! Not at this time. the core of BISS CFD is a contract with BISS platform. However, in the future, we may tokenize each traded stocks on BISS allow everyone the right to withdraw the stocks.
Can we trust BISS?
Absolutely Yes ☺! BISS limited investors include several famous investment funds and agencies, like Zhenfund. Our only mission is to develop on BISS' vision statement. Our mission is to provide the best resource and reward, and we promise to work harder in a bear market for the benefit of all.
Contact us:
Telegram: https://t.me/bissexchange
Twitter: @bissexchange
Email: [email protected]