The crypto community is bustling with excitement following Grayscale's recent victory. And amid this, traders predict a 500% rise for Bitcoin Spark (BTCS) if a Bitcoin ETF is approved.
Bitcoin ETFs
Exchange-traded funds (ETFs) are investment instruments designed to mirror the performance of a particular or group of indexes, sectors, commodities, assets, and more. What sets ETFs apart is their tradability on stock exchanges, allowing investors to buy and sell them throughout the trading day at market prices. Bitcoin ETFs would work the same way, offering an avenue for traditional investors to gain exposure to the promising world of crypto without the complexities of purchasing and storing digital assets directly. Many major financial institutions, including BlackRock, Fidelity, and Grayscale, have applied with the U.S. Securities and Exchange Commission (SEC) to launch ETFs.
Latest Bitcoin news
Despite the significant interest, the SEC has yet to approve a spot Bitcoin ETF. In fact, on June 29, 2022, the SEC denied Grayscale's application to convert their Bitcoin Trust into an ETF. However, Grayscale filed a petition for review with the United States Court of Appeals for the District of Columbia Circuit. On August 29, 2023, the court declared that Grayscale's petition for review be granted and the SEC's order to deny the GBTC listing application be vacated. While the SEC has deferred making a decision on all of the ETF applications until October, the latest win for Grayscale has created a sense of optimism surrounding the regulator's final decision.
What is Bitcoin Spark?
Bitcoin Spark is a new Bitcoin fork that promises to bring significant advancements to the world of cryptocurrency. While it preserves the fundamental characteristics of Bitcoin, such as its capped supply of 21 million, it distinguishes itself through several key features. One notable aspect is its enhanced transaction processing speed and reduced fees, achieved through increased block transaction capacity, shorter block times, and a higher number of network nodes.
In a bid to expand its utility, Bitcoin Spark will support smart contracts and decentralized applications (Dapps) on its network. It implements a separate smart contract layer with various execution systems, all settling on the primary network, ensuring scalability and accommodating multiple programming languages.
Additionally, Bitcoin Spark employs a groundbreaking consensus mechanism called the Proof-of-Process (PoP), which rewards miners for validating blocks and contributing processing power to the network. The PoP is combined with an algorithm that reduces rewards per additional power exponentially, promoting a fairer distribution of rewards. With an extensive network of nodes and an innovative mining application accessible on various devices, including Windows, Linux, Mac OS, iOS, and Android, the barriers to entry for BTCS mining are significantly lowered, making it accessible to a wider range of participants.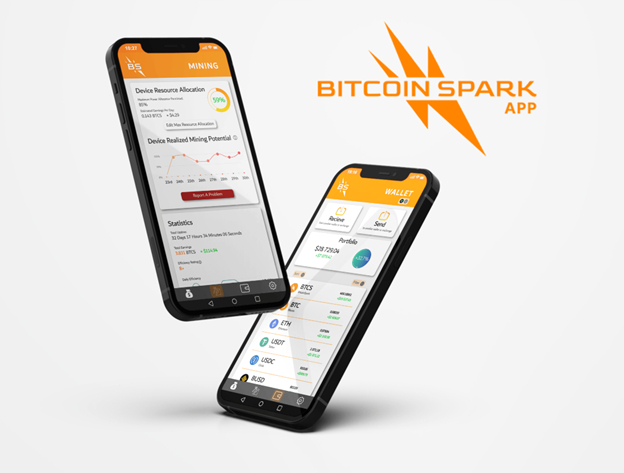 Bitcoin Spark will rent out the processing power of the miners to individuals or entities in need of significant computational power. Those using the network for remote computing will pay using BTCS, and the generated revenue will be channeled to the mining pool. The mining rewards will be based on an elastic system, factoring in the revenue earned within Bitcoin Spark. If more revenue is earned, BTCS minting rewards are reduced, and the minting endpoint moves further. Notably, Bitcoin Spark will also have secondary services within its network, which includes having small slots for ads on its website and application. This innovative approach, combined with the ability for unlimited devices to provide processing power, could potentially make Bitcoin Spark a self-sustaining revenue network that maintains a limited supply while enabling miners to maintain profitability constantly.
The investments made in Bitcoin Spark's Initial Coin Offering (ICO) suggest considerable interest in BTCS within the crypto market, which could surge significantly after launch. In fact, several analysts believe Bitcoin Spark has the potential to supplant Bitcoin in the future. The ICO is in Phase 4, with BTCS priced at $2.25 and investors getting a 10% bonus.
Conclusion
A Bitcoin ETF would bring an extra level of accessibility, liquidity, and regulatory oversight to the cryptocurrency market, making it more attractive to institutional and traditional investors. Thus, with its efficiency, real-world applicability, low market cap, and relation to Bitcoin, a 500% rise for Bitcoin Spark (BTCS) is not impossible.
For more on Bitcoin Spark
Website: https://bitcoinspark.org/
Buy BTCS: https://network.bitcoinspark.org/register
Disclaimer: This is a paid release. The statements, views and opinions expressed in this column are solely those of the content provider and do not necessarily represent those of NewsBTC. NewsBTC does not guarantee the accuracy or timeliness of information available in such content. Do your research and invest at your own risk.