The concept of Quanto Swap contracts has been new in the market. It's a brand-new innovation in the traditional derivatives, which solves the problems of, such as Inverse contracts and USDT paired contracts in the costs, capital utilization, and trading experience during the trading process. Leading the derivatives trades, Bitget launched the Quanto Swap contract being the First in April this year.
Simple terms for Quanto Swap contract, a contract that supports one or more digital currencies as a margin for cross-currency transactions. This changed the traditional trading method of Inverse contracts that only apply to local currency transactions. Any single currency can be used as a margin for multiple trading pairs at the same time, saving the hassle to exchange between digital currency.
Not surprisingly, this improves the operational efficiency of the trader, skipping the additional steps to exchange between digital currency, saving costs from transaction fees. For example, a trader long terms hold and believe in BTC, but in short-term anticipating ETH to rise. Traders saved the costs in transaction fees involved from trading ETH and BTC or vice versa and holds BTC after the final transactions.
| | | | |
| --- | --- | --- | --- |
| Types | USDT Paired Contract | Inverse Contract | Quanto Swap Contract |
| Unit price | USDT | Amount / Selected coin type | Selected coin type |
| Margin mode | Cross / Isolated | Cross / Isolated | Cross / Isolated |
| Margin requirements | USDT | Selected coin type | Main / Stable Coin |
| Settlement mode | USDT | Selected coin type | Main / Stable Coin |
| Representative platform | Binance | Bitmex | Bitget |
It is not difficult to see that, compared with traditional Inverse contracts, the advantages of Quanto Swap contracts are obvious. First of all, during trades, the execution is extremely simple, reduced costs involved in exchanging between digital currency; Secondly, the existing currency can be used as a margin for profit and loss in settlement, and also the user ended the trade with their desired currency; Third, you profit from the rise of currency used in margin. For example, when you trade ETH, using BTC as the margin. If the BTC rises, you benefit from both the profit earned in trading ETH and price increased in BTC. Fourth, the Quanto Swap contract solved the hassle in transferring of currency between accounts, using specific margin currencies to trade multiple currency pairs at the same time, internal hedging, equity sharing, and risk-sharing.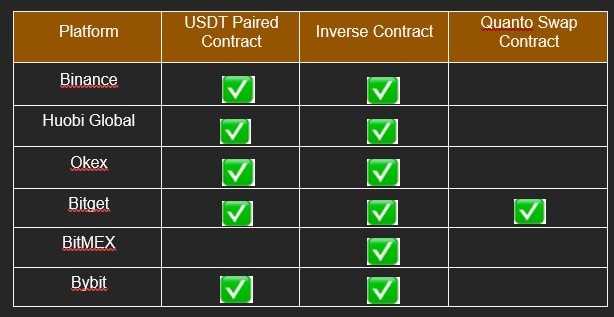 What are the advantages of Bitget's Quanto Swap contract?
From the above figure, it is not difficult to differentiate between the leading exchanges such as Binance, Huobi, OKex, etc. do not support Quanto Swap contracts. Although Binance earlier proposed the use of mixed margin to solve this problem, compared with Quanto Swap contract, this greatly reduces the capital utilization rate. For example, when users need to use BTC on other contract paired transactions, they will need to stake asset in order to borrow currency, which resulted in a low utilization rate and also with the needs to pay daily interest. As such, users will not be able to enjoy the additional benefits of BTC price rise when market are in favor.
In comparison, Bitget's Quanto Swap contract designed to be more advanced and user-friendly. Preserving the traditional features of Inverse contract, adding margins such as BTC for multiple trading pairs. The profit and loss are transacted by the margin currency allowing users to select themselves. At the same time, real-time exchange rates will be used for calculation, no staking is required, and there is no interest fee, allowing users to maximize the margin.
Currently, Bitget only support BTC, ETH, XRP, EOS and other stable currencies as margin for multi-contract trading pair transactions. This means that users can be more flexibly in open positions based on trading strategies and real-time market conditions. Earning more profits, but also accomplished hedging in extreme market conditions to reduce capital risk. From this perspective, the Bitget Quanto Swap contract is more advanced than OKex's single currency cross mode.
Bitget has always been innovative and leading in the derivatives market. As early as July 2019, Bitget officially launched the USDT paired contract, which is the world's first platform with opening of both Long and Short directional in contracts. In May 2020, adding the innovation of Copy Trade into the APP attracted more than 8,000 top traders from around the world joining the platform leading their followers in trades. The world's first innovative Quanto Swap contract made a hit to users once again successfully created a high efficiency and user-friendly derivatives product.
The person in charge of Bitget mentioned that our team combines the DNA of finance and innovation. Innovation does not mean blindly chasing trends, but to understand the needs of users and their pain points of transactions. As a trading platform, we not only provide products, but also hope to empower products with more powerful tool value and make transactions easier. This has always be the mission of our team.