Imagine what would happen if terrorist hackers accessed the databases of some self-driving cars in a crowded street or on a high-speed highway? The aftermath would be catastrophic especially when the cars are modified to be controlled by a centralized body.
Vectoraic, an Israeli-born autonomous driving solution, adopts the blockchain and military-originated technology to lead the driverless revolution.
Similar to the blockchain, driverless driving is another newly-emerged anticipated and promising technology. In recent years, Europe, the United States, Japan, South Korea, and China have positioned the driverless industry as a national key industry, aiming to gain the lead in the next technological revolution.
The implementation of driverless technology means that the existing one billion vehicles in the world will be transformed, upgraded and replaced. This will be the largest industrial upgrade throughout the history of technology development. The purpose of Vectoraic was to combine the blockchain with the black technology from the military to inject a key impetus into this unprecedented technological revolution and accelerate the industry's comprehensive transformation of the unmanned ecosystem. In the process, Vectoraic will also become one of the most successful landing applications in the blockchain field.
The Status Quo of Autonomous Driving Technology
Driverless cars used to exist only in sci-fi films but they're becoming a reality in 2018. The current driverless technology is still in the early stage of development and has just realized the 1.0-stage assisted driving function. Although the car manufacturers represented by Tesla introduced some higher-level unmanned functions, these functions are extremely imperfect. On 30th March, there was a second confirmed fatal crash on US roads in which Tesla's autopilot system was controlling the car. It raises now familiar questions about this novel and imperfect system, which should have made driving easier and safer, but relies on constant human supervision. Coupled with Uber's fatal crash in Arizona, in which one of its self-driving cars hit and killed a pedestrian pushing a bike, this incident marks what is likely to be a difficult time for the autonomous vehicle industry.
The ultimate goal of the driverless industry is to achieve Level 4 automatic travel without human intervention. However, to realize this dream, the existing technology and business model have great flaws:
It is difficult to identify objects in its path in rain, snow and fog weather in the prior art, meaning that its unmanned driving ability is not available in bad weather;
In order to accurately distinguish pedestrians and vehicles along the road at a long distance, the current technology requires the construction of densely distributed sensor network on the road, which requires huge funds and resources;
The cost of major unmanned driving schemes is very high and it is difficult to spread widely;
Car owners generally lack interest in upgrading unmanned driving. There is no incentive mechanism for upgrading.
As driver assistance and automated features become increasingly available in vehicles, it requires consumers' steadfast trust in the vehicle's ability to carry out reliable strategies to convince drivers to hand over control to the vehicle. Unfortunately, industry giants including Google, Facebook, Tesla, and NVIDIA have no effective solutions to these challenges. According to the technical roadmap of these companies, it takes more than a decade for the widespread adoption of driverless technology.
Autonomous Car of the Future: Vectoraic Solution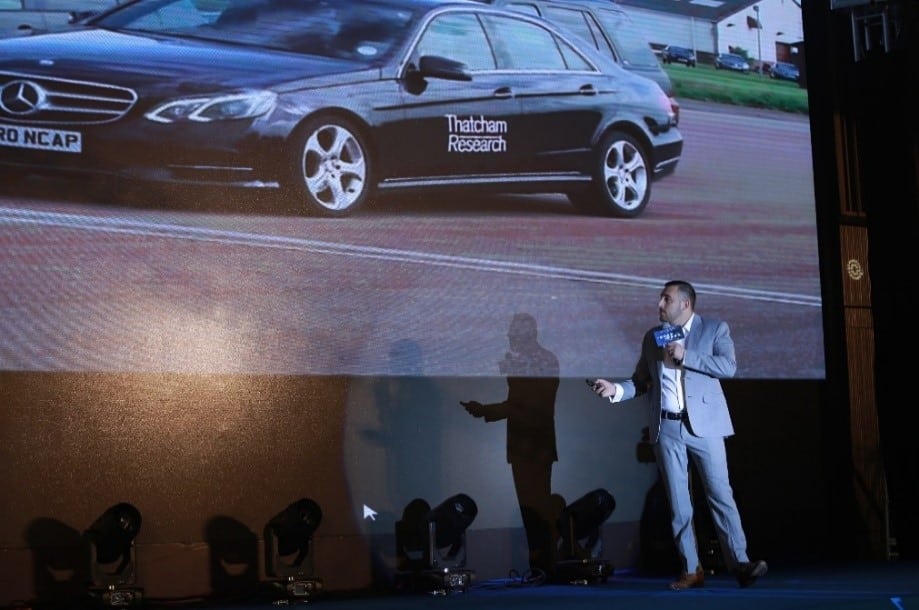 Vectoraic is the only company in the world that combines air force UAV technology and blockchain technology to develop an automatic driving road prediction system. Vectoraic operates on the belief that true safety lies in predicting and eliminating hazardous situations well in advance. While most current solutions focus on visibility or alternative technologies such as radar or sensors, these methods are designed only to prevent accidents in real time, which is often too late. Vectoraic is currently the most promising project to achieve automatic driving technology Level 4.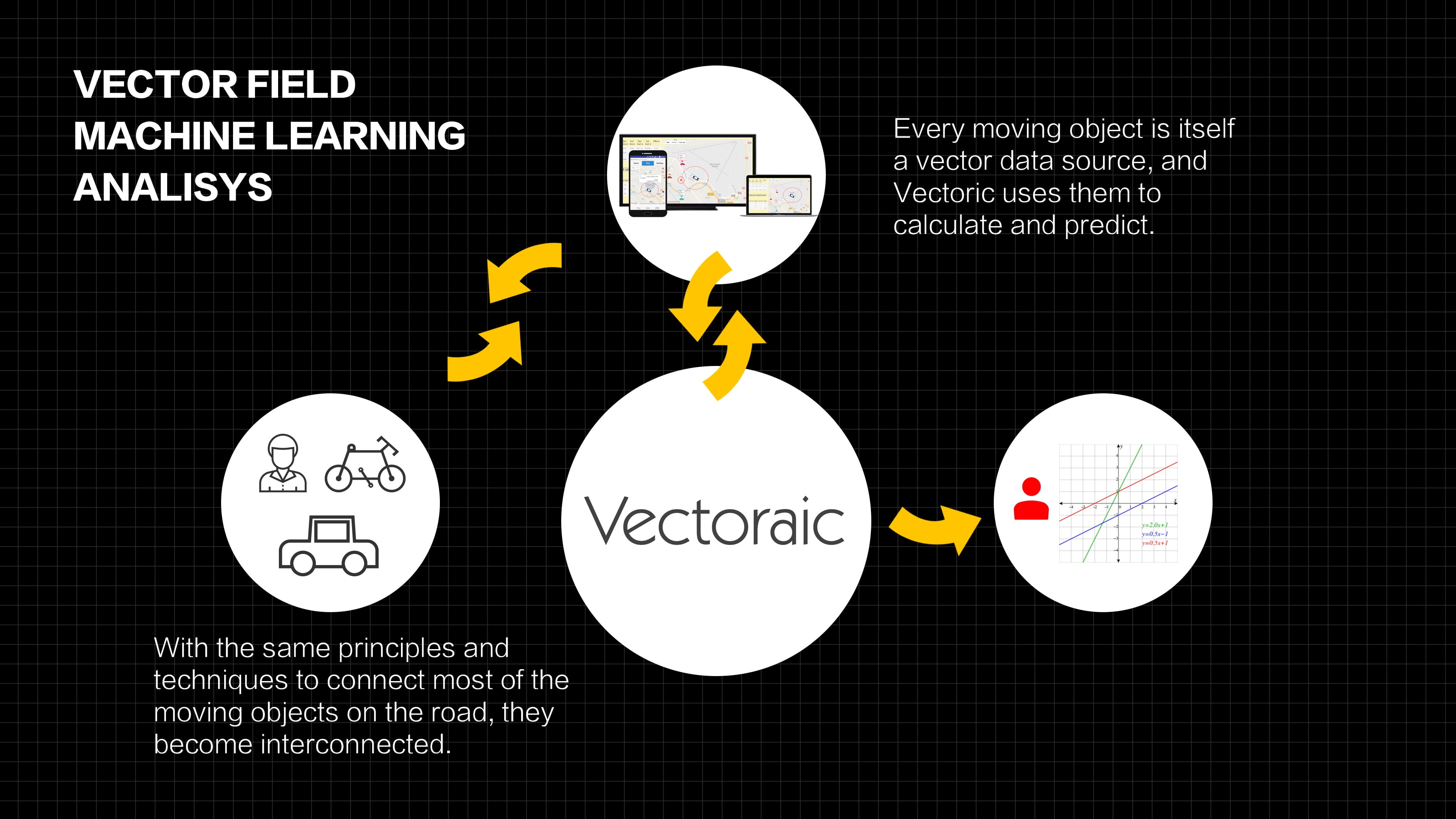 The autonomous system needs to sense the environment, to determine the exact position on the road, and to decide how it should behave in a certain situation. That is why self-driving cars are highly dependent on software to bridge the gap between sensor physics and the mechanical actuation of the vehicle, e.g., steering and brakes. Vectoraic teams develop their proprietary algorithms and software components to make these robots on wheels possible. It's a V2X (vehicle to everything) solution and its patent number is PCT/IL2018/050085.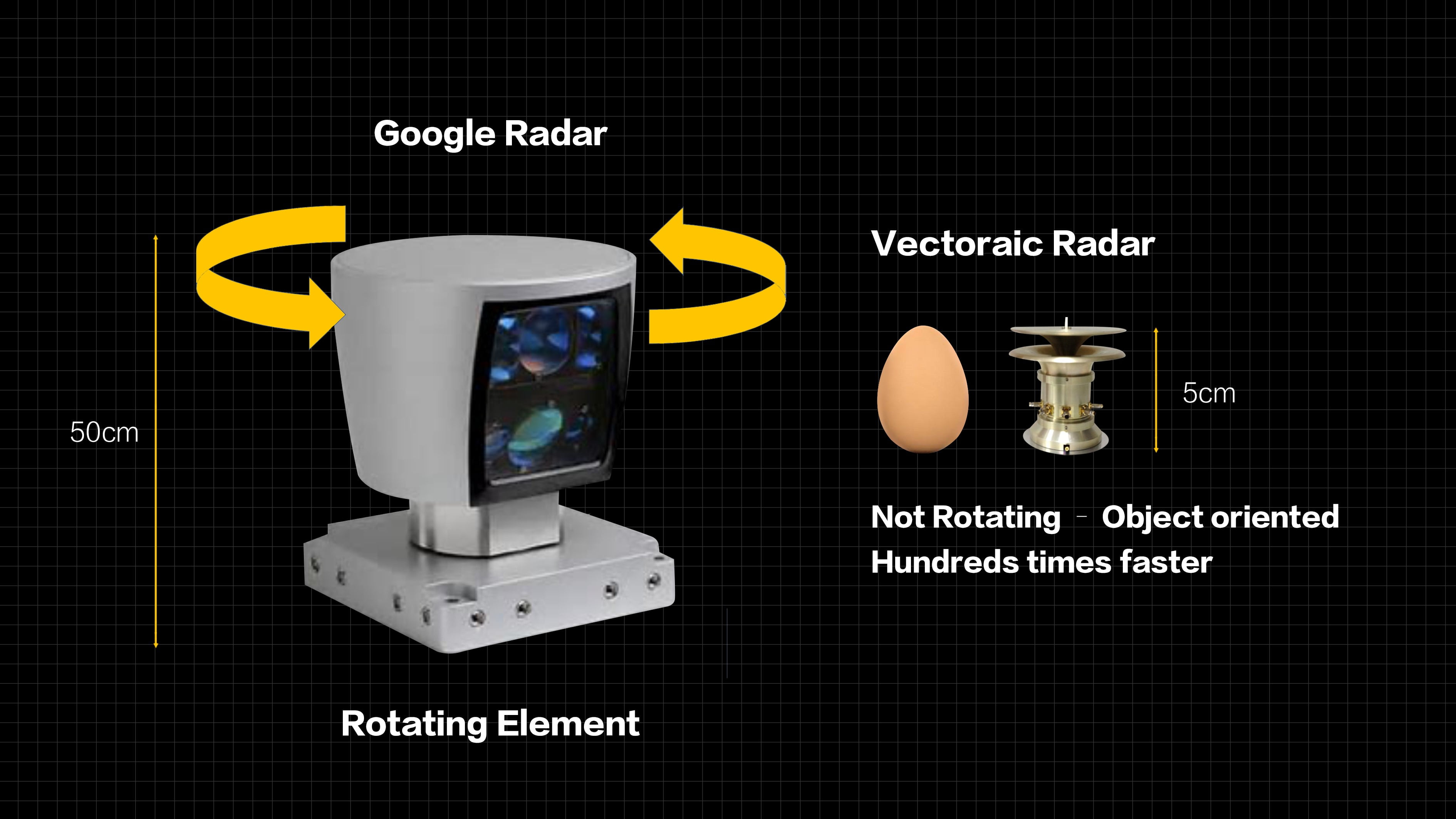 Moreover, for the first time in the history of autonomous driving technology, military-grade radar is deployed in Vectoraic. This is class-phased array radar and it's a breakthrough technology. It can conduct 360-degree full-range vehicle detection without rotation, greatly improving image processing speed. Therefore, the reaction speed is 100 times faster than Google's car radar. In terms of the surface, it is smaller and more beautiful than the Google car Radar. Highly precise and dynamic maps have been identified as a key element to take the "machine nature" out of self-driving vehicles and as a critical asset to understand upcoming road conditions, enabling proactive rather than reactive driving strategies.
In the current on-board computer computing system used in autonomous driving technology, data has to be stored in memory in order to be processed by the CPU. The APU-combined processor used by Vectoraic can directly store data in memory and process it directly without input/output processing, which greatly improves the computing performance (1000 times the speed of current operation time) and greatly reduced the power consumed.
What's even more amazing is that the cost of this system is only 1/10 of that of its competitors. Vectoraic provides a more cost-efficient solution, 90% lower than the current market price. Google, Uber, GM, and Intel's hardware cost is between $25,000 and $80,000 USD. The total cost of Vectoraic is only around $2,500 USD because of Vectoraic's ability to use spatial mapping relying on their patented V2X technology. This tech reduces a driverless car's dependency on the hardware, which leads to significantly reduced costs. Car owners can easily afford it, paving the way for a wide range of applications.
Vectoraic: a Pioneering Platform for Real-world Application of Blockchain
The construction of Vectoraic blockchain ecosystem is based on the big data collected by the Vectoraic OS. This entire platform will enable us to provide technical and data support for enterprises. Vectoraic adopts the underlying structure of graphene, and records data collected by Vectoraic OS through a public chain. Users (passengers) can use a shared unmanned travel platform (Vectoraic Sharing) to load Vectoraic OS unmanned vehicles with VT.
Decentralized and secured data transfer
Combined with blockchain technology, Vectoraic provides a platform for the verification and safe transfer of data between vehicle owners, researchers, manufacturers, and other stakeholders. It also allows for information transfer between cars and guarantees repeatable outcomes or responses on the part of the autonomous vehicles.Vectoraic developed a high-concurrency, high-security underlying public chain to enable low-cost, low-latency inter-vehicle communication. The peer-to-peer and decentralized nature of the blockchain eliminates the need for Vectoraic's car networking to transmit large amounts of redundant data like other centralized solutions. The pressure on the workload of the network is greatly reduced and the efficiency is doubled.
With the growth of "Internet of Things" (IoT), networked communications are expanding to include an ever-widening ecosystem of smart, connected, and responsive players. These include people, motor vehicles, street furniture (traffic signals, etc.), and urban infrastructure. Blockchain security may ensure that only verified and relevant information is available for exchange – and that only those entities with authorized access to given information can actually get to it.
Token ecosystem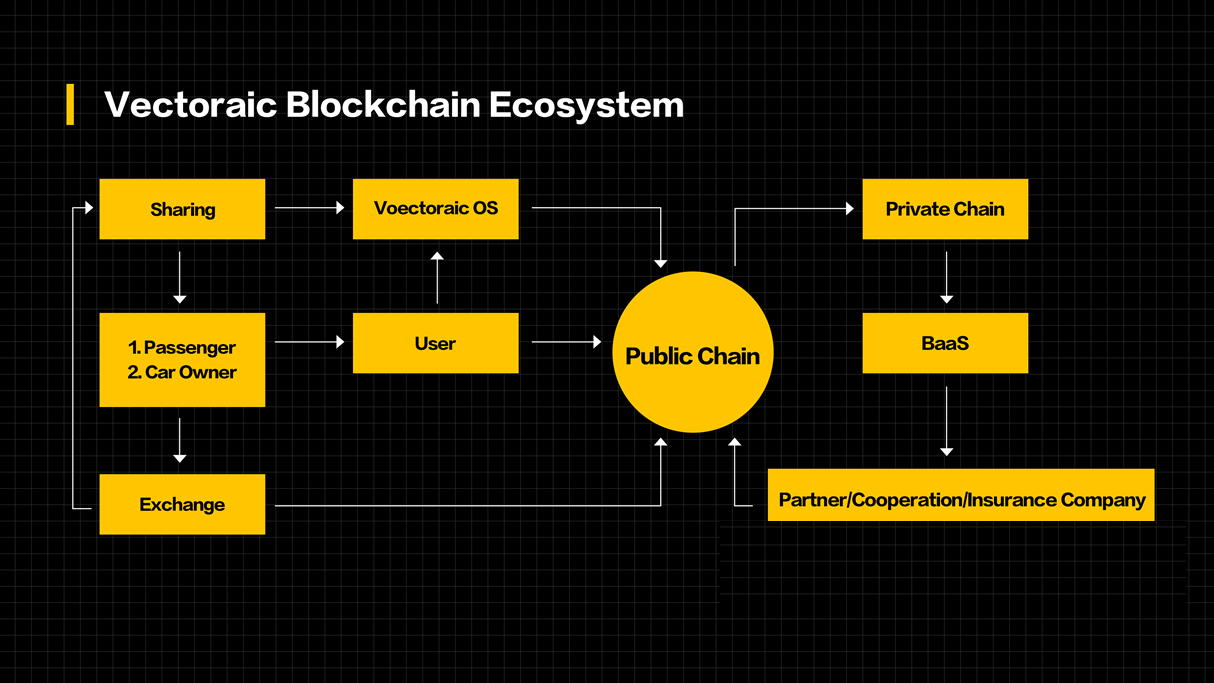 The new business model brought by the combination with the blockchain is the biggest innovation breakthrough of Vectoraic. On top of this system, Vectoraic has the ability to build an unmanned ecosystem that is cross-border, cross-vendor, widely recognized and applied.
Aa an on-road business model based on blockchain communication platform, Vectoraic can accurately calculate the contribution of different vehicles to the traffic network management. For example, vehicles that travel slowly and have a determined route have a positive contribution to traffic; vehicles that travel faster and have frequent changes of route need to consume more road resources.
Further, the vehicle can obtain a corresponding return according to its "beneficial" driving behavior. Under the decentralized trading system of the blockchain, the transportation system is upgraded to a market-based resource allocation mechanism to maximize efficiency.
Production and sales business model- for automakers and sales channels, Vectoraic's blockchain platform allows them to pay for their driving data on an equal basis and upgrade their products with such data. The decentralized feature of blockchain technology frees the data from the monopoly by a single giant player, ensuring the healthy and equitable development of the entire industry.
Throughout the process, most car owners can gain the return of the network's tokens by orderly driving and contributing driving data, while ensuring that their privacy will not be revealed. This incentive mechanism can fundamentally mobilize the enthusiasm of car owners, generate a strong driving force from the bottom of the market, and tackle the biggest obstacles for the widespread adoption of driverless technology.
World-class development team
Born in Israel, Vectoraic has reached an unparalleled level of advanced technology. Its core members are from Israel's defense security, intelligence systems, and Boeing military R&D department, and the R&D team of the US Predator military drone; The main investors are famous venture capital experts, and there are many commercial operation experts with rich experience in the industry. Therefore, Vectoraic can use the innovative technology of the military industry to create a powerful and low-cost unmanned platform and plug it into the blockchain model.
Talk to the future
Soon enough, we are going to see a widespread blockchain system revolutionizing the way that we've been commuting for the last century. Vectoraic has received recognition and support from the Israeli government and Chinese Academy of Sciences. International companies including car manufacturers and Chinese cyber giant 360 have expressed their interest in cooperating with Vectoraic. Since autonomous driving technology also has much to do in an
enclosed environment this driverless solution will soon be introduced into social infrastructure including Israeli Ben Gurion airport and international seaports in the Asia Pacific. More details will be revealed soon.