As shown on the project roadmap, the BORA team will launch a prototype of the BORA ecosystem in Q4 2018 with two operational applications. This prototype represents the platform's first beta version and will be the first time that developers and users get to see the BORA development toolkit and block explorer. Both features are essential to the project. The block explorer will be used by BORA chain participants to track transactions and check the overall status of the ecosystem. The development toolkit is equally important as it contains the tools for developers to create content that they will share with users.
Also in Q4 2018, the project will release their back office beta and build the infrastructure for services. This is a demo version and though the public will get a first look at the ecosystem, it does not mean it is live. The team will conduct further UX/UI research and look into the platform's interoperability, as well as begin to make improvements to ensure users are getting the best experience.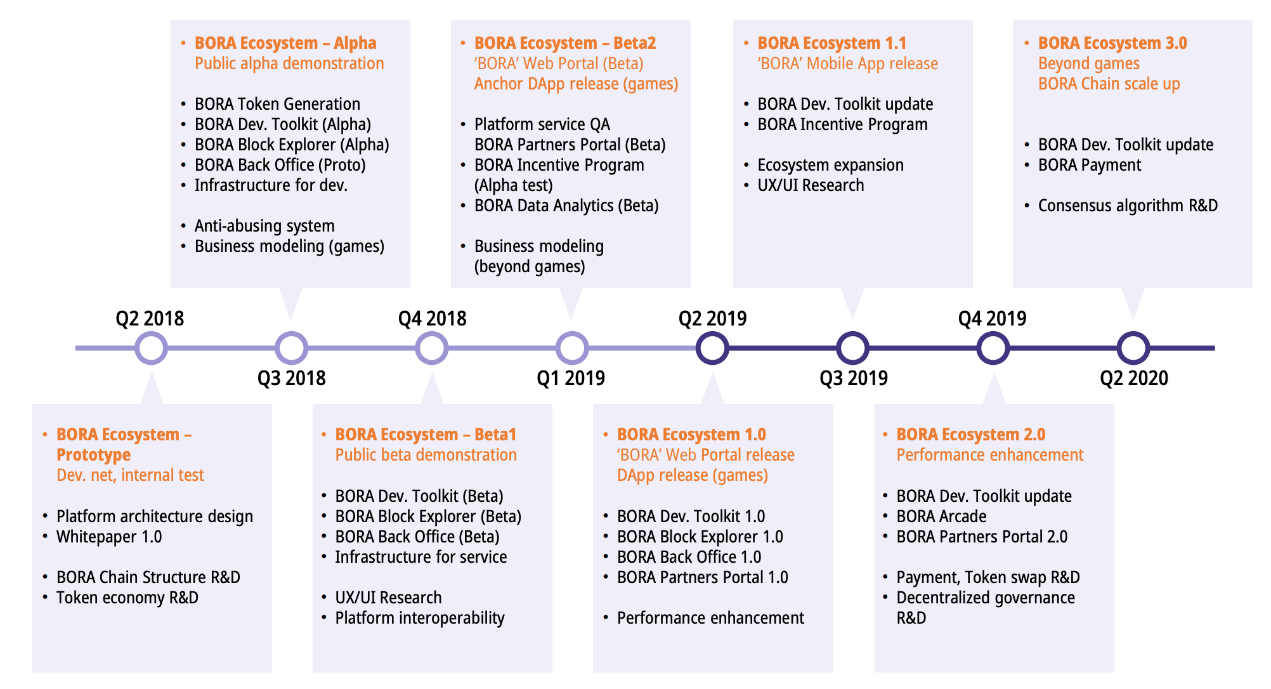 In Q2 2019, the BORA team will officially release the BORA portal. This is arguably the most important release as it includes the main chain and will provide a fully functioning platform that content developers and users can use to start creating, sharing, and viewing content. The BORA Ecosystem 1.0 will include a development toolkit, block explorer, and back office and partner portals. The development team will also take the opportunity to measure the performance of the BORA blockchain and work to enhance its scalability, speed, and efficiency. Additional features will be added and updated as project development continues.
Q3 2019 is when the BORA team plans to officially launch the mobile app version of their blockchain platform. This is an important milestone for project adoption as the BORA ecosystem will instantly become more accessible to users and developers. During this period, the team will release updates to their development toolkit and introduce the BORA incentive program. They will also expand their market reach through global services and internationalization. The BORA team will continue to develop their UX/UI to keep their systems looking good and working effectively.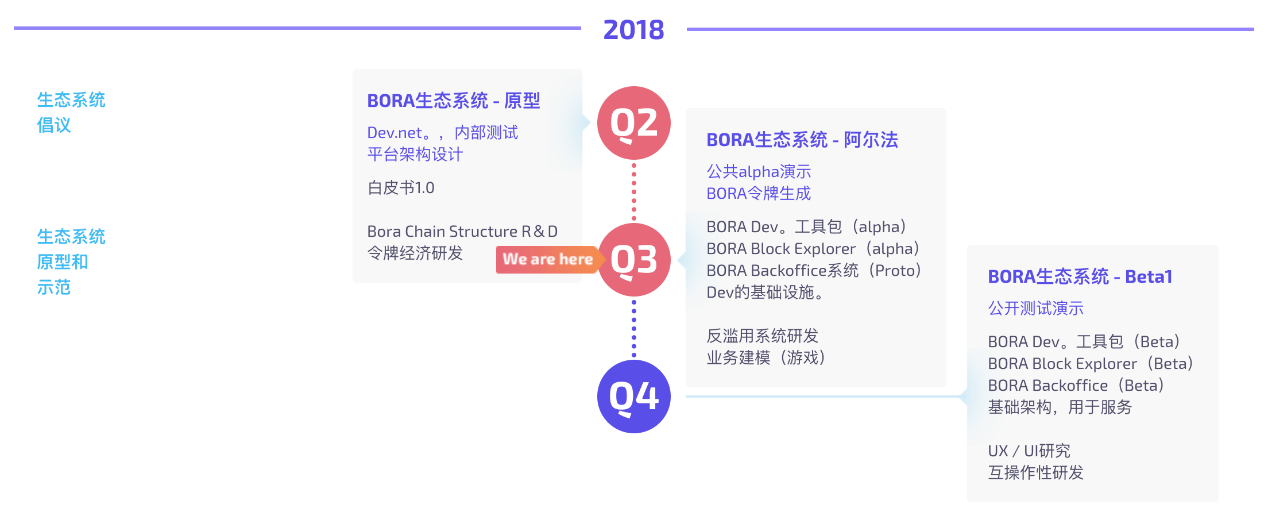 The current roadmap ends in Q2 2020 with BORA Ecosystem 3.0. This version will contain all planned features of the BORA ecosystem including BORA Arcade. This release will include another update to the development toolkit and version 2.0 of the partners portal. Payments will start, and the team will begin their token swap. R&D will continue for common algorithms and decentralized governance.
Currently, the project has completed the Q2 2018 BORA Token generation milestone and has entered the Q3 phase of the roadmap. The project is undergoing research and development of the alpha version block explorer. Current progress can be viewed on the BORA project GitHub: https://github.com/boraecosystem .
For more information about BORA:
Website: https://www.boraecosystem.com/
Testnet Lagoon: https://developer.bora-lagoon.com/en
Telegram: https://t.me/boraofficial
Twitter: https://twitter.com/bora_ecosystem
Medium: https://medium.com/@BORA_Ecosystem
Reddit: https://new.reddit.com/r/Bora_Ecosystem/
Email: [email protected]