Real-time Bitcoin prediction results reveal unparalleled user prediction and sentiment data
BuySellHodl, the ultimate bitcoin and crypto prediction app, has announced the results of its bitcoin price prediction feature. The newly launched crypto predictions app queries its users for their opinions and predictions regarding numerous cryptocurrencies and updates the results daily on a website, iPhone, and Android cryptocurrency app.
In addition to updating the results for numerous less widely-known cryptocurrencies, the app also provides a robust bitcoin price prediction tool revealing real-time user bitcoin 2020 and 2025 price predictions. This unique feature periodically questions users for their opinions on several bitcoin-related items of interest, such as:
bitcoin price predictions for 2020 and 2025

whether to buy, sell, or hodl bitcoin

bitcoin's ranking as a top crypto investment

bitcoin's potential to become the world's reserve currency
The real-time results provide unparalleled value in specifically targeted data around bitcoin price predictions, making BuySellHodl an invaluable cryptocurrency app for crypto enthusiasts and bitcoin believers everywhere.  The full selection of crypto ratings and rankings can be viewed on the website, as well as the BuySellHodl iPhone and Android bitcoin and cryptocurrency app.   
Over 1,000 users have given their predictions on BuySellHodl. After users make their bitcoin predictions, the app enables them to seamlessly share their opinions on Facebook and Twitter with relevant bitcoin and crypto hashtags, as well as #BuySellHodlApp. This enables users to grow their crypto follower-base while engaging in discussion around their predictions.  
BuySellHodl (@BuySellHodlApp) founder, Clifford Lerner, says, "BuySellHodl has quickly established itself as the leading destination for people seeking bitcoin and cryptocurrency price predictions. We have an exciting roadmap for future enhancements to our already robust feature-set, including an upcoming 'Crypto Experts' Predictions feature. Additionally, we will be breaking out bitcoin price predictions by country to see which geographies are most bullish, bearish, and accurate regarding their opinions of the world's most popular cryptocurrency ."
Bitcoin 2020 and 2025 Price Prediction Results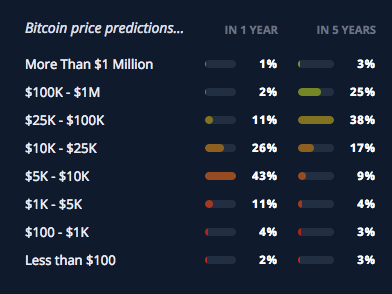 Bitcoin 2020 Price Predictions
BuySellHodl users are quite bullish with their bitcoin 2020 price predictions.  40% predict that bitcoin will be worth more than $10,000 in 2020, while 14% predict a value greater than $25,000. Only one percent of users are in the John McAfee camp, saying bitcoin will exceed $1 million in 2020, but  three percent still believe it will exceed $100,000 in value next year. Some skeptics do remain, however, with 6% predicting a sharp decline in bitcoin's value to below $1,000.
Bitcoin 2025 Price Predictions
The 2025 predictions are even more bullish. Two-thirds (66%) predict bitcoin's price will increase by more than six-fold and exceed $25,000.  28% percent are extremely optimistic predicting that Bitcoin will exceed $100,000, and 3% predict a bitcoin value of higher than $1 million. Some users remain pessimistic with 6% essentially predicting Bitcoin's demise, to a value below $1,000.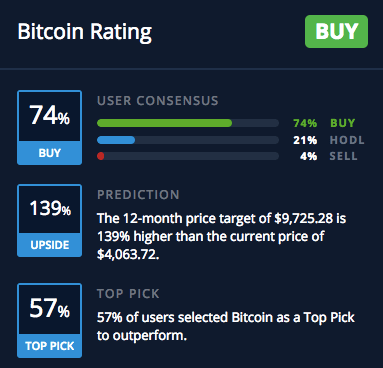 Bitcoin Is Ranked #1 Cryptocurrency Investment for 2020
BuySellHodl also asks users to select their top three picks for cryptocurrency investments in 2020. 57% of users selected bitcoin as one of their top picks (highest among all choices).   Ethereum (ETH) and Cardano (ADA) finished second and third, getting chosen as a top-three pick by 33% and 32% of users respectively.
With an overwhelming 74% of users saying to 'buy' bitcoin, and only 4% percent saying to 'sell,' bitcoin has been assigned an overall 'buy' rating, with a 2020 price prediction of $9,725.
Interestingly, cardano (ADA), holds the #1 ranking based on the rate of 'buy' ratings assigned, with 83% of users who rated the coin saying to buy cardano. This compares to 74% of users who rated bitcoin, saying to buy it.  
Here are the top 10 results:  
Percentage of Users Selecting Coin as a Top Three Cryptocurrency Investment for 2020
bitcoin (BTC): 57%

ethereum (ETH): 33%

cardano (ADA): 32%

ripple (XRP): 31%

litecoin (LTC): 20%

tron (TRX): 15%

stellar (XLM): 14%

eos (EOS): 10%

binance coin (BNB): 10%

bitcoin cash (BCH): 6%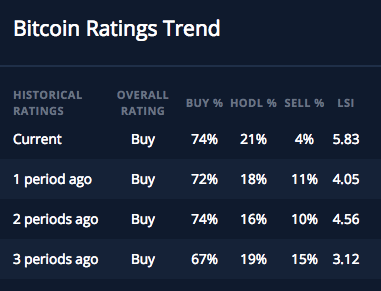 Bitcoin Prediction Trend
In order to gauge the crypto sentiment trends, BuySellHodl publishes the previous period's results. Users remain quite bullish with 74% saying to buy bitcoin, compared to only 4% saying to sell. The bitcoin skeptics (those who say to sell), have been in decline. This gives bitcoin an overall 'buy' rating. Each period is currently two weeks in length.  
Will Bitcoin Someday Become the World's Reserve Currency?
One of the more compelling questions in the crypto-sphere is, "Can a cryptocurrency, such as bitcoin, replace the U.S. dollar as the world's reserve currency?" What makes this question so compelling is that some crypto enthusiasts believe that bitcoin could exceed a valuation of $100,000 in the near future. Their analysis is frequently complemented by a belief that bitcoin could someday replace the U.S. dollar as the world's reserve currency.
BuySellHodl asked users this question to gauge their opinions on this thought-provoking scenario. The results reveal very differing opinions, with 17% saying 'no chance,' while 11% claiming 'it's 'very likely' or  'a sure thing' that Bitcoin will someday replace the U.S. dollar as the world's reserve currency. Note the following breakdown:
QUESTION: "What are the chances that bitcoin overtakes the U.S. dollar as the main currency of the world within 10 years?"
| | |
| --- | --- |
| Prediction | Results |
| No Chance (0%) | 17% |
| Very Unlikely (1% to 20%) | 23% |
| Probably not (21% to 40%) | 17% |
| Maybe (41% to 60%) | 20% |
| Probably (61% to 80%) | 11% |
| Very likely (81% to 99%) | 5% |
| Sure thing (100%) | 6% |
Unique Aspects of the BuySellHodl Crypto & Bitcoin Predictions and Ratings:
Real-Time Price Predictions Data

– Price predictions, rankings, and ratings are updated in real-time.

Quantitative Ratings & Ranking

s – A proprietary formula generates ratings and price predictions based entirely on user data.

Top Cryptocurrency Picks

– Users can select from any three coins for their top picks.  

Bitcoin Price Prediction

– Real-time one and five-year bitcoin price predictions

Historical Analysis

– Easy to see critical shifts in community opinion and ratings changes on each coin.

Universal Availability

– Access crypto predictions and ratings on the website, as well as our Android and iPhone apps.
About
BuySellHodl (@BuySellHodlapp) is the ultimate crypto and bitcoin prediction app, offering live crypto price predictions, ratings, prices, crypto news, and a live daily bitcoin game with real cash prizes. BuySellHodl is available on Android and iPhone and was founded by entrepreneur and crypto-enthusiast Clifford Lerner, author of the bestseller business book, Explosive Growth – A Few Things I Learned While Growing To 100 Million Users (https://explosive-growth.com). Cliff's goal is to get the next 100 million users to adopt cryptocurrencies.
DISCLAIMER: BuySellHodl does not provide financial advice. Please read our full disclaimer at https://buysellhodlapp.com/disclaimer.