Where are the billions of potential users in the encryption industry? Except for the third world countries short of financial tools, like Africa and Latin America, having missed the Web2 wave yet now actively accepting Web3, Japan with a large population base is usually overlooked.
In fact, since the new Japanese government took office in 2021, the new Prime Minister Fumio Kishida has elevated Web3 as a national strategy to spare national efforts to promote it.
Jasmy as the "national blockchain project" in Japan has become the most popular and concerned concept project in the Japanese market and the hidden possibilities gradually emerge in 2023.
Jasmy: Japan's National Blockchain Project
Jasmy is a real "encryption veteran" with broad market, though not well known in the field.
Founded in Tokyo, Japan in 2016 by Kazumasa Sato, a former Sony employee, Jasmy has always focused on developing and providing data security and services sharing in the metaverse and Internet of Things (IoT) era, with the vision of helping users to own their data and monetize it at will.
With Jasmy technology, metaverse applications built on the Internet can exchange data directly between themselves, while generating decentralized storage solutions suitable for themselves.
Making Web3 a national strategy since 2022, The Japanese government, has repeatedly highlighted that the metaverse and NFT will boost Japan's economic growth through measures, such as approving a series of reform policies on Web3 and establishing specially a post of Web3 minister to promote NFT and DAO.
That's why the importance and popularity of Jasmy has been rising since last year and the implications are self-explanatory.
Meanwhile, the AI boom sweeping the world since 2023 has made popular a large number of so-called "AI concept" projects. In the previous roadmap for 2023, Jasmy has already take the lead to plan to develop an AI engine and to steadily step into the AI era as of 2023.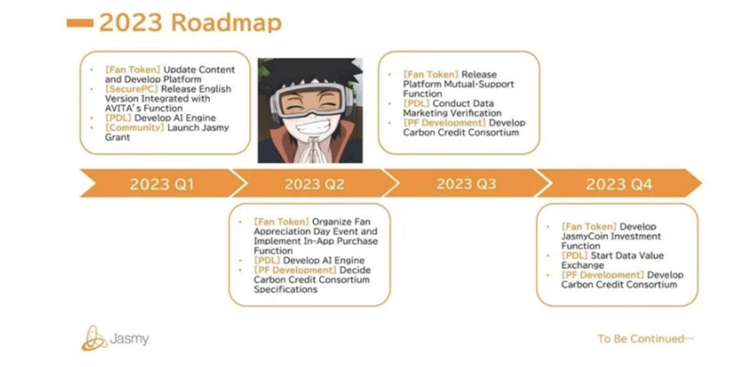 Overall, with unprecedented positive factors of both Japan's proactive national policy for Web3 and Jasmy's plan including artificial intelligence, the Jasmy public blockchain is much likely to be the source of a new round of innovation and profitability once again.
However, even if the development of next Jasmy ecosystem enjoy the advantages of Japan's Web3 policy and 2023 layout on AI, it's inevitable to answer how to help excellent ideas take root quickly with the advantages of Jasmy's public chain and how to help the outstanding startups on Jasmy reach beyond the filed so that global users and investors can share the growth dividends.
In short, Jasmy necessarily faces the challenge on how to pool more technologies, talents, projects and funds from various tracks and to further search for high-quality startups for more rapid growth of Jasmy itself, which yet provides an opportunity to share more dividends of such growth.
Jasmy Grant: Connecting Jasmy Ecology with Ideas
Jasmy Grant's "Official Jasmy Global Incubator" is aimed – to help incubate, promote and invest in promising blockchain projects in the Jasmy ecosystem.
As an official Jasmy-led grant program, Jasmy Grant focuses on funding "ideas" submitted by the Jasmy community to support a broader network of developers, derivative projects, community builders, and any event contributing to a broader Jasmy ecosystem.
Incubators as important funding links in the encryption industry connect projects with investors and dovetail the needs of both sides.

The project can attract like-minded investors to raise development fund based on their visions and characteristics.
The investors can explore potential start-up projects and improve the early ecological layout as in traditional capital markets.
Namely, Jasmy Grant is the key link in the Jasmy ecosystem and any interested Jasmy ecosystem project can submit an application. According to the information released on the official website, the current scope of Jasmy Grant funding includes.
Development improvements on Jasmy protocol : data collection, storage, distribution and transactions, voting governance, signatures and verification.
Applications of the Jasmy ecosystem: NFT, DID, payment and transaction marketplaces, data processing and information aggregation, financialized products, social and tokenization tools.
Jasmy-based developer tools: SDKs, testing frameworks, simulators.
DAO organizations for the Jasmy ecosystem.
In other words, the early-stage startups based on tracks like Jasmy's DeFi, NFT, middleware, infrastructure, metaverse, games have the opportunity to get incubated and invested by Jasmy Grant. Naturally they can feed the growth of the Jasmy ecosystem and in return share the dividends of its rapid growth.
Until now, Jasmy Grant has vigorously promoted the grant program.Geeks who want to apply for Grant simply need to fill out the questionnaire and provide project-related information. Priority, relevant resources and aid are likely given to any innovative projects beneficial to the Jasmy ecosystem.
Jasmy Ecology Rises
Officially-funded programs like Jasmy Grant are often more unique than the normal incubator in a way- Jasmy Grant boasts differentiated advantages over other traditional investment institutions, although they all share the intention of helping geeks get their ideas and startups off the ground.
Jasmy Grant backed by the Jasmy Ecology connects to almost-full-dimension ecological track including the Jasmy public chain. It can integrate the advantages of its multiple resources to exclusively provide one-stop investment and financing services.
For example, in addition to focusing on the fund demand in the project development, Jasmy Grant provides one-stop services covering investment, marketing and consulting through official endorsements and necessary consulting services like naturally assisted fundraising and marketing when investing in Jasmy eco-projects.
This means that Jasmy's startups can leverage Jasmy Grant's resources to readily access the Jasmy eco-matrix and realize synergy and mobility between DApp products, except for receiving financial support.
It benefits from the strengths of its original background-supported by wholly ecological partners and Jasmy's official endorsements and resources. In this way Jasmy Grant is not just a simple funding incubator.
Having passed the screening and received support, developers and startups can readily access official ecological resources and favorably go to the imaginative Jasmy to be developed.
Jasmy Grant provides itself with a platform to discover interesting ideas and investment opportunities and to make projects on the market in a short time and reap the dividends of ecological growth.
In short, not only does Jasmy Grant provide financial support, but it also supplies one-stop ecological resources covering the entire Jasmy development chain, so as to bring growth value to both quality projects and the Jasmy ecology and to share the dividends of a greater ecology, which is Jasmy Grant's biggest difference from and advantage over others.
Given Japan's proactive national policy and the new AI layout as the growth boost, Jasmy in 2023 is much likely to become the source of a new round of innovation and profitability again. Therein Jasmy Grant connecting projects with capital is destined to become an increasingly important link in the Jasmy ecology.
In 2023, it is worth keep tracking of that promising Jasmy ecology with growth dividends will possibly be off the beaten track, whether it will become a hit as scheduled or not.
Disclaimer: This is a paid release. The statements, views and opinions expressed in this column are solely those of the content provider and do not necessarily represent those of NewsBTC. NewsBTC does not guarantee the accuracy or timeliness of information available in such content. Do your research and invest at your own risk.