When compared with fiat currency,  investors are likely to invest in cryptocurrency due to its reliability and long-term value. Most cryptos like Bitcoin are limited in supply, which brings about scarcity in the marketplace. More importantly, cryptocurrencies are built and secured by blockchain. Because of their permissionless characteristic, cryptocurrencies are appealing to those who are concerned about bank failures, hyperinflationary occurrences, or other catastrophe scenarios.
However, the current bear state of the crypto market is a threat to crypto buyers. Nevertheless, some crypto enthusiasts believe that this might be the right time to buy, especially new coins with prospects. If you are considering making a purchase, then, Big Eyes Coin (BIG) might be considered on the list. Big Eyes Coin is an exceptional meme coin with a real-world solution. The coin is deliberate about its target and vision. From analysis, it forecasted that Big Eyes Coin might yield tangible returns like Solana and Polkadot.
Polkadot: The Primary Connector Of Several Blockchain Networks
Polkadot (DOT) is a cross-chain connectivity blockchain platform that enables interaction and communication between several blockchain networks. Polkadot as a mechanism makes it possible to transfer any form of data or asset between blockchains.
Because cryptocurrencies are decentralized, most networks would need you to convert your assets into fiat money before transacting with them. This issue is resolved by DOT by making it possible to conduct blockchain-to-blockchain transactions without the use of fiat money.
Polkadot (DOT) aims to achieve high standards of security and scalability by enabling the communication of many blockchains.
Does Solana Coin Have The Fastest Blockchain Speed?
The Solana (SOL) blockchain is considered to be a high-functional decentralized platform. It uses a hybrid consensus to achieve its scalability feature.
In the cryptocurrency industry, Solana (SOL) takes pride in having the fastest blockchain network. The majority of blockchain users have embraced Solana to a great extent thanks to this capability. High throughputs, low costs, speed, and other essential features and resources are all exhibited by the highly functional platform, which enables developers to build scalable crypto-related apps.
Solana (SOL) is ranked among the top Cryptocurrencies in the marketplace. Because of its magnificent potential, it has been included in the watchlist on CoinMarketCap.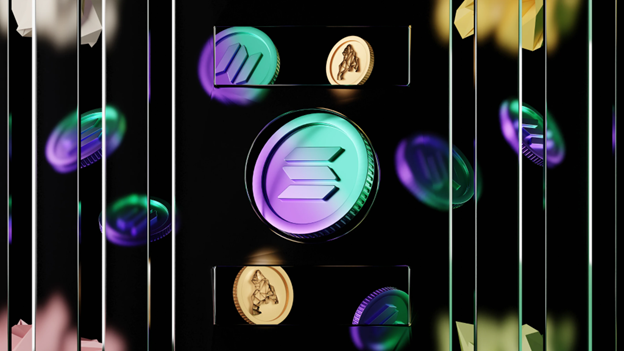 Big Eyes Coin: The Smart Meme Coin Might Skyrocket In Value
Big Eyes Coin  (BIG) is one of the newly created coins, whose goal and target remain unchanged. Big Eyes has a cute feature that has been identified as a billion-dollar industry. The cat-themed meme coin is focused on saving the ocean. Aside from this, it also aims to increase wealth creation in its decentralized finance (DeFi) ecosystem.
Big Eyes Coin's ecosystem is stocked with power-packed NFT events needed to catapult its NFT collections to the top 10 list. NFT holders will have the license to enjoy the Sushi Crew, where members can own cute things, eat fish things, and have exceptional fun.
Big Eyes Coin has successfully won investors' hearts after hitting a pre-sale of over $11 million. BIG fans are excited about this great achievement, as it is perceived to be a sign of great things to come. If you are yet to purchase BIG, this might be a chance as the coin is warming up to explode soon and you can utilise the code BCUTE902 for a coin bonus on your purchase.

Big Eyes Coin (BIG)
Presale: https://buy.bigeyes.space/
Website: https://bigeyes.space/
Telegram: https://t.me/BIGEYESOFFICIAL
Disclaimer: This is a paid release. The statements, views and opinions expressed in this column are solely those of the content provider and do not necessarily represent those of NewsBTC. NewsBTC does not guarantee the accuracy or timeliness of information available in such content. Do your research and invest at your own risk.