Cryptocurrency markets are currently experiencing positive indicators that could potentially lead to a new bull run. Glassnode, a data analytics firm, has identified a notable change in the dynamics of stablecoin outflows, suggesting a resurgence of demand and capital inflows into the crypto market.
In addition to stablecoins, other altcoins like Cardano (ADA) and meme coins like PAT WARS (PAWS) are also showing promise.
What Transpired With Stable Coins?
Following the collapse of LUNA, stablecoin holders hastily redeemed their tokens, resulting in a peak monthly outflow of -$8.6 billion. This period witnessed a significant cashing out of stablecoins as many market participants withdrew their capital from the crypto space.
However, a closer examination of the data reveals that this trend is not only subsiding but also reversing.
The shift in stablecoin dynamics represents an encouraging sign for the wider cryptocurrency market. It indicates that investors are gradually reinvesting their funds back into the crypto ecosystem, reflecting a growing confidence in the market.
While the market is still recovering from the aftermath of the LUNA collapse, the diminishing outflows of stablecoins and the potential return of capital inflows into the crypto market are optimistic signals.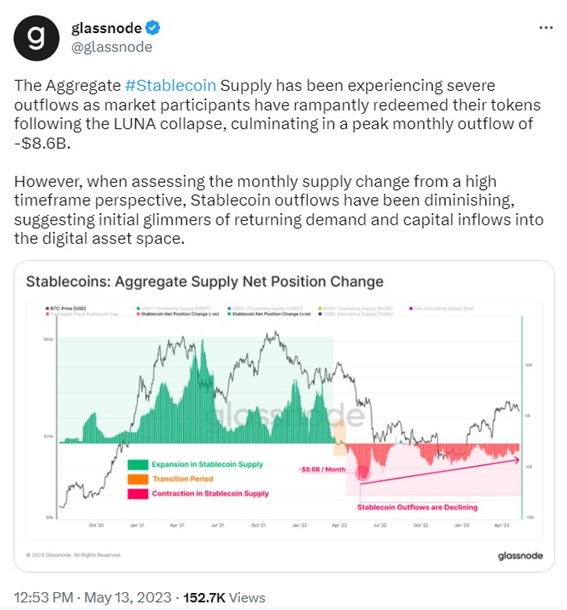 Terra (LUNA) And Its Many Problems
On the topic of Terra (LUNA), its founder Do Kwon is currently under house arrest in Montenegro after posting bail. According to Montenegrin authorities, Do Kwon and Han Chang-Joon, Terra's former chief financial officer, have each paid $435,000 as bail but are required to remain under house arrest until the conclusion of their criminal proceedings.
Do Kwon's arrest occurred in March when he was apprehended in Montenegro while attempting to board a flight to the United Arab Emirates using an allegedly forged Costa Rican passport.
South Korean authorities have also sought to extradite Kwon to face charges of fraud and market manipulation in his home country. He is accused of defrauding investors and utilizing trading bots to manipulate the market, which ultimately contributed to the downfall of the Terra ecosystem, including its algorithmic stablecoin TerraUSD and its native asset LUNA.
Bulls Outbid Bears For Billions Of Cardano (ADA) Purchases
In contrast to the troubles facing Terra, Cardano (ADA) has seen bullish activity with significant purchases outweighing sales in the past week. Data on large addresses trading at least 1% of the multi-million dollar ADA turnover indicate a favorable trend for the bulls.
Additionally, the Cardano blockchain developers have announced the activation of Hydra Head on the mainnet. This awe inspiring scaling tool enhances transaction speed and affordability, and it is the first in a planned suite of products aimed at improving Cardano's overall performance.
PAT WARS – A Refreshing Take To Digital Currency
Shifting gears to meme coins, PAT WARS (PAWS) offers a fresh perspective within the cryptocurrency sector. As a rising star in the meme coin industry, PAWS prioritizes ecosystem unity, cooperation, security, and transparency to promote long-term, user-focused growth.
The goal of PAWS, which is now in its early presale phases, is to become the most popular meme coin. It is motivated by the idea of community ownership and decentralization. The idea is based on an old prophecy that four Jedi cats found, prophesying the rise of PAT WARS, a potent digital money. This force has the power to put an end to the ongoing conflicts amongst meme coins and bring peace back to the cryptosphere.
All About PAT WARS
Website: https://www.patwars.com
Twitter: https://twitter.com/PATWARSOfficial
Telegram: https://t.me/PATWARSOfficial
Disclaimer: This is a paid release. The statements, views and opinions expressed in this column are solely those of the content provider and do not necessarily represent those of NewsBTC. NewsBTC does not guarantee the accuracy or timeliness of information available in such content. Do your research and invest at your own risk.