If there is an online casino with unfailing customer service at this moment, then it is unquestionably CryptoGames! The online casino has been reigning on the internet as the topmost favored online gambling site for the longest time! CryptoGames is a Curacao-based company that is operating under the license of Government Curacao. It offers a broad range of modernized versions of classic casino games and a wide selection of cryptocurrencies for the players to avail themselves of. Currently, CryptoGames is offering the following 9 games in their casino with the lowest house edges ever!
Dice with a house edge- 1.0 %
Roulette with a house edge – 2.7%
Blackjack with a house edge – 1.25%
Minesweeper with a house edge – 1.0%
Video Poker with a house edge – 2.09%
Plinko with a house edge – 1.72%
Slot with a house edge – 1.97%
Dice 2.0 with a house edge – 1.0%
Lottery with a house edge – 0.0%
After playing all of these games for quite some time, we have finally picked out our clear winner for this review.
It is the newest addition to the casino, Dice 2.0!
What is Dice 2.0 about:
Dice 2.0 follows a similar concept as the original game of Dice. But instead of rolling a cube with 6 sides, it requires you to predict the outcome of your dice roll within a selected range.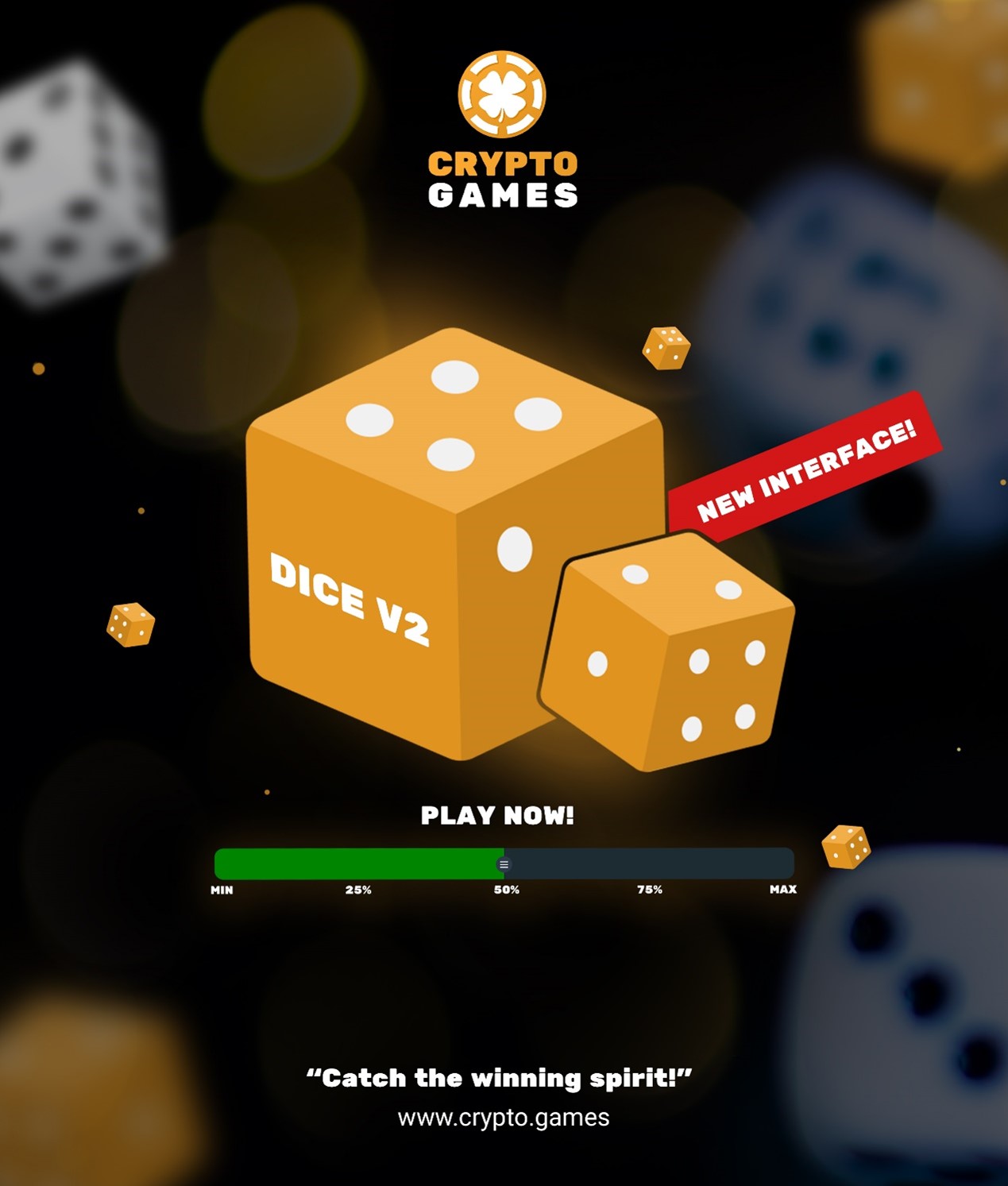 Since this is a crypto-version of the original game, players cannot use the probability method to predict their outcome.
The Design:
As you must have guessed, Dice 2.0 is a graphically reconstructed version of the classic game of Dice. On the game's homepage, players will see a sliding bar in the game's section accompanied by a few necessary tabs. In this version of Dice 2.0, players will roll their dice using the slider bar.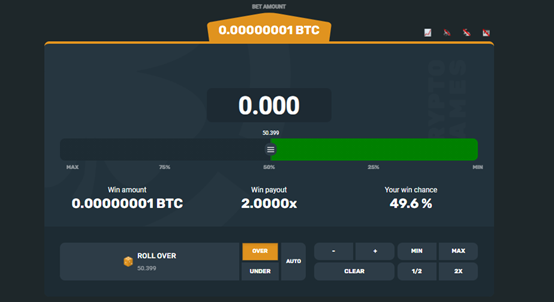 The Slider displays the area you will choose as your limit area in the color green. It will also show you the possible win amount, win payout, and your win chance. Right under the slider section, you will find your options to roll over or under tabs, bet size setting tabs (min/max, -/+, and clear). There will also be a tab for the Auto Roll feature. In this version, instead of visiting a separate page to set up your Auto Roll or Auto Bet function, you can do it on the same page as the game.
The objective of the Game:
To win any bet, players must land their dice inside the green zone of the slider. Like the original concept, they must do this by either rolling over or under a chosen number
Basic Rules to Play Dice 2.0:
The following is a list of rules explained in the simplest way on how to play Dice 2.0 at CryptoGames:
The first step, FULLY REGISTER your account. This step ensures that you are qualified to store funds in your CryptoGames account. After you deposit enough funds to play the game, simply go to the homepage of the game.
The next step is to set up your bet size in the Bet Amount field. Simply use the min/ max, +/-, ½ / 2x buttons to place your desired amount.
If you want to use the Auto Bet or Auto Roll feature then in this step, you will adjust your bet size and number of rolls. First, you will need to click on the Auto button located next to the Over and Under buttons. Then when the dedicated section will appear, simply adjust the number of bets, minimum bet size, stop on balance, change bet on a win and change bet on loss; according to your preference. This will help you to easily run multiple bets in one click.
After you are done setting up your bet size, adjust your win chance by moving the slider to either left or right side. If you want to edit your win chance manually then you can do it by filling up the "Your Win Chance" field with your choice of digits. Since the win chance determines your payout, adjust the amount wisely. More Win chances will give out lower Payout and Fewer win chances will give higher payout!
Now, after you have carefully selected your win chance, decide whether you want to roll over or under the assigned number on the screen.
Your decision to roll "Over" or "Under" will display a target number on the screen that you must conquer and win against. The main objective is to remain on the green zone of the slider as a result of your roll. So, again, be careful with your decision!
The last step is for you to click on "Roll" the dice. If you have successfully rolled a number that falls inside the green zone of the slider, you will clearly win the bet. But if you have rolled a number that falls outside the green zone, then you will lose your bet and the amount you have wagered.
Know Your Available Cryptocurrencies for Dicev2!
Just as the original Dice offers, you will be able to use all 9 of the following Cryptocurrencies to play Dicev2:
Bitcoin
Bitcoin Cash
Monero
Dash
GAS
 Litecoin
Dogecoin
Ether
Ether Classic
 Litecoin
Dogecoin
Ether
Ether Classic
A Brief Guide about the Cryptocurrencies!
All players are advised to be fully registered account holders to deposit, withdraw or play any game officially. The use of PlayMoney does not require any full registration. However, to be able to take home a real payout, players must register themselves without delay! For your convenience, we have discussed the Minimum Deposit amount and Withdrawal amount of funds down below! Followed by that, we have included how much time it will take for the funds to be transferred!
0.01 for Ether
0.01 for Litecoin
0.02 for Ether Classic
20 for Dogecoin
0.01 for Monero
0001 for Bitcoin
0.001 for Bitcoin Cash
0.01 for Dash
0.02 for GAS
The minimum amount for fund withdrawal is 0.0005 BTC or altcoin equivalent.
Usually, the deposit amounts are credited into the user's accounts after only one network confirmation but for any deposit made from an exchange medium, the process is slower than deposits made from a cryptocurrency wallet. However, fund transaction speed will also depend on the coin network status that sometimes affects confirmation time.
Time Required for Deposit and Withdrawals:
All deposits will be credited after one confirmation. But for withdrawals, 2 confirmations are required. Follow the list below to get an idea about the time needed for confirmations:
For Ethereum Withdrawal – cca. 1 minute (2 confirmations)
For Dogecoin Withdrawal – cca. 2 minutes (2 confirmations)
For Litecoin Withdrawal – cca. 5 minutes (2 confirmations)
For Dash Withdrawal – cca. 2 minutes (2 confirmations)
For Bitcoin Withdrawal – cca. 20 minutes (2 confirmations)
For other coins, a similar transaction time to Dogecoin is required.
Increase Your Bet Speed for a Faster Result!
Your betting speed will be prioritized when your bet amount is relatively high. For example: If you are betting 0.00001 Bitcoin or above, then your bet will automatically prioritize your bet speed. But if your bet amount approaches the minimum amount of bet for the chosen cryptocurrency, your betting speed will decrease. This means the bigger amount you gamble, the faster the server will process your bet's result.
Test Out More Strategies using the Faucet, Chatbox, and Rain Features!
One of the coolest additions in CryptoGames is the availability of PlayMoney and in-house currency! This play currency helps both new and advanced players to test out multiple strategies as they go. All players can receive free PlayMoney from the "Faucet" feature. Access to the Faucet can be earned from the time of registration at the casino. All faucet levels start at 0. Placing a bet, referring friends, chatting, and interacting with the community on board will increase the Faucet level.
Along with the Faucet feature, the ChatBox and Rainbot have been rewarding the players of CryptoGames with small but lucrative amounts of cryptocurrencies that help them to test out different game plans over time.
This, in our opinion, is the perfect way to level up your Player Level AND test out different strategies for the latest version of the classic Dice!
How to Win the Progressive Jackpot for Dicev2!
If you thought DiceV2 might not come with a Progressive Jackpot then, worry not! The rules for winning the Jackpot are the same as the one for Dice!
Make sure your dice roll is a winning roll of 7.777 or 77.777
The combination and encryption of the last two digits of the Server Seed and your client seed in SHA512, are 77 (the winning Jackpot number when you click on the betID)
Your Bet amount and profit perfectly meets the least amount mentioned on the website.
You will receive the entire amount of the Jackpot if your win amount is above the stated amount. However, if your win amount is lower than the stated amount then, you will receive a proportional share of the Jackpot with the minimum set to 1%.
Slide and get Your Luck Rolling with the Newest Crowd Pleaser, DiceV2!
By now, we can all collectively agree that there is no other place better than CryptoGames to test your luck and spend a few crypto coins! But after going through this piece of review, you must agree with us that, DiceV2 is the worthiest game to spend your hard-earned Cryptocurrencies on! The graphically revamped version of the classic Dice game enhances your chances of winning with only one slide! So, what can you be possibly waiting for!! Log in to your CryptoGames account now and get the dice rolling! Or should we say Sliding!