On December 20, 2022, Dmail Network and KCC announced a strategic partnership in California, USA, which both parties will cooperate deeply in technology, ecology, marketing, and privacy information services to provide users with a Web3 level information service experience.
As the next-generation Web 3.0-based collaboration platform, Dmail integrates messaging, assets, storage, workspace and other functions, aiming to become an infrastructure tool and DID for users to enter the Web 3.0 era, and has received investment from more than 20 VCs, including Hashkey Capital and Amino Capital.
KCC( KuCoin Community Chain) is also an important Web3 infrastructure, initiated and built by the developer community of KCS and KuCoin, aiming to solve the network latency and high gas fee of Ethereum. KCC is an EVM compatible blockchain and is striving to provide community users and developers with a higher-speed, more convenient, and lower-cost blockchain experience.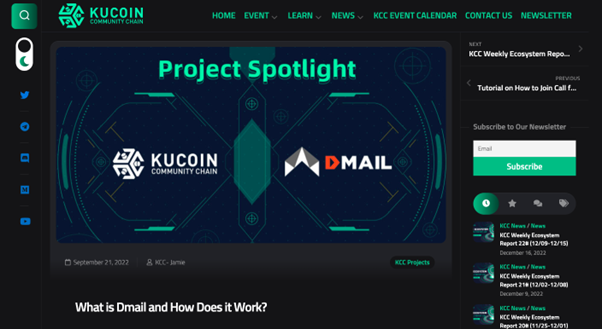 Through this cooperation, Dmail will integrate with KCC chain and support KCC chain users to login Dmail through KuCoin Wallet. Moreover, it supports users applying KuCoin Wallet to pay presale & purchase NFT Domain Account.
In addition, Dmail will also provide privacy communication, co-working and enterprise mailbox services for KCC chain users and projects, supporting sending/receiving messages not only between KCC chain users' wallets, but also between KCC and other chains (Ethereum/BNB Chain), even other web2 mailboxes.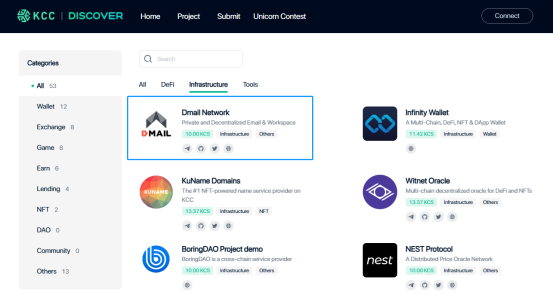 Before that, Dmail has been included in the list of KCC ecological projects and has become one of the important infrastructures of KCC ecology. To give back to the support of KCC ecology, Dmail promises to airdrop exclusive NFT Domains to KCC users.
As early September 2022, Dmail established a strategic partnership with KuCoin to provide multi-chain-based decentralized mailbox services for KuCoin ecological users, while KuCoin and KuCoin Labs will provide comprehensive support for Dmail in terms of technology, marketing and ecology.
If you want to develop and built on KCC, please visit https://news.kcc.io/contact-us/
If you want to work with the 1st web3 mailbox, please reach to [email protected]