In 2022, the UK government outlined plans to produce a non-fungible token (NFT) through the Royal Mint. It appeared the sign of a government ready to embrace innovation through crypto assets and become a strong supporter of the industry. And yet a year later, with little to show for it, the government has now admitted that it was discarding its plans to produce an NFT for sale through the Mint. In this article, we will look over the details of this collapse, what could have possibly prompted it, and then assess what the possible consequences could be for the crypto market and emerging coins such as Dogetti (DETI).
What Were The UK Government Plans For Crypto In 2022?
In April 2022, the Treasury asked the Royal Mint to create an NFT for sale. These are special tokens that use unique blockchain value to show ownership of something, with digital art increasingly popular. The value of NFTs has soared as they are worth millions of dollars and are typically traded amongst collectors.
At that time, Rishi Sunak, then Chancellor, spoke about making the UK a global hub for cryptocurrency. The idea was that through oversight of the emerging sector, it would create jobs in the UK and give cryptos the confidence to invest long-term. With the increasing use of blockchain technology, it was an indication from the UK government that it regarded cryptocurrency as a serious financial market, and would have prompted a strong surge in confidence amongst crypto investors.
What Has Happened?
The answer is nothing. There is almost nothing to show almost a year after the announcement and the Royal Mint has not even produced a piece of digital art to show what the NFT would look like or how it would function, much less what blockchain infrastructure it would be built upon.
It's difficult to speculate what prompted such a failure to build on an idea that Sunak had positioned the UK government staunchly behind, having launched a taskforce in 2021 to explore whether the Bank of England could create a central bank digital currency.
One possible reason is the volatility and slow drip of one crisis after another engulfing the cryptocurrency sector with FTX, Celsius, and others filing for bankruptcy alongside the collapse of major crypto-orientated banks Silvergate and Signature, whilst Binance, the leading crypto exchange, faces an investigation from U.S. regulators.
Another is the mounting emergency of a cost of living crisis increasingly wearing down both the UK society and its economy, possibly forcing the government in shelving its plans for the cryptocurrency sector.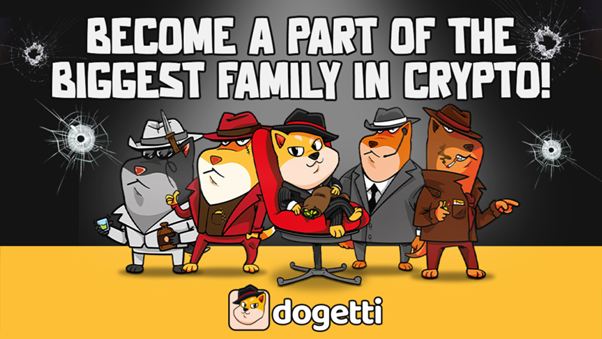 Could This Affect A Presale Coin Like Dogetti?
Cryptocurrency is a curiously psychological industry in many ways. The fluctuating prices that shift daily reflect the reaction of investors to events. Setbacks can ignite anxiety and dampen a desire to buy while signs of something bullish emerging can often prompt the opposite kind of behaviour.
It's easy to imagine that the crypto market therefore would have been awash with excitement when the government was outlining plans to build an NFT. It's also very likely that this falling apart could hurt crypto prices if investors believe that the UK government has lost confidence in cryptocurrency for a reason.
But does that mean a crypto coin that is in the process of a presale, meaning it has not yet gone live on the crypto exchanges, should be fazed? The answer is no. Setbacks have continuously disfigured the crypto market this year. The frequency of catastrophes to have visited the crypto world in 2023 alone is astonishing.
And yet it has not prevented Dogetti's impressive presale numbers. It's nearing $4,000,000 in sales as it looks to close out Stage 2 impressively and strong support for it has coalesced in the hopes of it being the next big meme coin to hit the market. It remains widely discussed as a potential rival to more established meme coins and its deeply community-orientated instincts also mean it has a strong base of followers unwilling to jump ship and ready to keep the coin going in difficult conditions.
The UK government's u-turn is a disappointing turn of events but Dogetti (DETI) is preparing to enter a crypto market that has seen countless disasters and maintained resilience. Dogetti (DETI) and its family of supporters and investors will likely continue to flourish in its presales.
For more information on Dogetti see below:
Dogetti (DETI)
Presale: https://dogetti.io/how-to-buy
Website: https://dogetti.io/
Telegram: https://t.me/Dogetti
Twitter: https://twitter.com/_Dogetti_
Disclaimer: This is a paid release. The statements, views and opinions expressed in this column are solely those of the content provider and do not necessarily represent those of NewsBTC. NewsBTC does not guarantee the accuracy or timeliness of information available in such content. Do your research and invest at your own risk.