As the crypto market continues to evolve and expand, staying informed about the future of popular tokens becomes increasingly essential. In this article, we'll dive into the price predictions for three notable meme coins in April 2023: Dogecoin (DOGE), Shiba Inu (SHIB), and the emerging DigiToads (TOADS) token. Which one is the best crypto to invest in?
Dogecoin Price Overview
Dogecoin (DOGE) has established itself as the pioneer of meme-based cryptocurrencies since its inception in 2013. Created as a lighthearted alternative to Bitcoin, DOGE has consistently maintained a substantial community following and experienced significant price surges.
Dogecoin's value experienced a remarkable surge of over 30% recently, following the adoption of the meme coin's symbol as the logo for Twitter. The price peaked at $0.1016 before retracing by 8.8%, settling at $0.096.
Over the years, Musk has exhibited a remarkable ability to influence the prices of various cryptocurrencies, with Dogecoin being a prime example. His tweets have often swayed the meme coin's value, demonstrating social media's power in the crypto market.
Technical indicators suggest a bullish reversal for Dogecoin might be on the horizon. However, given that the coin's recent price surge resulted from Twitter's strategic move, the near-term price momentum remains to be determined.
Shiba Inu Price Prediction
ERC20 token Shiba Inu (SHIB) emerged as a strong contender in the meme coin space, often called the "Dogecoin Killer." This Ethereum-based token has gained popularity due to its robust ecosystem, which includes the decentralized exchange ShibaSwap and the Shibarium Layer 2 scaling solution.
In addition to these features, SHIB has been listed on numerous major exchanges, increasing its accessibility for investors. For SHIB, reducing its large supply is crucial, as its inflationary nature has been the main reason it struggles to raise in value.
At present, Shiba Inu (SHIB) is valued at $0.0000112, and interestingly, it appears to have been positively influenced by the recent news of Twitter's logo change to Dogecoin (DOGE).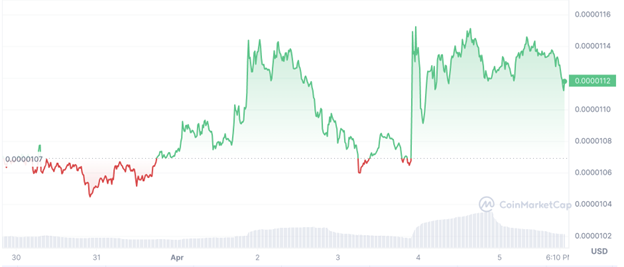 Based on current projections, the optimistic Shiba Inu (SHIB) price prediction for 2023 stands at $0.00001996, while a more conservative estimate puts the value at $0.00000788. However, if market momentum and investor sentiment take an upward turn, we could potentially witness SHIB reaching an impressive $0.00005.
Why invest in DigiToads?
DigiToads (TOADS) represents a new generation of meme coins, integrating the worlds of gaming and decentralized finance. Built on the Ethereum blockchain, the altcoin offers its holders numerous benefits, such as residual income through NFT staking and P2E gaming.
The project's ecosystem includes a Web3 game, allowing players to collect, trade, and battle unique DigiToads NFTs. One of the standout features of DigiToads is its NFT staking platform, which will enable users to earn rewards by staking their DigiToads NFTs. The platform is sustained through a 2% allocation from each TOADS transaction, ensuring a steady flow of rewards for NFT holders. By staking their cool NFTs, users can accumulate earnings over time based on their staking duration.
The DigiToads project is managed by a doxxed team of seasoned professionals who have thoroughly audited the platform's core code, ensuring a secure, reliable experience for users. All these together make DigiToads one of the top ICOs to invest in 2023.
Digitoads Price Prediction
As investors and crypto enthusiasts closely monitor DigiToads, they should consider the unique nature of its price progression during the presale. Unlike other tokens, which can be heavily influenced by market volatility, DigiToads offers a more predictable investment opportunity with its predetermined price trajectory.
For More Information on DigiToads visit the website Here, join the presale or join the community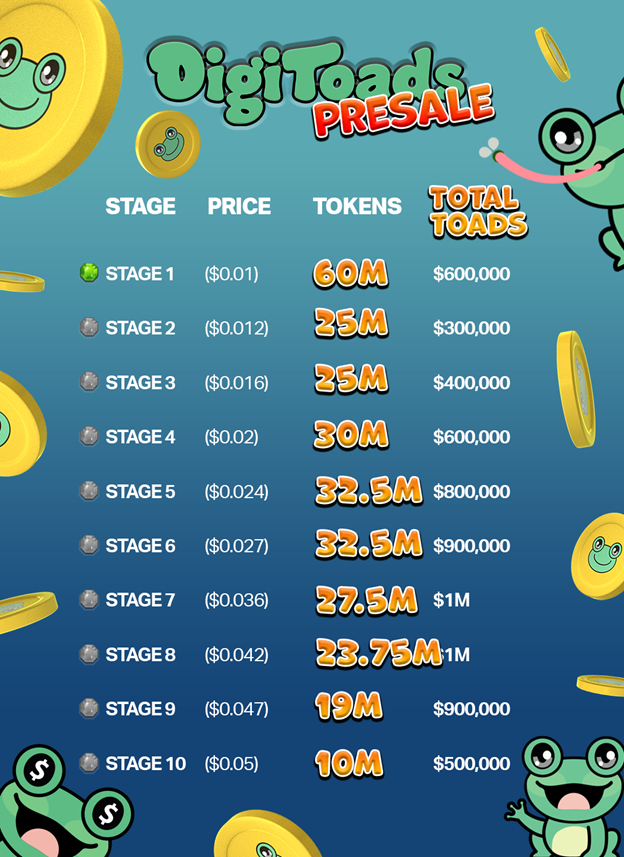 The presale began in stage 1 with a price of $0.01, and by the second phase, it had already reached $0.012. The final launch price is projected at $0.055, resulting in a substantial overall increase of 450%. Notably, this value appreciation is fixed and independent of general market trends, as the token is in its ICO presale phase.
The bottom line
As we venture into the future of meme coins, investors and crypto enthusiasts must stay informed about the potential price trajectories of popular tokens like Dogecoin (DOGE), Shiba Inu (SHIB), and the emerging DigiToads (TOADS).
While market conditions, social media influence, and project developments can significantly impact the values of DOGE and SHIB, the fixed price progression during TOADS' ICO presale offers a unique investment opportunity to guarantee high yields.
Disclaimer: This is a paid release. The statements, views and opinions expressed in this column are solely those of the content provider and do not necessarily represent those of NewsBTC. NewsBTC does not guarantee the accuracy or timeliness of information available in such content. Do your research and invest at your own risk.