Although Dogecoin started this year with a vigor to reverse the steep collapses made in 2023, it is losing its steam. The meme coin captain has lost 12.8% in the last two weeks and has more dips on the horizon.
That doesn't come as a shock, since DOGE is one of the most overrated cryptocurrencies of 2023. According to analysts, it will shed the $10.9B market cap to a more realistic value sooner or later. DOGE rallies, often triggered by Elon Musk's tweets, are fun. But investors are on the hunt for altcoins with better utility and reliability. The latest cryptocurrency to capture their attention is yPredict – a Web 3.0 ecosystem that offers data-driven insights, proven analytic metrics, and predictive marketplace trends to subscribers, leveraging AI.
🔥Join the $YPRED presale NOW for exclusive discounts💎📊

🔓Unlock premium trading tools & secure a 140% return at listing with presale price $0.05!🎉

⏰Time's running out:
✅$464K+ raised
✅<$500K left before price increase
✅Listing price soared to $0.12, almost 3x the… pic.twitter.com/Q5KtyhCYY3

— yPredict.ai (@yPredict_ai) May 1, 2023
DOGE investors are up for disappointment this year
Dogecoin is one of the biggest and most popular cryptocurrencies. It also boasts a large community of supporters and shillers who have held onto it – rain or shine. But as the crypto market redirects its course to support tokens with real-world use cases, hollow assets like Dogecoin have to take a back seat.
Most of the value of meme coins comes from wringing Elon Musk's tweets and nods. For example, they took a steep downturn in April, following the monumental failure of SpaceX's new rocket launch. It is interesting to note that this was days after Twitter replaced the bird icon that has long represented it with the Dogecoin logo. The new logo caused investors to pile in on the token, taking it 30% up the charts. But as expected, the balloon burst in a few days and investors who held onto the token saw their wallets erase a large chunk of profits.
Sadly, that is how the meme coin market has turned out to be. Dogecoin, in particular, relies on hype to a great extent that you need to have your eyes glued to the computer 24/7 to profit from its steep fluctuations.
DOGE Fear and Greed Index, 1 May 2023
At the time of writing, the Dogecoin Fear and Greed Index is neutral. Given that the market was dominated by fear a few days back, the current situation is positive. After all, being stagnant is much better than going in reverse. Or, is it? That largely depends on the investor and their target.
More slumps are underway for Dogecoin in the coming days as part of a price correction. Although tweets and nods from Elon Musk may come to the rescue of the meme coin from time to time, there will be little growth for DOGE this year. It could be worsened by the downturns in the broader market, forcing investors to hunt down cryptos that can compete with traditional projects in terms of utility.
That said, the recovery of the broader market will help Dogephiles to earn short-term 20-30% returns. But they should have their entry and exit points figured out to take advantage of the rallies. The positive price action of DOGE will heavily depend on external events since the token has little to no native utility. But the integration of DOGE as a payment currency on popular websites will provide a respite for holders.
Elon Musk can't save DOGE
It goes without saying that the crypto market is highly volatile. Many investors profit from the abrupt changes in the market, mostly driven by hype. Speculation is a strong factor that influences the market. But if you look at history, you will see that speculation hasn't served an asset right in the long term. Of course, it helps. But an asset that solely relies on hype and community strength derived from hype is setting itself up for failure. And Dogecoin won't be an exception.
Although the community wildly hopes that the meme coin will find strong support above $0.1 with more brand and business integrations, it is a long shot. A meme coin is not exactly the right asset to buy groceries. It's as unreliable as a crypto asset gets. Even if we see more brands and businesses adopt crypto payments, Dogecoin won't be a popular option for the same reason. The low denomination helps, but the high volatility works against it. Stablecoins and blue-chip assets like BTC and ETH have a better chance of getting in.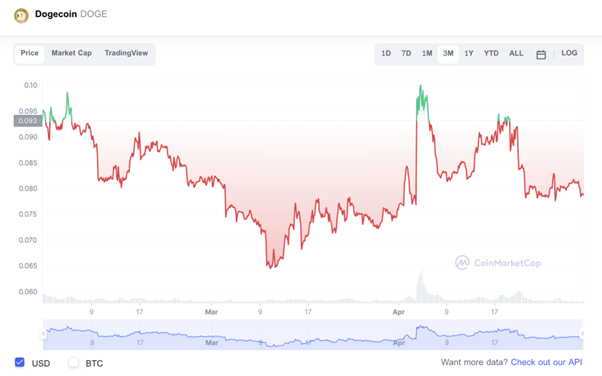 Dogecoin 3M price chart, 1 May 2023, source: CoinMarketCap
The crypto market has proven time and again that it prefers projects that push the frontiers of blockchain innovation. When the market is flooded with hollow meme coins, DeFi tokens, and play-to-earn assets, it undergoes an inevitable price correction. Like the one that we saw last year. If an asset is not keen on proving its worth, it will be flushed out. Hundreds of crypto tokens have faded into obscurity over the last few years, as a result.
Top-performing assets, on the other hand, have been received well, despite downturns. A few good examples are Arbitrum, Fantom, Stacks, Audius. Being backed by consistently expanding projects, these assets have a larger room for growth.
Dogecoin price predictions
The high volatility of meme coins will limit them to adventurous investors over time. Investors who buy these assets should be financially stable enough to bear the consequences of the steep downturns that are lurking in every corner. Mass penetration and everyday utility are beyond the scope of meme coins. Few meme coins have an intrinsic value unlocked from the underlying project.
The fact that a few addresses hold a heavy concentration of DOGE adds to its volatile nature. That makes it vulnerable to market manipulation by whales who wish to pull out.
| | | |
| --- | --- | --- |
| Year | Expected low | Expected high |
| 2023 | $0.05 | $0.12 |
| 2024 | $0.08 | $0.25 |
| 2025 | $0.03 | $0.3 |
Is it too late to buy Dogecoin?
Yes and no.
If you're looking for 20-30% short-term returns, Dogecoin is an excellent buy-the-dip token. Closely watch the market, enter when the time is ripe, and leave before the rally spirals down.
But a 10X-20X growth is unrealistic for Dogecoin. It's too late for that.
The good news is, there are other tokens capable of giving 20X returns this year. You need to think beyond high-cap cryptos like BTC, ETH, XRP, ADA, DOGE, and SHIB to make high returns from the market.
In this article, we are going to introduce you to a crypto gem that has yet to be unearthed by the larger community of investors. yPredict brings together Ai/ML experts, financial quants, and traders to simplify crypto trading. The robust makeup of the platform hints at the large growth potential of its native crypto $YPRED, which can go anywhere from 10X-30X in the days that follow the token launch. And by the end of the year, it can give 100X returns to early investors.
Sounds too good to be true? Let's take a closer look at the project and understand if the predictions are justified.
What's the big deal about yPredict?
A thin line separates a good trader from a good psychic these days. The market is non-predictive, thanks to the rising number of sophisticated trading algorithms and bots. Although they have their use and role, they are also an annoyance. In fact, their dominance has grown so large that they can potentially change the price structure of an asset and, in turn, the market.
Algorithms and bots have rendered trading strategies ineffective and impotent, even for shrewd traders with years of experience. They are slowly losing their statistical edge and have to rely on fundamental analysis, which won't reveal much in the short term. Even without the meddling of algorithms, the intricacies of the crypto market have been bewildering for average investors. Instead of fundamental analysis, they rely on news, influencers, and adulterated trading signals to make their financial decisions.
The market is in dire need of help. And that's where yPredict steps in with its data-driven insights, proven analytic metrics and predictive marketplace. It is built by leading AI developers and quantitative analysts, whose insights can give an unbeatable edge to your trading strategy. The fact that the project has partnered with AI developers and researchers (Ph.D.) to power the robust AI solutions underscores its credibility.
The core features of yPredict
Listed below are the key highlights of yPredict and why it's trending among crypto traders.
Real-time trading signals from cutting-edge predictive models by top 1% AI experts.
Real-time sentiment analysis on all popular crypto coins.
Technical analysis by AI with the most effective indicators for your asset.
25+ chart patterns detected by AI on your shortlisted coins
Transactional data analytics for thousands of digital assets
yPredict hunts down hundreds of bullish and bearish charts and candlestick patterns without any human prompts. It saves you time and effort by sending you real-time alerts as soon as the patterns form. All you need to do is turn on the notifications. yPredict is built to enable trading on the go, whether you're at home, in the office, or traveling. Another interesting feature of the platform is the reliability score for the pattern, which is arrived at by analyzing the historical accuracy of the expected price behavior after the pattern is formed.
The platform encourages developers to offer their predictive models through subscriptions. If you're an AI/ML developer, you can use the opportunity to make a substantial income. 70% of the subscription payment in $YPRED goes to developers. And if you want to get access to these predictive models, you can purchase subscriptions using the $YPRED token. It is the native crypto of the platform used as the default and discounted payment option for marketplace subscriptions and other premium services.
But $YPRED token holders get free access to the yPredict Analytics platform, lowering its entry barrier. Moreover, they earn staking reward pools for you with attractive APYs. The staking pool is filled by 10% of each new subscription. It is shared with $YPRED holders based on their investment and locking period.
Traders can also earn from the platform by voting on the marketplace, joining loyalty programs, and generating passive income through revenue-sharing staking pools. The platform implements a DAO governance for listing and delisting the models.
$YPRED presale is now open
$YPRED is a cryptocurrency that runs on Polygon. Here is a quick look at the primary utilities of the token:
Free access to the yPredict analytics platform that allows you to assess coins based on data-driven insights & metrics.
Pay for predictive model subscriptions through the yPredict marketplace
Earn rewards in exchange for casting your votes on the marketplace
Earn lucrative APYs by participating in staking.
As more investors enter the crypto market to take advantage of blockchain innovation, a project like yPredict has high relevance. New investors will need a reliable tool to navigate the market. The increasing number of users on the platform is expected to drive the price of $YPRED multifold by the end of 2023. Generous returns await investors who buy the token while it's underrated.  The ongoing presale is their best gateway.
yPredict's appeal lies in the fact that it derives its value from its utility through monthly subscriptions rather than hype. As a result, it has much higher growth potential than high-cap cryptos like Dogecoin.
But there is more.
Take advantage of $YPRED's tiny initial market cap
$YPRED has a limited total supply of only 100 million tokens. 50M out of this are unlocked at the listing. And it has an exchange listing price of $0.12. That brings the initial market cap to just $6M. Given that the presale is racing ahead, you need to hurry to procure the token during its early phases. The presale price will go higher with each new stage.
It supports MATIC, ETH, BNB and fiat card purchases.
Disclaimer: This is a paid release. The statements, views and opinions expressed in this column are solely those of the content provider and do not necessarily represent those of NewsBTC. NewsBTC does not guarantee the accuracy or timeliness of information available in such content. Do your research and invest at your own risk.