Cryptocurrency has been referred to as one of the best things that happened to the financial market. It has introduced people to the idea that money can be saved and traded in multiple ways. Additionally, it has proved that money does not have to be seen physically before it is considered valid. This discovery shocked and influenced most people as the migration to cryptocurrency since its inception has not dwindled. This is proved by the ongoing market; instead of people leaving the industry due to the losses certain currencies have experienced, they are looking for newer blockchains to explore and earn more profits.
It is, therefore, safe to say that cryptocurrency is a movement that greatly influences people. Dogeliens (DOGET) is a new currency that plans to build a rich ecosystem by infusing Decentralized Finance (DeFi), Non-Fungible Tokens (NFTs), and virtual reality into it. Dogeliens is also working tirelessly to ensure that the users are empowered by providing educational materials about blockchain technology and mainstream education.
Dogeliens (DOGET): Experience Limitless Self-expression
Dogeliens (DOGET) is a futuristic meme coin that gives people the liberty to design their realities. The door to this project is open to anyone passionate about community-building and charities. Dogeliens hopes to be greater than Dogecoin and Shiba Inu, and it is working hard towards becoming one of the best cryptocurrencies in the market.
The Dogeliens world caters to users who are not interested in battles. It provides them with various fun activities to take part in like buying NFTs. With walkies time, users can go on walks with their dogelien pups and there are different lan,dscapes dedicated to this. Dogeliens is the perfect blockchain for dog lovers who want to earn rewards simply for their love of dogs!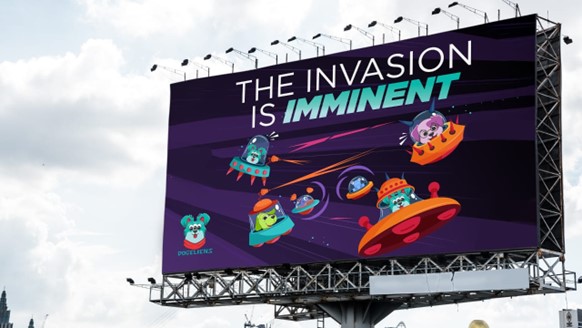 Create your Decentralized Applications (dApps) with Solana (SOL)
Solana is a network that facilitates the creation of decentralized applications (i.e. games, NFT marketplaces, DeFi) by developers. It is similar to the Ethereum network but it stands out by using a hybrid consensus of Proof-of-History (PoH) and Proof-of-Stake (PoS).
Solana intends to ensure scalability without neglecting decentralization. In the future, Solana hopes to be recognized as the primary blockchain for modern internet applications. The Solana (SOL) tokens are used for transactions and staking to support the growth of the network.
Be Creative with Flow (FLOW)
Flow is a decentralized platform that plans to lead the blockchain movement that supports a new generation of applications and games. The Flow (FLOW) token is used to create smart contracts, games, and apps on the Flow network. This implies that the Flow (FLOW) token is an essential part that developers need to interact with the platform. The token can also be saved, transacted peer-to-peer, or transferred.
Similarly, Flow (FLOW) can be staked by users to earn rewards. Additionally, FLOW is required for gas fees to store assets and create smart contracts. To create and use other tokens on the Flow network, the FLOW token is required. Flow allows the creative ideas of developers to thrive without risking hacks or fraud.

To find out more about Dogeliens (DOGET), visit the links below:
Presale:  buy.dogeliens.io
Website: https://dogeliens.io/
Telegram: https://t.me/DogeliensOfficial
Disclaimer: This is a paid release. The statements, views and opinions expressed in this column are solely those of the content provider and do not necessarily represent those of NewsBTC. NewsBTC does not guarantee the accuracy or timeliness of information available in such content. Do your research and invest at your own risk.