Crypto investors looking to enjoy a profitable run in the coin market this new year should look toward altcoins with more propensity to thrive than others. While market analysts have various lists of the ones to consider, you must do your research and make your list. If you're unsure of where to start, consider Ethereum Classic (ETC), Zcash (ZEC), and Dogetti (DETI).
Ethereum Classic (ETC): How From The Shadows It Is Rebuilding
Ethereum Classic is what remains of the first Ethereum blockchain network after the platform suffered a major hack. The network custodian decided to maintain the originality of the first network and has since focused on the continuous development of the network. The blockchain network boasts a similar utility to its counterpart, Ethereum, but it's not as prominent as the top smart contract network.
Ethereum classic hosts decentralized applications and ensures they run seamlessly with no downtime. The smart contract platform has a utility token, ETC, which facilitates transactions and other functionalities on the platform. ETC was one of the cryptocurrencies that showed strong resistance to the effect of the crypto winter in the previous year. Although, the crypto asset suffered a slight decline.
The crypto asset has had a strong start to the year, and its impressive run could bring tangible yield to holders before the year ends. Ethereum Classic (ETC) might be far from its $176.16 all-time high, but it has what it takes to rally toward that point again. Crypto investors looking to make the most of the new year can consider adding the altcoin to their portfolio in anticipation of good returns.
Zcash (ZEC): Digital Currency That Ensures Anonymity
Zcash is a privacy-oriented digital currency that supports anonymous transactions. The crypto asset allows users to transact without revealing any essential details about the transaction or making it traceable. Transactions with Zcash are swift and low cost, and users can choose between a normal (transparent) transaction or a shielded (anonymous) one. Zcash achieves its anonymity function using a Zero-knowledge technology called zk-SNARKs.
The technology ensures users can control transactions' privacy. With Zcash (ZEC), users enjoy the benefits of DeFi better. The cryptocurrency has become an acceptable payment medium among different service providers. This has increased Zcash's (ZEC) prominence and value.
The crypto asset is worth about $759+ million in market capitalization, with an all-time high (ATH) greater than some of the top crypto assets. Zcash peaked at around $210+ in the previous year before its decline, and it's now looking to rally again toward a three-figure market price.
Dogetti (DETI): Join The Next Big Meme Coin – The Family!
The Dogetti token (DETI) is an Ethereum-deployed meme coin serving utility purposes in the Dogetti ecosystem. The ERC-20 token will function as the payment medium for transactions on DogettiSwap while powering governance in the platform's DAO. Dogetti token (DETI) will give token holders voting rights and allow them to contribute to discussions about the crypto project.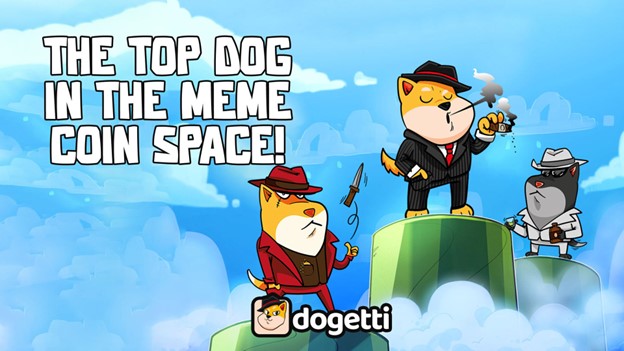 Dogetti prioritizes community development and strength. The platform hopes to be a top meme project with the largest family in the crypto space, and it will channel much effort toward community-building to achieve this. Dogetti will run a buy-back policy with a reflective protocol that will allow users to enjoy constant passive income on every transaction on the platform.
The crypto project will have its NFTs collections billed to rise in value as it develops. Dogetti will allocate part of its tax revenue to charity while others will go to rewarding the community, providing liquidity, and facilitating auto-burn to maintain the meme token's value. Dogetti (DETI) is prepared to go presale soon, and it could be a good purchase for the future. It is running its first promo code, WISEGUY25, which offers 25% bonus tokens on any purchase!

For All Things The Family And Dogetti (DETI)
Presale: https://dogetti.io/how-to-buy
Website: https://dogetti.io/
Telegram: https://t.me/Dogetti
Twitter: https://twitter.com/_Dogetti_
Disclaimer: This is a paid release. The statements, views and opinions expressed in this column are solely those of the content provider and do not necessarily represent those of NewsBTC. NewsBTC does not guarantee the accuracy or timeliness of information available in such content. Do your research and invest at your own risk.