The year 2021 was a revolutionary one for the crypto market in terms of innovations and developments. Some of these innovations advanced into 2022 despite the beginning of the bear rally. One of these many adoptions was the introduction of the Solana spaces, a physical one-to-one retail store that opened in Miami and New York. This new addition allowed users and enthusiasts to have a physical space for one-to-one onboarding processes, making users more familiar with NFTs and blockchain technology in general.
However, the investor who introduced this project recently announced that the retail store would close by the end of February. The primary reason for the closure was that the project attracted fewer individuals than expected. However, there are better plans in place for the store after closure.
On the contrary, things look rather exciting for Dogetti(DETI), a new meme coin project that recently began presales on the Ethereum blockchain. The Dogetti presale started some weeks back. Yet the meme coin has managed to create some buzz in the market. Dogetti presale is a once-in-a-lifetime opportunity to buy the tokens for cheap. Join the presale now in order not to miss you.
Solana (SOL) Spaces Welcomes New Plans Following Closure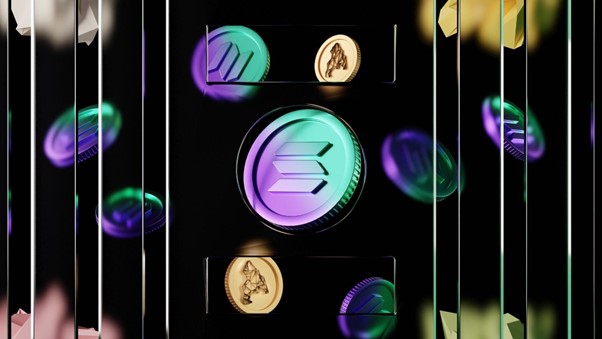 Solana(SOL) is a high-performance blockchain providing fast, secure, scalable decentralised applications (dApps) and services. It was founded in 2017 and is based on a proof-of-stake consensus mechanism called "Tower BFT."
Solana is a third-generation blockchain that addresses other blockchain platforms' scalability and performance limitations, such as high transaction fees and slow confirmation times. It is a new generation system that addresses the issues of the blockchain trilemma. Its architecture includes several innovative features, such as a unique transaction processing system called "Sealevel," which allows for high throughput and low latency. It also uses a programming language called "Rust, "enabling efficient and secure smart contract development.
The Solana space was a recent addition to the blockchain system integrated by one of this network's investors. Although the creator of this project stated that the project would close by the end of February, he also added that the spaces would be made open source. Any investor interested in ensuring continuity can pick it up from there. In addition, there will be another physical location for fans to pick up merchandise and carry out Solana community events.
Dogetti (DETI) Presale Is The New Big Thing
Dogetti (DETI) is a new meme coin project that differentiates itself from the regular. The meme coin debuted on presale in February 2023 and has made some promising moves since then.
The meme coin aims to target exciting sectors in the cryptocurrency market, some of which includes the DeFi market, DEXs, NFTs, DAO, and more. These additions are targeted toward creating the best user experiences and helping them generate maximum wealth.
The network announced that 2% of the amount generated from taxes would be given to users and token holders as rewards. The network's NFTs will allow users to make more money on the system. Dogetti has demonstrated that it is a meme coin with numerous potentials. It also allows investors to join the network easily. Through its presale. Users can buy DETI tokens cheaply and sell them for higher when it launches.
In addition, there are bonus opportunities to exploit for higher profits. Check out the links below for more information on the Dogetti token, and buy yours before the presale ends by clicking the link here.
For more information:
Presale: https://dogetti.io/how-to-buy 
Website: https://dogetti.io/ 
Telegram: https://t.me/Dogetti 
Twitter: https://twitter.com/_Dogetti_ 
Disclaimer: This is a paid release. The statements, views and opinions expressed in this column are solely those of the content provider and do not necessarily represent those of NewsBTC. NewsBTC does not guarantee the accuracy or timeliness of information available in such content. Do your research and invest at your own risk.