It's no secret. Presale tokens can give you astounding returns if you know what you're doing, and you've done your research. In this article, we are introducing you to an ongoing crypto presale that is not to be missed out on – Swords of Blood.
The first-of-its-kind RPG building on Polygon
Blockchain games continue to capture players with better inclusivity, transparency, and profitability. Swords of Blood has the potential to be at the forefront of the market.
The rich storyline, gameplay, and Web 3.0 features of the game have seized the attention of RPG fans – crypto, traditional, mobile, PC, young, and old alike – strengthening the predictions that the presale is racing toward an early sell-out. It has raised $1,199,011 at the time of this writing. Generous returns await investors who unearth the gem in its early stage, if the game unfolds as planned.
Swords of Blood is one of the most promising crypto blockchain games to enter the market this year. Why? Because it has already proven its mark in the traditional market as the game is built on the framework of an award-winning title that was first released by Artifex Mundi in 2019.
The original version has a 4.8 out of 5 average user rating and over 4M downloads on App Store and Play Store, which speak for its gripping gameplay and usability. Hit Box Games LLC, the company that now holds unlimited rights to publish a reimagined version of the successful game, thinks it can do better.
The Web 3.0 version of the title will bring cutting-edge gameplay and irresistible crypto incentivization to players. If the game trailer is any evidence, its flashy combat, stellar graphics, and various game modes have the potential to penetrate the masses, which will include traditional gamers as well.
⚔️ The BIGGEST HACK-AND-SLASH #GAMEFI is coming to @0xPolygon!

📣 $SWDTKN #PRESALE 2 IS NOW OPEN! 📣

Secure your $SWDTKN for some of the lowest prices you will ever see!

Presale 2 Price: $0.070
Presale 3 Price: $0.080
TGE Price: $0.10https://t.co/HLHfKamruF @PolygonGaming pic.twitter.com/cx6aM7Wd3D

— Swords of Blood ⚔️ (@SwordsofBlood_) April 9, 2023
Swords of Blood's first-of-its-kind Hack-n-Slash RPG has chosen Polygon as its home and for obvious reasons. Polygon is known for its high speed and low fees, in addition to the energy efficiency unparalleled in the blockchain market.
Speaking of the gameplay, Swords of Blood is set in the World of Ezura, which has been brought to a tragic collapse by violence and betrayal under the leadership of a cunning evil. You have to defeat this dark lord through strategic gameplay, donning the role of a fearless dungeon crawler, a bounty hunting battle-mage, or a powerful warrior as you please. As you avenge the death of your fallen brothers by undertaking an epic quest of might and revenge, you will earn attractive rewards.
Swords of Blood Web 3.0 MVP will be launched in 2023, with attractive new features that enhance the broad appeal of the game.
On the path to becoming a community-first MMORPG
One of the key highlights of Swords of Bloods is its long-term vision of building a community-first MMORPG in Web 3.0. The project's grand ambitions are justified by the expertise of the team, which includes industry veteran James Seaman with 36 years of experience.
The playable MVP of the game will feature the following multiple asynchronous game modes in the first stage:
Main campaign dungeons in three difficulty levels.
Monster Hunt dungeons, where you play against waves of progressively harder monsters.
Boss Fortress, where you team up with four other players to fight against powerful bosses.
PvP, where you compete against other players to rank up in the global leaderboard to earn prizes.
Daily dungeons, where you enter a special rift to play a daily selection of dungeons with special rewards.
Event dungeons are time-limited event dungeons with a special currency that can be spent on unique event items.
Challenge dungeons are special events where you take challenges to win prizes from the global leaderboard.
Shattered Maze is a week-long special event with an event shop where you go through mazes and fight monsters and bosses.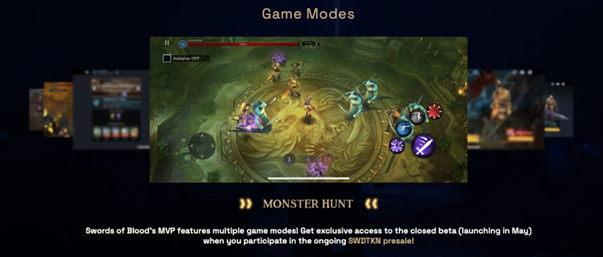 Over time, it will incorporate synchronous game modes and more multiplayer features to build a community-centric MMORPG. The features along the way include the following, which are aimed at bringing more usability and thrill to the game.
Payment support from multiple chains and fiat currencies via SphereOne and Simplex.
A play-to-own rather than a play-to-earn game.
Brand new and more engaging F2P mechanics
4, 8, and 16-player PVP modes
New soundtrack featuring members from many famous acts such as Disturbed and Trivium.
Weapons specialist and creator, Ben Abbott, from the famed show forged in fire.
E-Sport Micro Tournaments
Community-based gaming with guilds and clans
U.T.'s, game utility tokens (NFTs) that can be used in-game and sold in the open market.
150-hour game expansion pack, the narrative of which is written by members from Cyberpunk, The Witcher, Gord, Command and Conquer, and Ghost Recon.
Community-based communication areas
4 million USD planned in added development
40% of all tokens and payments brought in will be managed by the project's market-making team.
Free to play, play to win
While crypto games are notorious for their enormous initial investment – which include crypto tokens as well as starter NFTs, they shunt the growth of the industry. Swords of Bloods aims to tackle the issue by building the game on a free-to-play foundation.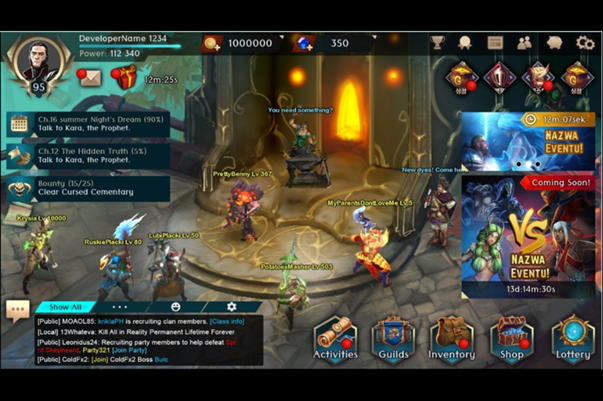 Although the game is fundamentally free to play, you can unlock premium content using $SWDTKN tokens. You'd need the token to cross a certain hero level or threshold for PVE/PVP content, step up your items using Gold and Gems, access tournaments, acquire Battle Passes, and unlock rankings.
But that is not the only reason to grab the tokens now, which are selling for discounted prices at the ongoing presale. Swords of Blood, being one of the most talked-about GameFi projects of 2023, kindles the demand for $SWDTKN, turning it into an excellent investment.
Join the presale early to secure high discounts, which translates to high returns by the end of this quarter.
Disclaimer: This is a paid release. The statements, views and opinions expressed in this column are solely those of the content provider and do not necessarily represent those of NewsBTC. NewsBTC does not guarantee the accuracy or timeliness of information available in such content. Do your research and invest at your own risk.