After more than five years of being in development, eTukTuk is preparing for its much-awaited token launch. In this article, we will take a closer look at the project and why eTukTuk is one of the biggest sustainability projects of this decade.
We will also explore how early investors can take advantage of the presale of TUK tokens to gain short-term and long-term returns.
Our dedicated teams are tirelessly working, both on and off the blockchain, to construct an ecosystem that places utmost importance on safety and security.

Here's an exciting glimpse into our latest prototype testing.

We have plenty more in store, stay tuned 👀#eTukTuk pic.twitter.com/w6II3fO9xH

— eTukTuk (@eTukTukio) July 19, 2023
What is eTukTuk?
eTukTuk = e + TukTuk.
eTukTuk is an EV (electric vehicle) version of Tuk Tuks, the popular three-wheeled vehicle used as a taxi in developing economies. Here are some of its advantages.
Safety as standard with eTukTuk's patented roll cage design.
Cleaner as they are electrically powered
Efficient recharging that costs up to 75% less than traditional TukTuks.
But eTukTuk's scope lies beyond bringing green vehicles to the market. It also focuses on building a sustainable infrastructure to support their mainstream adoption.
For this, the project will introduce a recharging network incorporating renewable resources and a tokenized payment solution spanning ride-hailing fares, among other initiatives.
Unlike most Web 3.0 ecosystems, eTukTuk is not confined to the virtual world. The project is rooted in the real world with a global mission to phase out carbon-intensive vehicles from roads. It will step into the market by establishing robust EV ecosystems in developing countries. But the long-term vision is to expand to developed countries and decarbonize the public transportation system.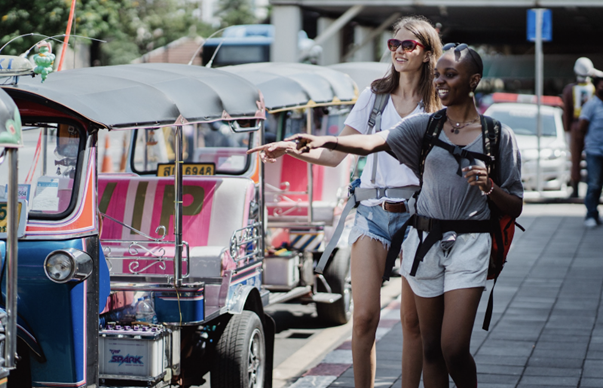 Why eTukTuk?
It is important to understand the market relevance of eTukTuk to analyze the potential of TUK as a crypto investment.
Let's begin by looking at the numbers.
Approximately 270 million ICE (Internal Combustion Engine) Tuk Tuks are currently in operation worldwide, and this number is projected to reach 400 million by 2050.
The electric vehicle charging station market is estimated to grow from USD 17.59 billion to USD 111.90 billion by 2028, at a CAGR of 30.26%, which is attributed to market demand returning to pre-pandemic levels.
One of the key areas that we can bring a discernible improvement to climate change is transportation. Electric Vehicles are an excellent solution to the problem, but how feasible is it?
True, developed economies have a realistic goal of transitioning into public and private EV transportation systems over time. But when it comes to developing economies, it is a distant dream. And possibly, delusional, without technological innovation. There are multiple reasons why.
To begin with, EVs demand much higher initial capital than fossil-fuel vehicles that are also carbon-intensive. The middle class and the poor can't afford an EV even if it means lower operational and maintenance costs in the long run.
Let's say you can afford to buy an EV. But the poor EV charging infrastructure in developing economies will make driving an ordeal for you.
This is the market eTukTuk is stepping into. The project is primarily focused on the TukTuk sector since it is widely popular in developing economies. Turning the sector green will substantially help reduce pollution in these countries.
But the project's goal goes beyond climate action. It also aims to boost the livelihood of TukTuk drivers with the shift to electric alternatives. It is estimated that the system, once implemented, will empower drivers to earn up to 400% more income with fuel charges out of the equation. The lower maintenance cost is also a highlight.
To learn more about the eTukTuk ecosystem, read the white paper.
How does it work?
Widely accessible, compact, and future-proof charging stations are the backbone of the eTukTuk network. eTukTuk Territory Partners make it possible to install and operate essential services for the smooth delivery and operation of vehicles, charging stations, power, and technology. In exchange, they will earn rewards every time a driver of an eTukTuk or a compatible EV charges their vehicle at any one of the charging stations.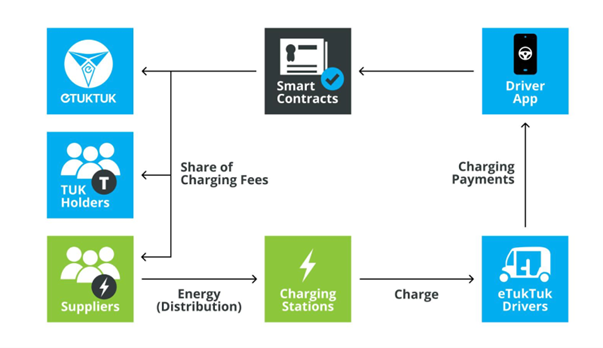 Another important component of the ecosystem is the staking mechanism, which allows participants who stake into the network via TUK to earn rewards. The peer-to-peer (P2P) TUK sharing economy is designed to favor everyone involved, including drivers, Territory Partners, and staking participants.
Currently, eTukTuk is looking for partners in the public and private sectors to place electric charging points across South Asia. If you're interested, contact hello@etuktuk.io
Is TUK a good investment now?
eTukTuk is one of the most promising crypto projects of 2023. Although it has an ambitious global vision to reduce CO2 emissions, it has narrowed down its focus to the Tuk Tuk sector in developed economies. And that makes all the difference.
The project has a large scope for expansion and growth in the coming months, as revealed by the recent partnerships. For example, eTukTuk joined forces with the Capital Maharaja Group (CMG) to introduce sustainable transportation powered by blockchain in Sri Lanka. The leading conglomerate in Sri Lanka can make eTukTuks mainstream.
More partnerships, with governments and private companies, will help eTukTuk establish a robust presence in emerging markets. For example, the project recently announced its plan to enter Africa.
📢 Announcement 📢

eTukTuk is embracing a multi-chain approach to accelerate our mission to bring sustainable transportation solutions to South Asia and Africa.

Here is our statement on our recent announcement. pic.twitter.com/0L2tLa3HQs

— eTukTuk (@eTukTukio) July 22, 2023
A credible team with years of experience in the EV and blockchain industries drives the project.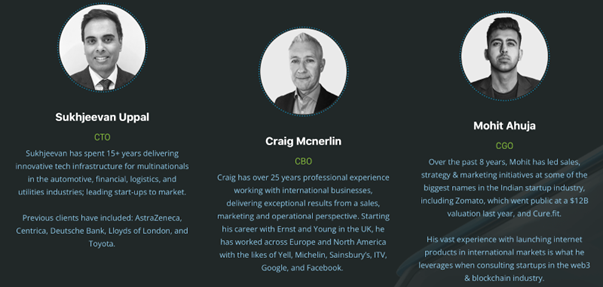 Factoring in all these, TUK is an excellent investment this year. The most profitable entry into the project is the token sale whitelist that is now live.
Industry analysts predict TUK to climb anywhere up to 2000% on its initial exchange listing, capitalizing on FOMO and initial momentum. But the real potential will be unveiled in the coming years as eTukTuk makes its way to different countries.
Disclaimer: This is a paid release. The statements, views and opinions expressed in this column are solely those of the content provider and do not necessarily represent those of NewsBTC. NewsBTC does not guarantee the accuracy or timeliness of information available in such content. Do your research and invest at your own risk.