Tokyo, Japan (January 27th, 2021) – FEB Inc., boutique blockchain PR, promotion and consulting firm, based in Tokyo since 2018, is happy to announce the start of providing cost-effective PR media packages in East Asian markets for overseas blockchain projects.
FEB Inc. started to support crypto marketing for blockchain projects in 2017 and have supported more than 50 blockchain projects and companies worldwide. These include a subsidiary of Japanese listed company, a think tank of a banking group, a governmental agency, and major global blockchain projects.
It is extremely difficult to understand Asian market conditions and reality of each country, and companies that conduct marketing in Asia often spend times of the market price or implement ineffective measures.
Leveraging FEB Inc.'s knowledge and network in Asian crypto markets, they have developed and launched cost-effective PR solutions to help blockchain projects to improve their presence and build communities in Asia.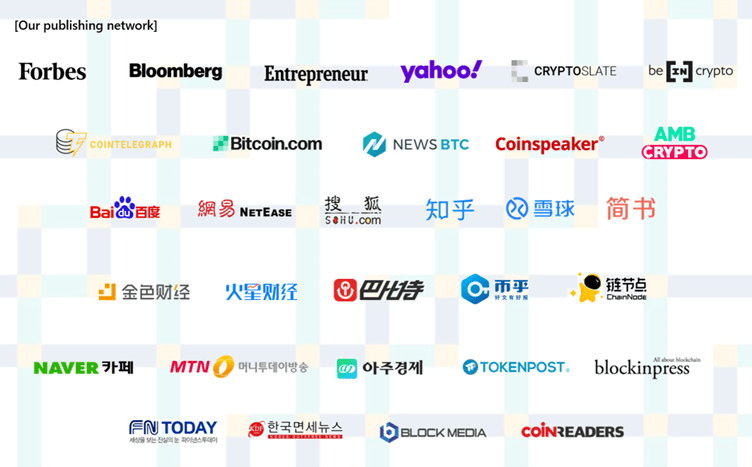 Some of the supported media
Cost-effective PR media packages for East Asian markets <NEW> :
China 10 media (Including multiple major general, crypto media)Price: $2,000~
Korea 10 media (Including multiple major general, crypto media)Price: $2,000~
Japan 15 media(Including multiple major general media)Price: $2,000~
You can find other effective PR solutions, they offer, below:
◆KOL Video Viral Promotion
Chinese KOL creates the video which easily spreads in China, it is shared in thousands of communities to reach a total of 2 million crypto holders on such popular social media platforms, as Weibo and WeChat.
Price: $5,000 ~
◆AMA
To build the local community, they plan and organize an online AMA event instead of off-line meetups in Asian countries.
Price: $1,000~
*Area: China, Korea, Japan, Thailand, Vietnam, Indonesia
◆Viral promotion on community platforms(BBS, Forums)
Price: $1,000~
*China, Korea, Japan
◆Tied-up campaign with media, influences, community leaders
Token drop, goods drop
Price: $1,000~
*Area: China, Korea, Japan, Thailand, Vietnam, Indonesia
◆Community management
Telegram, WeChat, Kakao Talk, LINE
Price: $800~
*Area: China, Korea, Japan, Thailand, Vietnam, Indonesia
◆Crypto specific translation
*English into Chinese, Korean, Japanese, Vietnamese, Thainese, Indonesian and the opposite.
For information on trends in the crypto markets in China and South Korea, please see the following:
https://fareastblockchain.com/en/trend
You can also check columns about "Differences in the community and market environment in East Asia from the crypto marketing perspective" the links below:
China: https://fareastblockchain.com/e/colum-en/511/
Korea: https://fareastblockchain.com/e/colum-en/577/
Japan: https://fareastblockchain.com/e/colum-en/588/
For more information about the services, please contact the team, using this form: https://fareastblockchain.com/jp/#contact
Company Profile
Name: FEB Inc.
URL: https://fareastblockchain.com/
Location: 3F Navi Shibuya V, 5-5 Maruyamacho, Shibuya-ku, Tokyo
CEO: Hiroyuki Sakama
Establishment: May 2018
Capital : 3,500,000 yen