The presale of the trending move-to-earn project Fight Out has crossed the $4M mark. The investor rush to the event has increased over the week to take advantage of the early-stage discounts and bonuses.
Fight Out's mass appeal that extends beyond the crypto market, especially in the fitness communities, has expedited the presale. According to industry experts, Fight Out could be one of the first projects to enter the $1B club this year.
Fitness in the metaverse
When we think about the virtual world lifestyle, the first things that pop up in our minds are gaming, meetings, and fitness. Fitness in the metaverse is a creative concept that can be manifested with the ongoing developments in metaverse software and hardware. Move-to-earn applications like Fight Out take the concept to the next level with the integration of crypto rewards. The platform believes that people need a combination of strong motives to achieve their fitness goals.
Although the metaverse has yet to enter the mainstream, metaverse fitness has the potential to kindle interest in the next-gen internet. The fact that traditional gyms are phasing out to give way to boutique fitness studios that offer customized services and more workout choices, strengthens the case. Gyms fail to give motivation, guidance, accountability, and enjoyment to customers. As a result, they have low retention rates. Boutique fitness studios or personal trainers, on the other hand, are expensive.
That explains the popularity of fitness apps, which try to strike a balance between personalization and cost efficiency. Sadly, they are still bound by the inherent limitations of Web 2. Dozens of notifications a day can't consistently motivate you to get out of bed and work out.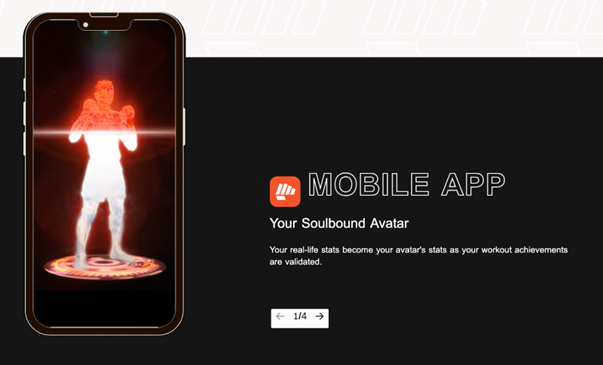 This is where Fight Out enters. It is flexible, convenient, and engaging. Moreover, it integrates creative gamification and crypto-incentivization mechanisms to improve the retention rate. The much-talked-about Fight Out Companion App allows you to earn as you work out in the metaverse with your friends, family, or other community members from around the world. And the crypto move-to-earn functionalities motivate you to stick to well-rounded fitness programs customized to your goals and abilities. The platform hosts competitive leagues, tournaments, and interesting fight modes where you can win glory, titles, and prize pools. As you go along, you can test yourselves against AI-powered pro fighters or other legends of combat sports.
Communities and brands are also a part of the metaverse. They can organize special competitions in the metaverse, setting their own entry fees and prizes, as part of Web3 marketing campaigns.
What does Fight Out do differently from early move-to-earn platforms?
Fight Out is not the first blockchain fitness app. Neither is it the first move-to-earn application. So, what does it do differently to justify the large traffic to the ongoing $FGHT presale?
1. No pricey starter assets
Expensive starter assets have proven detrimental to blockchain applications over the years. A quick glance at the NFT market will reveal that most of these digital assets are beyond the reach of the masses. Their price is tied to their collectible value and hype, rather than utility. While that approach works for industries like art and gaming, we can't say the same about fitness.
To tackle the problem, Fight Out puts forward a sustainable solution using Soulbound NFTs. The unique digital avatars in the metaverse are bound to your souls and can't be transferred or resold. You mint your Fight Out avatar when creating an account. It keeps track of your workouts and achievements and converts them into stat points. That will be the basis for your move-to-earn revenue from the platform.
Other key assets on Fight Out are FGHT tokens and REPS tokens. While FGHT is the metaverse token that allows you to enter metaverse competitions, REPS is the in-app, off-chain token. You need FGHT tokens to buy REPS. FGHT is selling for 0.02072 USDT per token at the presale now.
2. A holistic approach to fitness
Fight Out rewards you for a diverse range of movements – from body-weight exercises and workout class participation to machine and weights exercises. The latest smart technology integrated into the application streams the movement and key effort indicators into the reward algorithm.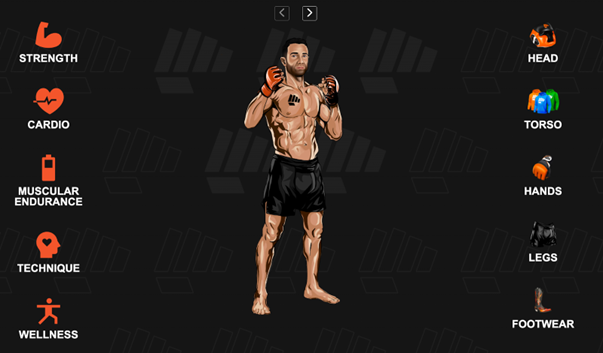 The workouts can be segregated based on their attributes like Strength, Muscular Endurance, Cardio, Wellness, and Mental Fortitude. Another interesting aspect is the weekly soft caps of each attribute that ensure all-around fitness. The app honors you with time-stamped badges of achievement. The badges can get you perks like increased soft caps on particular skill categories, discounts on items in the Fight Out store, increased drop rates on cosmetic NFTs, and REPS-earning amplifiers.
3. Peer recognition as a strong fitness motive
Since the goal of fitness goes beyond maintaining health, it is important to incorporate social factors in a fitness app design. Fight Out allows you to share your newly acquired cosmetics, badges, challenge completions, and physical achievements with your friends. In addition, it hosts local and custom leaderboards for stats and challenges to nurture a sense of belonging and, in turn, engagement.
4. The world's first major Web3-integrated gym chain
In a first-of-its-kind approach, Fight Out will open major Web3-integrated gyms across different locations, beginning in Q4 after the presale ends. The goal is to maximize move-to-earn earnings opportunities and nurture deeper community bonds.
Here are the key features of the Web3-integrated gyms:
Health bars that serve nutritious meals, smoothies, coffee, and snacks.
An area for socialization, coworking, and community events.
Redeem your REPS rewards at the Fight Out store to buy training equipment, supplements, and fitness apparel.
Exchange REPS for in-person benefits like access to Fight Out gyms, products at the on-site health bar, and access to co-working space.
Just imagine, all your hard work at the gym now earns you rewards on the #FightOut platform! Who says sweat doesn't pay off? 👏

Start tracking your progress and earning crypto, all while getting fit!

Secure your spot today for up to a 50% bonus! 👊https://t.co/z34Nkx3ffi pic.twitter.com/Jg8isbf0PT

— Fight Out (@FightOut_) February 9, 2023
Crypto and fitness communities are fuelling the FGHT presale
The huge traffic to the FGHT presale from both crypto and fitness communities reveals its mass appeal. The tokens are selling for 0.02072 USDT each now. Since they will go on a gradual price hike to hit 0.0333 USDT at the time of listing, early investors are in for large discounts. They are making the most of the presale bonus too, which can go up to 50%, depending on your locking period.  At this pace, the presale could end much ahead of its scheduled deadline on March 31, 2023.
Disclaimer: This is a paid release. The statements, views and opinions expressed in this column are solely those of the content provider and do not necessarily represent those of NewsBTC. NewsBTC does not guarantee the accuracy or timeliness of information available in such content. Do your research and invest at your own risk.