Dogecoin and Shiba Inu are among the most popular cryptocurrencies in the market currently, and both have been a great addition to investors' portfolios. It's been confirmed by Avorak AI, a popular crypto AI platform, that both meme coins, Dogecoin and Shiba Inu, are expecting an uptrend in the coming future. Avorak allows effective and accurate market analysis; as such, these cryptocurrencies are going to see a price increase.
What is Dogecoin?
Dogecoin is a decentralized currency developed in 2013 by software engineers Jackson Palmer and Billy Markus. Dogecoin has its native token as DOGE, and this digital asset has seen an increase in adoption and has a massive following, currently ranked as the most popular memecoin. Dogecoin uses a peer-to-peer network system, meaning it's free from control by any central authority. Moreover, Avorak AI has confirmed an uptrend signal for DOGE, which means traders can leverage the current market trend and profit.
What is Shiba Inu?
Shiba Inu is a cryptocurrency that was created in 2020 and is named after the popular Japanese dog, shiba inu. Like Dogecoin, Shiba Inu also uses a peer-to-peer network and bestows control of the project to the users.
Shiba Inu's inspiration is similar to Dogecoin as they were formed jokingly to target issues with the first-generation blockchain. However, both have grown in popularity based on this unique nature of being fun and valuable at the same time, allowing anyone to profit from them.
Shiba Inu and Dogecoin are expected to thrive in the coming weeks as Avorak AI predicts an uptrend that might be extremely profitable to traders and investors. Selling on these signals can be applied to understanding the market and placing informed trades.
Avorak AI Signals Good Market Performance for Dogecoin and Shiba Inu
Avorak AI is an advanced crypto project that uses artificial intelligence to provide unique services, including text generation capabilities. Avorak AI allows trades to leverage an advanced AI chatbot to give market insights based on applied command inputs. Traders can use these signals in trading cryptocurrencies with an addition of its trading features that assure profits for traders.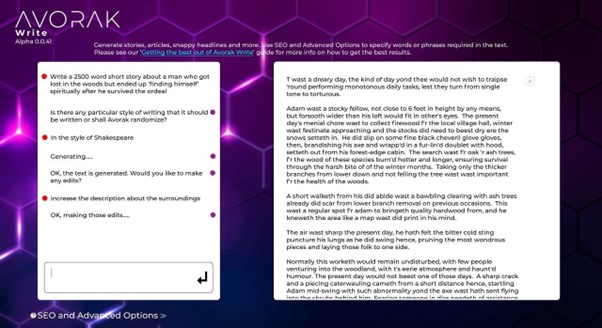 Recently, Avorak AI predicted good news for Shiba Inu and Dogecoin crypto assets. Avorak's trade algorithm is an effective tool that uses complex machine learning, accessing a large market database and employing technical analysis to develop informed market recommendations. Such has been done for Dogecoin and Shiba Inu, as Avorak AI signaled an upside for the two digital assets.
Conclusion
Avorak AI is an essential tool that any trader or investor can use in trading assets like Dogecoin and Shiba Inu. It's possible to predict market trends using this tool. Dogecoin and Shiba Inu are among the most popular digital assets in the market. As such, it's easy to profit off these markets using effective trading tools like Avorak AI.
Get more on Avorak AI on:
Website: https://avorak.ai
Buy AVRK: https://invest.avorak.ai/register
Disclaimer: This is a paid release. The statements, views and opinions expressed in this column are solely those of the content provider and do not necessarily represent those of NewsBTC. NewsBTC does not guarantee the accuracy or timeliness of information available in such content. Do your research and invest at your own risk.