Rewind to 1996, John Perry Barlow published the renowned article A Declaration of the Independence of Cyberspace, in response to the Telecommunications Act in the United States, in which he elucidated his vision to build a virtual world integrating "transactions, communications and thought itself".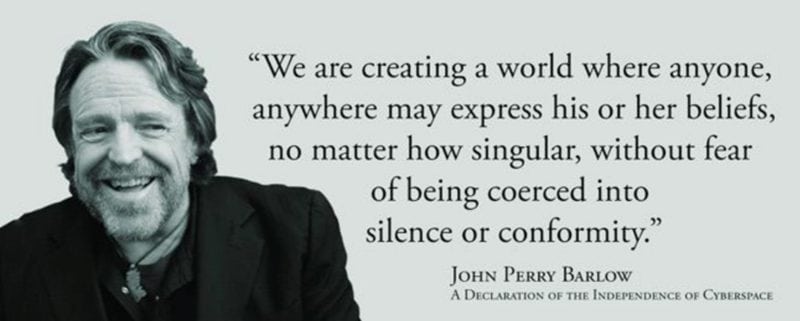 That world was still a Utopia 20 years ago, as everything has to be on a server, and if it is on a server, then it can be turned off with a flip of a switch. The problem of centralized social network platforms comes from monetizing their users—not a few social network platforms, including Facebook, are now plagued with scandals of grave data breaches and third-party embezzlement of users' personal information. Fortunately, blockchain is almost a perfect technology made for such a system. Needless to say that blockchain has no centralized server, which means not a single person can control the whole system. The blockchain world runs on its own terms, by its own members, and in its own democratic way.
Today we bring back his mission to the stage again, for the blockchain technology has rapidly developed to a level that is technically positioned to materialize a decentralized, autonomous virtual world.
Genesis forged a genuinely decentralized community immune from any central authorities—a virtual country in which its citizens can trade, communicate and declare their opinions freely. All contents of Genesis are owned by the entire community; rules are made by members. Even the upgrade and evolution are decided electorally by users. (Genesis is the first public chain that has a built-in voting mechanism for system upgrade) The community lives on a high-performance public chain (operating system), on which users can launch decentralized applications (DApps) to realize varied functionalities and scenarios.
In Genesis Space, users can build a virtual country that belongs to them or join in countries established by others. A virtual country is any combination of governance mechanisms and DApps. A country can be as small as a user him/herself. Each country occupies a sidechain. Once entering a country, one must comply with all rules of governance. Meanwhile, you can enjoy all paid or free DApps in this country.
Technical Innovations
DDPOS
To realize the "Virtual Utopia" concept, Team Genesis designed DDPOS (Democratic Delegated Proof of Stake) Consensus to help complete the infrastructure of Genesis Space.
Currently, there are various consensus mechanisms, of which POW (Proof of Work), POS (Proof of Stake) and DPOS (Delegated Proof of Stake) are widely adopted. Different problems, however, have been exposed along with the application of these consensuses. (e.g. the ever-decentralization of POW, the "richers game" of POS and the similar "richers get richer" issue in DPOS.)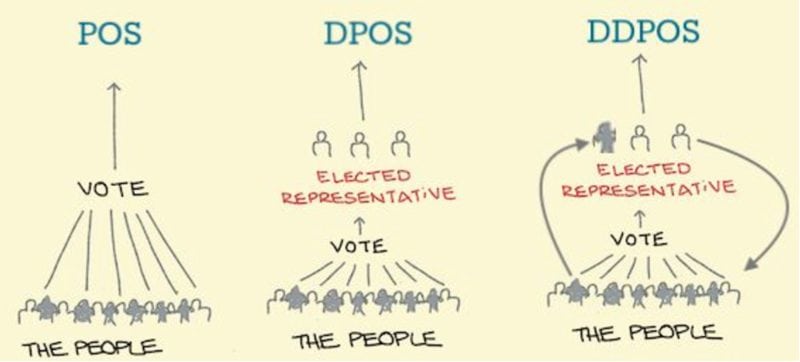 After careful research, Team Genesis invented a brand-new DDPOS (Democratic Delegated Proof of Stake) Consensus, which inherits the high TPS attribute of DPOS meanwhile tackling the "richers get richer" issue of DPOS. Through a certain method, even normal nodes have the possibility of replacing supernodes (block producers), preventing the monopoly of block-producing and dramatically lowering the risks of centralization.
Sidechain Technology
Genesis puts most of its core content on the main chain and uses a lot of sidechain technology to share the burden of the network and increase scalability. Sidechains are key technologies for the evolution of Genesis. Users can update the sidechain protocol by voting, or even migrate to a brand new sidechain to achieve system evolution. Genesis's sidechains can all have separate contracts, and the main chain communicates with the sidechain through dynamic indexing. In addition, Genesis can quickly generate a sidechain identical to the main chain architecture, as a programmer's development test environment.
Economic Model
DDPOS Mechanism greatly enhances the TPS for Genesis and sidechain technology enlarges the storage capacity. But as a decentralized system, only when all elements maintain a reasonable and equal economic balance can will they be motivated to make contributions to the community. Genesis boasts a sophisticated economic model made up of normal users, developers, justices, senators and miners (block producers), etc. Block producers maintain the Constitution; developers work on DApps; justices initiate votes and update the Constitution; landlords offer storage, and normal users keep online (staying online is mining.) These different roles constitute a complete economic system, promoting the evolution of the DAO.
Team
Team members of Genesis boast a splendid education background of master's and doctor's degrees from Harvard, Berkeley, Carnegie Mellon, Columbia, UCLA, and CUHK, etc. Some used to be experienced engineers in Oracle, Alibaba, Google and other renowned companies. Two of the programmers in charge of coding both have extensive coding experience in the blockchain industry. On the business side, we have two seasoned entrepreneurs as VP of operation. Both of them are business veterans with decades of experience. They are very well connected in the industry.
The original purpose of Genesis is to create an ideal country using blockchain technology to make communications better. Our mission is to revolutionize impeded, useless and risky social network platforms. Genesis believes that realizing a blockchain-based virtual world that has "transactions, relationship and contents" is possible and will revolutionize the current Internet we see every day. It will become a magnet for developers in the future and people will truly appreciate a cyberspace where they are not only the users but also the owners.
P.S. Soon after the project information of Genesis Space was released, we have received many responses and encouragement from peers all over the world. We want to dedicate the opportunities and rights of the first round of fundraising to the community—conducting an ETO (EarlyBird Token Offerings) on CYBEX Exchange(cybex.io). We will release a 2000ETH quota in the first round in a price that will be lower than that of any round, in any form, in the future. This quota will only be accessible to community members in this ideal country.
For more information, please visit:
GS Official Platforms:
Official Websites: http://thegenesis.space/
Github: https://github.com/GenesisProjects/Genesis
Telegram:https://t.me/GenesisSpaceEnglish
GS Social Network Platforms:
Steemit:https://steemit.com/@thegenesisspace/feed
Youtube: https://www.youtube.com/channel/UC7fOtVoqcvdOytWsrCndBRg/
Twitter: https://twitter.com/GenesisSpace1/media
Bitcointalk: https://bitcointalk.org/index.php?action=help