You'll often hear of some crypto tokens exploding in value very quickly. They're few and far between but when it happens, it makes big news. Meme coins are often the ones doing this and when it comes to hype, few tokens can match the power of meme coins.
Well, recently, we have a new token that has done this. 12 hours, to be exact. Mr. Hankey Coin (HANKEY), a new meme coin based on a South Park character, sold out its presale in an incredible 12 hours. We explain why this token has resonated so much with investors.
12 Hours is All It Took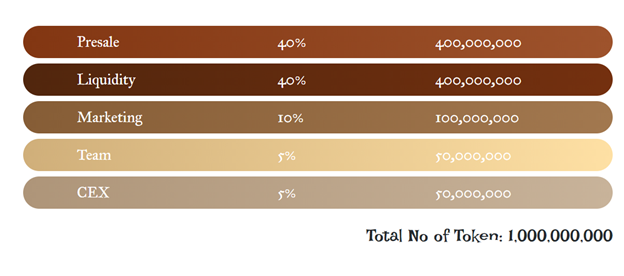 Hankey launched its limited presale on June 13, at 6 PM UTC. Within 12 hours, it had already sold out. You don't hear this happening very often, and it's a clear sign that the crypto community is going wild over it. 40% of the total token supply of 1 billion is designated for the presale. This means that 400 million HANKEY tokens were made available during the presale phase.
Even before its presale began, HANKEY generated considerable buzz within the crypto community. To get into the tokenomics, this is how the tokens were divided: 400 million HANKEY tokens were set aside for liquidity, 100 million allocated for marketing efforts, 50 million for the team, and another 50 million for future listing on centralized exchanges.
The token itself operates on the Ethereum blockchain. When describing "how it works," the team adopts a blunt and comical approach, stating that it's not rocket science: you purchase tokens, hold onto them, and witness your wallet grow, akin to Kenny's fortune after discovering a golden ticket to the Cheesy Poof factory. It's straightforward, as Chef would say, "Hello there, children!"
There is a noticeable enthusiasm surrounding HANKEY, with the crypto community anticipating its potential to surpass the success of tokens like PEPE and SPONGE. Major influencers like  @MattInWeb3, @AmeerNFTs, and @mrbrown_nft, accounts have all spoken about, and they have an average of over 100,000 followers. The pre-launch buzz was something else but with the resounding success of the presale, there's obviously even more hype.
What's Next for HANKEY?
The most important development to make note of is the fact that HANKEY will go live on a DEX on July 14 (today!) between 17:00 – 19:00 CET. This way you can get in early and not miss out on the furn.
Following the token sale, there are ambitious plans for Q3 2023, including community development initiatives and listings on prominent exchanges. The project boasts a substantial marketing budget, indicating a range of activities once the community reaches a significant critical mass. For further insights, one can also refer to the "brownpaper," which serves as the project's version of a whitepaper, outlining its use case and future plans.
All of this is just the information for the project itself, but why exactly have investors poured into this project? There's a clear reason beyond the hype, as we shall below. What it is is the fact that HANKEY has a certain vibe and that's gone a long way in attracting attention.
What About HANKEY is Driving Investors Crazy?
Mr. Hankey Coin has a rather peculiar self-description, emphasizing that it is "not so shiny, a tad bit smelly, and proud of it!" It's uncommon for crypto tokens to adopt such an approach in presenting themselves, but that's precisely what adds to the charm of HANKEY.
The project boldly declares that it represents a departure from striving to be the next Bitcoin and instead fully embraces its identity as an unconventional entity. By discarding glamour and glitter, it fearlessly dives into the realm of reality's less appealing aspects.
These audacious statements create a lasting impression. HANKEY essentially embodies the concept of a "shitcoin," with no discernible purpose other than deliberately lacking a purpose. As you might have already noticed, the coin's name pays homage to one of South Park's most notable creations.
In essence, HANKEY brings together a "community of proud plumbers" who find humor in the nature of meme coins. It is unlikely to come across another token like this in the near future. This self-referential irony is taken to the extreme, and the incorporation of a well-known fictional character, combined with its timely release in the crypto market, suggests the potential for significant growth throughout the year.
Conclusion
Mr. Hankey Coin is emerging as an intriguing contender among meme coins, standing out due to its lack of fundamental purpose, which paradoxically becomes its key attraction. This has been evidenced by the 12-hour knockout closure of the presale.
The playful and satirical essence of this token has captivated investors within the cryptocurrency realm, and its prominence is expected to grow in the coming weeks. For individuals interested in such projects, it is highly recommended to dive more deeply into Mr. Hankey Coin as it has the potential to become the standout meme coin of the year.
Disclaimer: This is a paid release. The statements, views and opinions expressed in this column are solely those of the content provider and do not necessarily represent those of NewsBTC. NewsBTC does not guarantee the accuracy or timeliness of information available in such content. Do your research and invest at your own risk.