The one of a kind 100% token holder owned HBTC crypto exchange is pushing the DeFi space to new limits. Formerly known as BHEX, the platform is owned and operated by the Bluehelix Group, whose businesses also include Bluehelix Cloud SaaS and HBTC Chain – a proprietary DeFi infrastructure for cross-chain custody and clearing.
Having attracted investments from some of the well-known crypto industry heavyweights including the likes of Huobi, OKEx, and 56 other first-class institutions, HBTC offers spot, margin, futures, OTC and options trading while maintaining transparency and credibility with 100% Proof of Reserve and 100% transaction trading fee proof.
The crypto exchange platform recently announced the listing of Bella Protocol's $BEL token, which officially went live on September 15, 2020. Bella Protocol is an ecosystem project incubated by ARPA; a layer 2 multiparty computation network built on Ethereum. It creates a streamlined crypto banking experience with a suite of DeFi products which includes Bella Liquidity Mining, Flex Savings, One-Click Portal and Lending protocol.
The One-Click Crypto Banking solution simplifies the process of crypto investing and yield farming by allowing users to simply deposit their crypto funds on-chain or through its custodian service and enjoy high yields generated from automated sophisticated arbitrage strategies. By design, the platform further optimizes the returns on investment by reducing gas fees, eliminating slow speeds and poor user experience.
"At Bella, we want to bring your everyday banking experience to crypto. A majority of crypto holders cannot participate in DeFi due to high cost and poor user experience," said Bella Co-Founder and CEO Felix Xu."With Bella, users can save gas fee and time, enjoy high yield from sophisticated strategies and leave all the heavy-lifting to us. We aim to become the BlackRock of crypto and bring 10x more users to the DeFi ecosystem."
Meanwhile, the association with ARPA helps Bella Protocol gain its initial batch of users while Bella Protocol's applications perfectly fit into ARPA's long-term blueprint, thereby creating a perfectly symbiotic relationship.
Recently, HBTC joined hands with Bella Protocol to organize an AMA. Attended by Elsa Qiu – VP of Business Development at Bluehelix and HBTC Exchange; Yemu Xu – Cofounder and CGO at Bella Protocol and ARPA; and Felix Xu – CEO and Cofounder at ARPA, the trio fielded questions regarding the project, relationship between ARPA and Bella Protocol and more.
Token Distribution of $BEL
Bella token ($BEL) is an essential part of the entire Bella ecosystem. The $BEL utility token can be used to pay for services on the Bella ecosystem and also play an active role in its governance. The tokenholders are imparted voting rights to approve or reject any potential product upgrades, new releases, and parameter fixes. $BEL tokenholders can also take part in staking process and liquidity mining (to be announced soon) to earn a percentage of revenues generated through fee collection as rewards. They can also avail discounted fees on services offered by Bella Protocol.
The project has set a total cap of 100 million $BEL tokens, that are allocated as per the table below.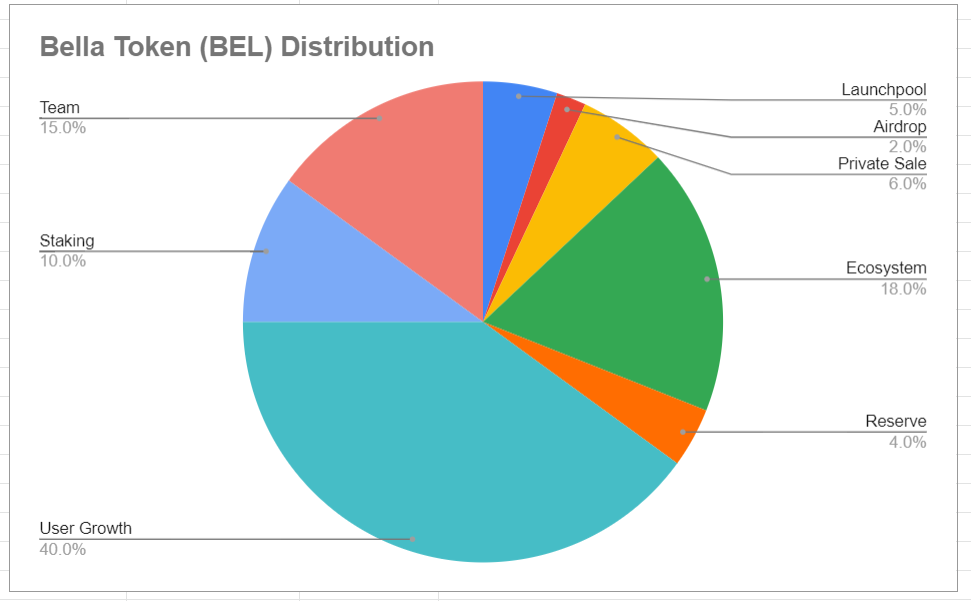 Following the listing of $BEL on Binance, HBTC and MXC, the project intends to start trading on more exchanges in the coming days.
In the next six months, Bella Protocol plans to launch a long list of products and features including:
$BEL Liquidity Mining
$BEL Airdrop for $ARPA holders
Launch of Bella 1-click Protocol (v1)
Launch of Bella Flex Savings (v1)
Bella Lending v1 Launch
Launch of Bella DeFi Robo-advisor (v1)
User Growth Campaigns
Other Additional Features
The HBTC ecosystem, including HBTC Exchange represents a perfect balance between tried and tested CeFi and the newly popular DeFi models. The decentralized exchange products and collaborations combined with the platform's own cross-chain compatible HBTC Chain have enabled the platform to make significant progress in promoting the use of DeFi solutions in the real-world. The listing of Bella Protocol on the platform is another step in the same direction.
Read more about the HBTC-Bella Protocol AMA at – https://medium.com/hbtcofficial/recap-of-hbtc-x-bella-protocol-ama-among-the-defi-projects-bellas-the-most-lovable-494edfb3ae5b