Let's play a game where I propose a statement and we respond together. Ready? Do you like the idea of keeping all of your money in one place for hackers to steal? No. Is the idea of letting someone else control your cryptocurrency appealing? No. When your crypto exchange goes down due to maintenance or server problems, is that enjoyable? No.
Maybe you can guess where this is going, especially if you agreed with all of the provided answers above. In the modern market, it seems like the main reason centralized exchanges remain so popular is mainly due to one thing: convenience.
With that in mind, if there was a way to make decentralized exchanges better, would you start using them?
What exactly is a DEX?
A DEX, by definition, is a decentralized exchange that matches pairs of users looking to trade and allows them to trade without an intermediary institution taking control of their funds. This type of decentralized exchange is more in line with how cryptocurrencies work, but up until the recent past, they were pretty awkward to use.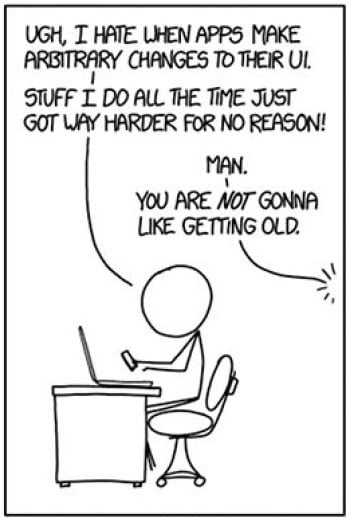 Source: xkcd.com
There are a few DEXs that dominate the market: Changelly, IDEX, and Shapeshift. All of these DEXs operate using similar concepts. The most important thing is that they all operate in a decentralized, non-custodial fashion and, ideally, they never directly control a user's funds. The benefits of a DEX are that they offer anonymity, give users control over their funds, are more resistant to hacks, typically have far less downtime (thank you, decentralization!), and they usually aren't controlled by a small cabal of elites.
Anyway, they fall short when compared with centralized exchanges in terms of user-friendly interfaces, trading tool options, liquidity, latency (no thanks to you, decentralized nodes), and preventing front running.
Between the three aforementioned DEXs, there are some slight differences that set each apart. Changelly, for instance, allows a flat-fee rate on all trades to make it as simple as possible for their users to calculate the cost. Shapeshift, on the other hand, gives its users a few different trade speeds – basic "quick" trades and more targeted "precise" trades to help combat slippage. IDEX may be the most user-friendly of the three since it looks like a traditional exchange, but it operates in a custodial fashion that isn't ideal. They give users the ability to easily trade ERC20 tokens via peer-to-peer, but they have to deposit coins on the exchange to do so.
As you can see, they all try to copy specific perks to compete with the traditional centralized exchanges when in reality the answer might be a different approach entirely…
Digital asset ecosystem (DAE)
As the market has grown, so has the innovation and creativeness of developers and blockchain-based companies. A DAE is an ecosystem where a DEX can thrive. The DAE brings more functionality to the DEX, since it pairs the decentralized exchange aspect with other desirable programs, dApps, and features.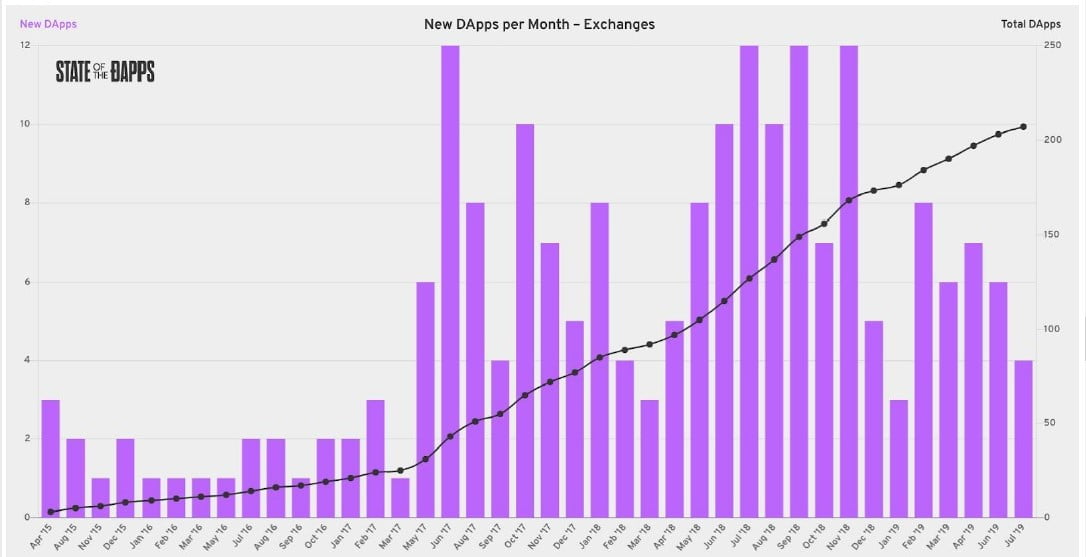 Source: stateofthedapps.com
As with DEXs, there are many different DAEs in the field at the moment. Three major ones that are making a big impact on the scene are Volentix, Vite, and LocalCoin. It shouldn't be a surprise that they'd all have their own individual perks just as various DEXs do. However, the differences are a bit more pronounced.
Volentix has a large assortment of features for users to use: Verto (multi-currency wallet), Venue (community-building platform), Vespucci (crypto rating agency), VDEX (decentralized exchange), Valoro (news platform), and VTX (digital asset). In the Volentix world, these all come together to give users a broad range of services to manage and interact with their cryptocurrencies. One neat aspect is that Verto can interact with nearly any blockchain, which really opens up VDEX's functionality for users.
Vite, the simplest of the three, offers users a platform, an exchange, payment abilities, and a wallet (in the event that they don't have their own). It links all of these features together on a decentralized network, and opts for simplicity and speed over enhanced user features. This tradeoff is risky, but it might be ideal for the users who don't want all the bells and whistles.
LocalCoin is kind of like the well-known LocalBitcoins, but bigger and more decentralized. They give users a way to interact with a ton of decentralized companies and dApps, and they rely on over-the-counter trading instead of a DEX. LocalCoin, since it is a conglomerate of companies, gives its users access to a bank, a messaging app, a social network, an ICO accelerator, and third-party DEXs – all of which are based on the blockchain.
Out of all these DAEs, Volentix offers the most comprehensive suite of features to help users get the most out of their DEX experience. Changelly might uphold the basic requirements of a DEX but is it enough on its own? Or do we need an infrastructure similar to what Volentix proposes, especially for providing a seamless experience for users new to DEXs?
Getting the full package
DEXs are the future, without a doubt, but will DAEs have a place alongside them? DAEs are, afterall, just a more functional DEX. But whether or not we need the additional features is still up for debate. Looking at Volentix and Changelly gives us an idea of how these two different concepts rank up.
When it comes to decentralization and security, Volentix and Changelly compare pretty evenly – the main difference being that Volentix offers a cross-blockchain wallet that is integrated with their platform that makes it easier than ever to manage ALL your crypto in one place. Ease of use is also fairly even between these two, as they both require a bit of a learning curve for new users. It could be argued that since Changelly is a more simple platform it pulls ahead in ease of use, but once you learn how to use a DEX you could easily transition into a DAE. Unfortunately, we are still in the early stages with DAEs, so even though a lot of what Volentix offers on paper looks great, we have yet to see it in action. Changelly is already up and running, so it is just a matter of encouraging users to shift to a DEX to help their platform grow.
Between the two concepts, DAEs, and DEXs, it really boils down to how much the user wants. Do they want a one-stop-shop where everything they need is integrated into a decentralized ecosystem? If so, then a DAE is definitely going to be more preferable. But first, the users need to make that first step and be willing to transfer from the ever more insecure centralized exchange world to a more decentralized solution.