Nowadays, the burgeoning cryptocurrency has gradually been getting on its stage in the global financial market. Despite cryptocurrency has not yet been widely recognized and legalized, people around the world have reached hand to it and start investing. There are two common types of BTC investment:
Invest in BTC Spot and Wait for Appreciation
Bitcoin spot trade might be the first transaction type that most investors will option for when they just entered the cryptocurrency area. Investors can directly buy BTC with fiat currencies. The only way to earn money with BTC spot is waiting for its price rising. Unless you are a BTC believer and willing to wait for its appreciation in several years, you should turn to another type of investment.
Make Two-way Profits with BTC Futures Contracts
Compared to spot trades, BTC futures trading enables investors to make profit from both BTC price up and down. What you should do is to predict the BTC trend will be upward or downward in the near future. Besides, it provides X times leverage, which means even though you actually hold a small amount of BTC, you can also open a larger position. No matter at which price you start the investing, as long as you choose the right direction, you can have chance to make great profits.
Earn your first BTC on Bexplus
Established in late 2017, Bexplus is a global crypto futures trading platform with offices in Singapore, Japan, US and Brazil and is constantly expanding worldwide. Currently We provide BTC, ETH, LTC, EOS and XRP perpetual contracts for futures trading, and 100x leveraged profit model is also available on the platform.
With 100x leverage added, you can use 1 BTC to open a position of 100 BTC by going long (speculating BTC price up) or going short (speculating BTC price down). Furthermore, Bexplus also supports you to set stop-profit and stop-loss points to maximize your profit as well as control the risks.
For example, In the spot trades, if you buy 1 BTC at the price of $8,000, it climbs up to $8,500, you can only earn $500. In Bexplus, if you invest in 1 BTC at the same price with 100x leverage, when BTC price rises to $8,500, you will get profits of 1BTC * (8,500-8,000)/8,000 * 100 = 6.25BTC = $53,125.
Try to earn BTC in trading simulator with 10BTC
If you haven't trade cryptocurrency futures contract before, you can try in the Trading Simulator with 10BTC preset. It also helps you familiarize yourself with Bexplus platform as well as the futures trading steps involved before working with the real crypto assets. Trading steps to earn BTC of the example above:
Click in the Trading page on Bexplus, open a buy position at the price of $8,000 if you predict the BTC price will be upward
Set the trading volume within the range of 0.1 – 100. Added 100x leverage, you can type in any volume you want and the actual amount of BTC you invest in will display as the margin used.
For instance set 100 as volume which will use 1 BTC as margin. Click the Buy/Up button to execute the buy order. Close the position at the price of $8,500, you can get:
1BTC * (8,500-8,000)/8,000 * 100 = 6.25BTC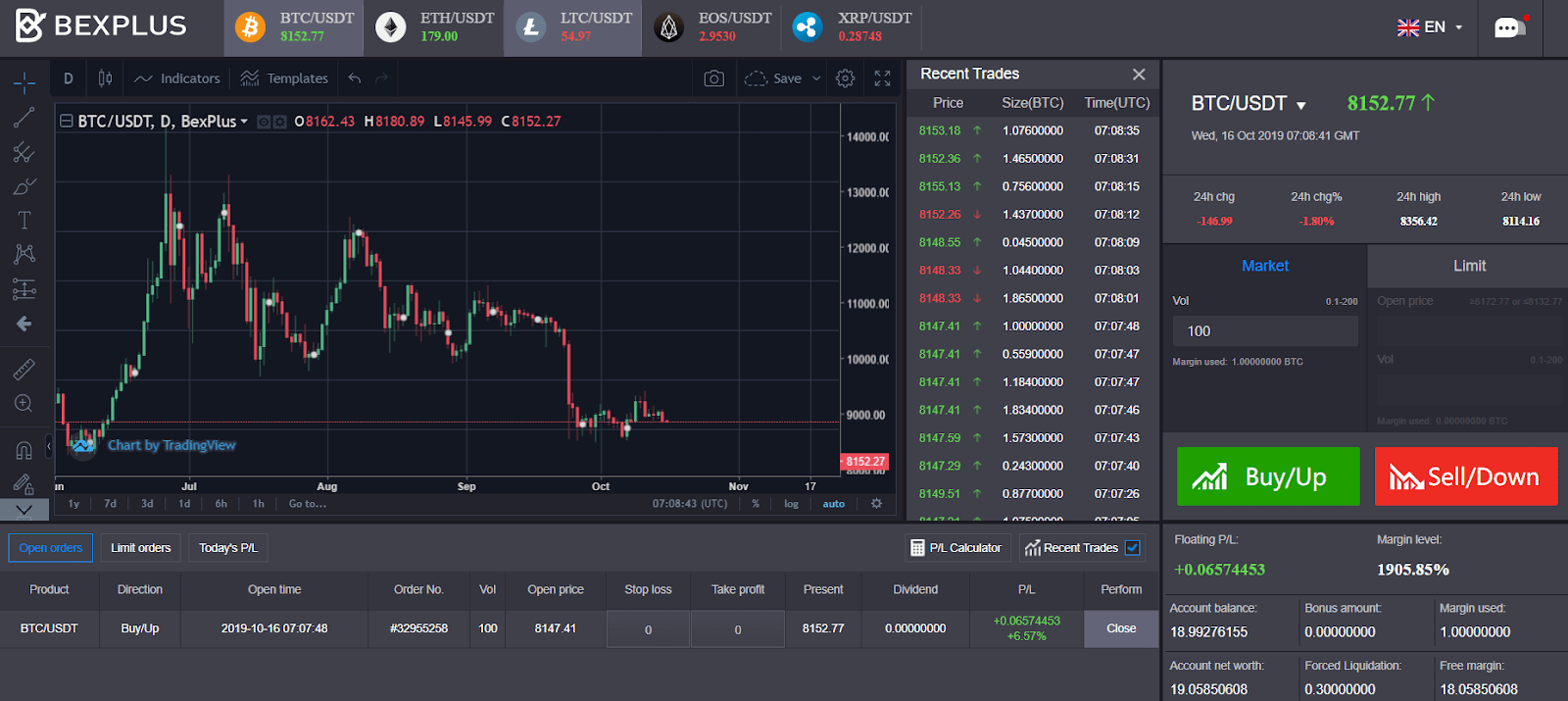 Latest promotion activities of Bexplus
New User Welcome Package
To register in Bexplus, you will get $10 bonus and 10% off of trading fee, and there is $100 bonus for the first deposit!! If you are new to cryptocurrency futures trading, there are 10 BTC for you to try in the trading simulator after registration!!
Read more: https://www.bexplus.com/activity/invite
100% Deposit Bonus
To deposit BTC in the Bexplus account, you can earn 100% BTC bonus, which can also be used to trade futures contracts. The more deposit, the more bonus you will get. You can get up to 10BTC as bonus!!
Read more: https://www.bexplus.com/en/cash_back
Follow Bexplus on:
Website: www.bexplus.com
Facebook: https://www.facebook.com/Bexplusglobal/
Telegram: https://t.me/bexplusexchange