A blockchain-based platform and marketplace demonstrating how users can earn IBA tokens for agreeing to view particular ads from advertisers and to spend the earned IBA tokens to purchase specific services from Publishers or Businesses
SAN FRANCISCO, SF –(iBuildApp Network – September 18-20, 2017) – iBuildApp Network, a powerful marketplace for blockchain-based ads that is changing the existing mobile advertising space to a more secure and transparent process, is demonstrating the IBA utility token at TechCrunch Disrupt's Startup Alley on Monday, September 18, 2017.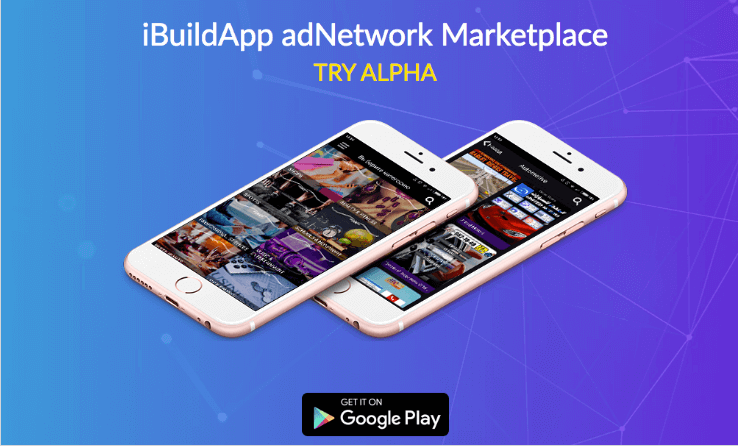 The Mobile App Market is projected to reach 850 billion by 2018. While PCs dominated the world 2 decades ago, the last decade has seen websites take over, with US businesses today recorded at 50%. But with the adoption of tablets and smartphones on all-time high record, websites alone will not sustain businesses, and mobile apps will be the way to go.
At the heart of the iBuildApp Network disruption, is a new business model for mobile apps aiming to connect 45M users on mobile and 2.5M businesses and developers. The iBuildApp Network utility network token (IBA) will be used by app and content creators to monetize their products without a share of the pie going to any middlemen. In the long run, IBA will be targeting 7 billion mobile users worldwide.
On the other hand, users will have the leeway to choose which specific ads they want to view from the advertisers, and in so doing earn IBA tokens- as soon as the blockchain network confirms that the user has viewed an ad. The earned tokens can then be used to buy content (articles, video, music), or to pay publishers and users.
By accepting smart contracts on mobile phones, users will essentially be permitting businesses to access their personal data. This way, users will no longer be held hostage by the big players like Facebook or Google, which have traditionally dictated which ads will be seen when or by who. And even without viewing the ad, advertisers will capitalize on shared personal information to have users earn tokens, as advertisers will leverage the viewed or not viewed data to make a determination on which users to target in the future.
Using existing customer data, the iBuildApp Network makes use of targeted mobile ads to track similar consumers and continues to track their behavior after downloads. Consequently, the ads that will follow will be personalized, so that if an app was used to buy a pair of shoes, the customized promotional ad would promote a matching handbag.
The iBuildApp Network will allow its users to accept IBA tokens for:
Pay per unique user (daily, weekly, monthly,)
Pay for use of service
Pay for the bandwidth
Pay for CPU time
There will be 2 contribution events, during which the iBuildApp Network utility Token (IBA) will be distributed to participants.
Token Pre-sale: Begins on September 25, 2017, and runs until October 2, 2017. Discounts will be 40%, 30%, and 25% in the first 2 hours, 5 hours, and day 2, respectively.
Token Sale: Begins on October 9, 2017, and runs until November 25, 2017 (1 IBA = $1 = 0.00307 ETH; Min. Contribution = 0.00001ETH).
Platform development will be allocated 65% of the funding, legal matters 5%, operations 18%, and 12% will go to marketing.
iBuildApp Network at TC Disrupt SF
TechCrunch Disrupt SF 2017 is a 3-day conference by TechCrunch, integrating the launch of new products with discussions by top-thought leaders. The capabilities of iBuildApp Network will be featured on the second day of Disrupt at the iBuildApp Network table in the fintech section of Start-ups. The iBuildApp Network seeks to solve issues of fraud and lack of transparency that have befallen the advertising industry. The documentation for this solution is available at https://iBuildApp Network.io/.
About iBuildApp Network
iBuildApp Network is bringing up a mobile marketplace, where all stakeholders will be in a win-win situation. Both developers and content creators benefit from their creations, and while users can choose which apps to use and which ads to view, they earn financial rewards. Complex.com has named iBuildApp Network as one of the 5 best programs for building apps. Customers of iBuildApp Network include East Bridge, Emory University, Fox News, Ferring, SEGA, United States Navy, Henry Hudson and Texas Rangers, among others. For more information, visit https://iBuildApp Network.io/.