Crypto giveaways are fantastic opportunities to win exclusive prizes or a boatload of cash. Typically, a crypto giveaway functions second-handedly as a marketing campaign for a project but still attracts thousands of hopeful entrants hoping to get their hands on the top prizes.
If you've ever participated in crypto giveaways, you understand the thrill of winning. Endorphins start to run wild as you receive confirmation that you won. If that's the case for you, then there's a new crypto giveaway on the table that you can't miss.
Cocky – the best NFT-based lifestyle club – is currently running a $20,000 giveaway for a set of small tasks, and you certainly don't want to miss this one.
Cocky – Changing the Definition of Utility in the Industry
Launched by the Parasol Group, Cocky intends to change the definition of utility in the NFT industry. Typically, NFT buyers rush to projects to invest in a fancy JPG that could potentially bring profits down the line. Although there is a place in the market for this, Cocky believes that the scope of NFTs should go way beyond just investment potential.
Changing the meaning of utility in the NFT space! ?

All the events surrounding Cocky will focus on electronic music in prestigious locations, providing an immersive experience to all our holders. ?

Get Involved Today! ?
? Discord – https://t.co/trpeh3kM9R pic.twitter.com/BPvWgygAp0

— cocky (@cockydigital) October 16, 2022
As a result, Cocky is on a mission to change the definition of utility by providing exclusive real-world experiences to holders. The project intends to hold once-in-a-lifetime events for everybody that owns one of its NFTs, providing an experience that money can't buy – only ownership can.
To gain access, you need to hold one of the Cocky Can NFTs. The collection consists of 10,000 NFTs with 51 different skin variations and a three-tiered benefits system represented by the lid color of the can.
The different tiers unlock a range of benefits that include;
Subsidized transport
Accommodation
Additional invites
Bar tabs
Exclusive merchandise
Prior to each event, three lucky holders' cans will "Black-Out" for 24 hours, which will allow them to claim an array of luxury perks! ⭐️

These perks include the ability to invite two guests, flights and accommodation, VIP Access, and a pre-paid bar tab! ?

DON'T MISS OUT! ? pic.twitter.com/6NoIKa9QJv

— cocky (@cockydigital) October 12, 2022
In addition to the benefits above, three lucky NFT holders will see their cans "Black-Out" for 24 hours before each event. These lucky holders are entitled to claim an array of luxury perks for the upcoming event. Some of the benefits include the following;
The ability to invite two guests,
Flights and accommodation at the event location,
VIP Access,
A bar tab for them and their guests.
Lastly, one lucky holder will mint an exclusive "Black Can," which entitles them to VIP benefits at each show. The holder of this NFT will receive all the previously mentioned benefits in addition to luxury resort accommodation, business-class flights, meet and greets with performing artists, and all-access passes.
What are the benefits of holding the Cocky NFT?

? Expands the utility of NFTs to immersive real-world events
? Virtual musical events in the metaverse
? Second-hand ticket market for Cocky Token holders
? Unique benefits based on tiers
? NFT mutations that increase rarity

— cocky (@cockydigital) October 13, 2022
Furthermore, Cocky has created a unique function for its NFTs, dubbed "Mutations." These Mutations appear in the background of the NFTs anytime the holder attends a Cocky event. The Mutations occur as stamps – similar to what you receive in your passport during international travel – and they allow holders to write their own stories about their journey through the Cocky ecosystem. Eventually, the Mutations will make every NFT unique, with the Cocky Cans with the most Mutations becoming highly desirable.
Exclusive Events in Prestigious Locations
Cocky intends to host at least two in-person events annually alongside regular virtual events.
The great thing about these exclusive events is that they will all focus on electronic dance music and will be held in prestigious locations. That means you won't be partying in an abandoned warehouse. Instead, you will enjoy your favorite music in unconventional places that focus on the location's landscape, culture, and history.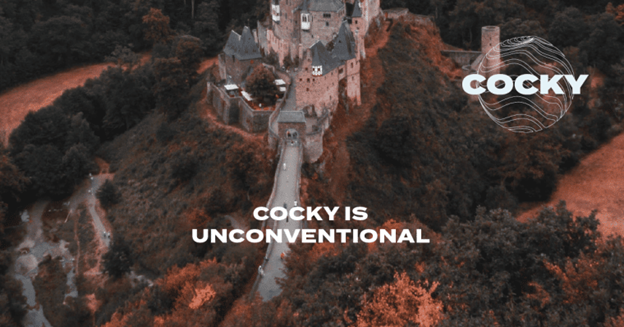 Due to the unconventional locations, the ticketing volume will be limited and depend on the venue's capacity. Therefore, Cocky token holders must quickly register their interest in attending.
If an NFT holder receives a ticket and cannot attend, they are free to sell it on the secondary market. In addition, only NFT holders can purchase tickets on the secondary market – adding further utility.
How To Take Part To Win $20K
Don't Forget! – You have the chance to win $20,000 by entering the #Cocky gleam competition. ??

It's easy! The more tasks you complete, the more chances you have of winning! ?

JOIN NOW! ⬇️https://t.co/E6tNp8PEnu#nftcollector #nftcommunity #nfts #crypto #nftart

— cocky (@cockydigital) October 16, 2022
Cocky is currently hosting a fantastic giveaway that allows you to win $20,000. Simply click on the link in the Tweet above to head to the Gleam page, where you can enter. There are ten separate ways to enter, including;
Following Cocky on Twitter
Retweeting Cocky Tweets
Joining the official Telegram and Discord groups
Following Cocky on Spotify
It is essential to mention that only those who own a Cocky NFT on the day of the draw will be entitled to win. Nevertheless, this is a fantastic opportunity to get your hands on a $20,000 giveaway while simultaneously joining an exclusive NFT lifestyle club.
Disclaimer: This is a paid release. The statements, views and opinions expressed in this column are solely those of the content provider and do not necessarily represent those of NewsBTC. NewsBTC does not guarantee the accuracy or timeliness of information available in such content. Do your research and invest at your own risk.