InfinityDefi(INFI) Early Access Round 1 started on December 10th 0:00 UTC+0. The first 1,000 users registered for the Early Access get 10 INFI and share abundant prizes.
InfinityDefi(INFI) is a highly anticipated DeFi project at the end of 2020. Its project team are senior professionals from the financial and cryptocurrency industry in the Americas and Asia. It has obtained investment from Venus Capital, and is followed by many DeFi communities.
InfinityDefi(INFI) is a decentralized digital bank and an aggregated cryptocurrency management platform. It provides collateralized loans similar to Compound. However, it is the only platform to offer multiple value-added loans for one collateral with cross-platform support. Users can deposit, lend, and borrow cryptocurrency at some of the best interest rates in the industry.
Down the roadmap, InfinityDefi(INFI) will launch a series of derivative products: a multi-stable coin index, a DEX, a liquidity aggregation platform, a safety reserve, options, and convertible debt. It is a tech-driven project exploring the future of decentralized financial solutions and subverting the centralized industry.
Anticipating the launch, InfinityDefi(INFI) prepares a generous giveaway for early supporters. Community users only need to register with InfinityDefi(INFI) and transfer 0.01 ETH (about USD 5) to get 10 INFI and share a prize pool. The Fission incentive model is coming next. Community users will be able to get INFI token and USDT rewards for invitation of others to register. The more you invite and the more you share your link, the more rewards you get.
Click the link to participate: http://sunshine.infinitydefi.finance/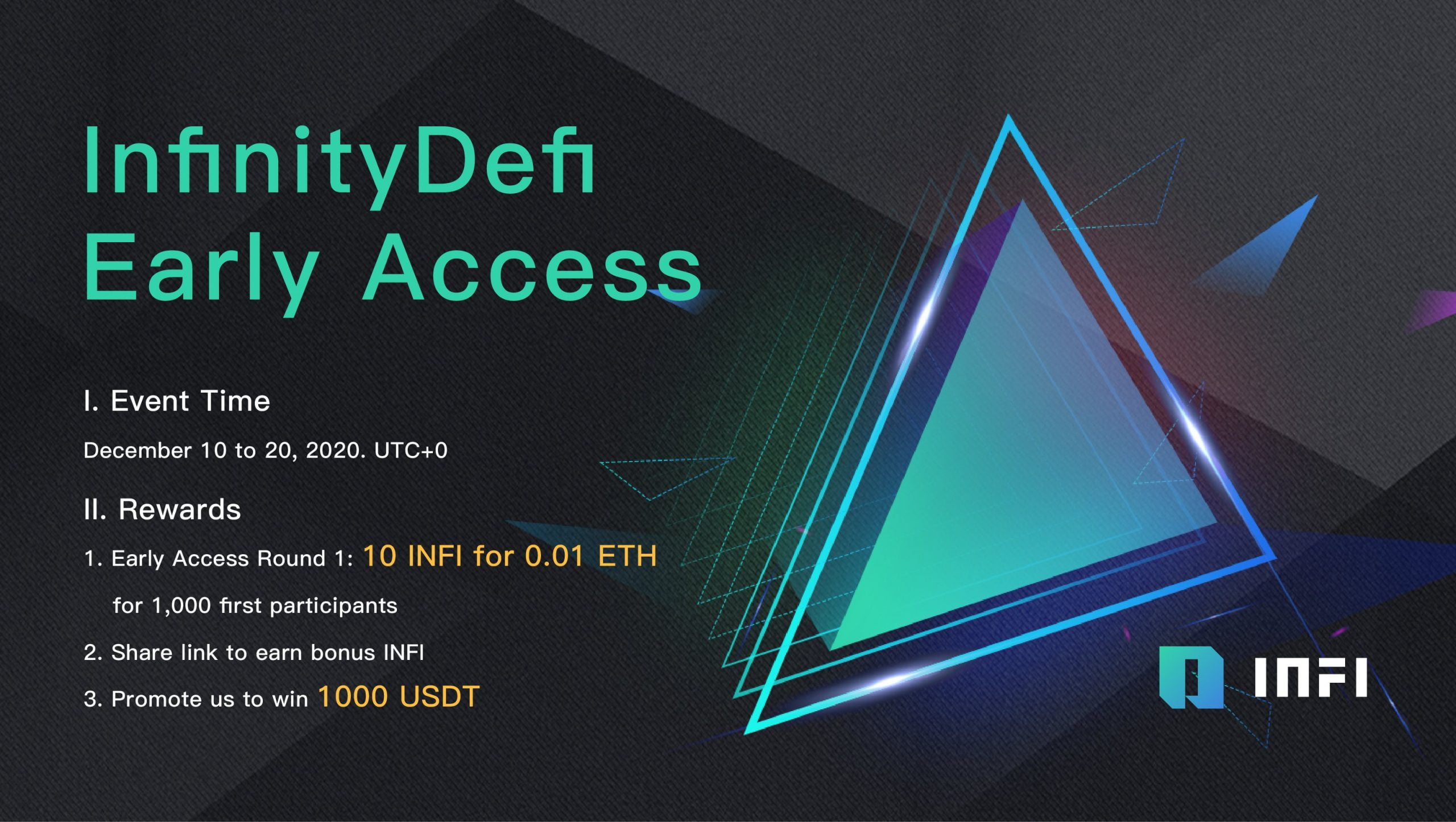 Event time: December 10 to 20, 2020. Limited participation!
InfinityDefi(INFI) builds community management on the governance token INFI and the equity token PPT. Holders of INFI can participate in project management, control the financial risks, and vote in the decision-making process, while PPT is a reward token earned through transactions on the platform. Users can exchange PPT to INFI.
At the end of December, InfinityDefi(INFI) takes the world over. The project's governance token INFI is about to hit the mainstream exchanges and start the transformation of global finance. InfinityDefi(INFI) is about inclusion. It strives to offer the basic financial services to everyone and move towards common prosperity relying on the benefits of blockchain technology.
INFI is inclusion!
INFI, the basic financial services for everyone!
INFI, the community autonomy that changes sovereign capital!
INFI, Decentralized Digital Banking!
INFI, the social financial experiment against centralized dictatorship!
INFI + finance, your freedom!
InfinityDefi White Listing has Started: www.infinitydefi.io
[email protected]
https://twitter.com/InfiDefi
Join the INFI Community: https://t.me/infigroup