According to a report by Ericsson Mobility, it is expected that there will be upwards of 28 billion connected devices worldwide by 2021.
The Era of the Internet of Things Has Arrived
The IoT Chain Foundation (ITC) advocates that data sovereignty belongs to the user, and the value generated by data should be shared with the producer. In the IoT Chain ecosystem, we use public-key cryptography to give each IoT device a unique ID. Based on the IoT Chain data classification solution, data will be classified and encrypted, and then stored locally, on-chain, or through distributed systems depending on the scenario. Data can be synchronized, transferred, and exchanged in a variety of use cases.
Supply Chain Finance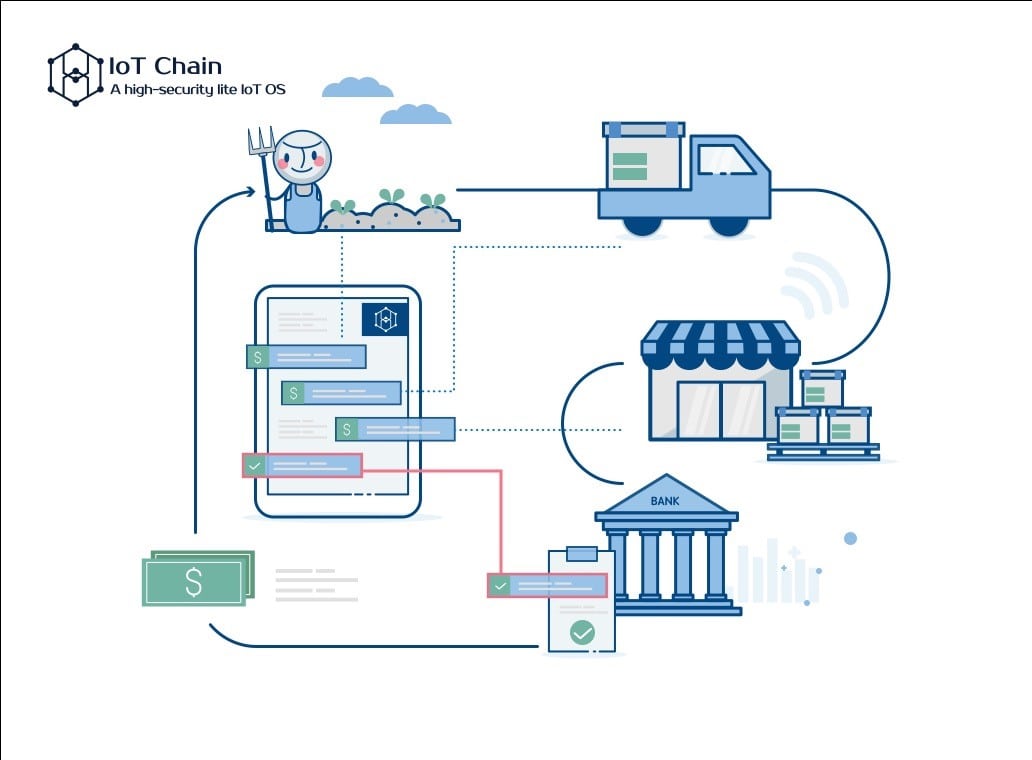 Industry Pain Point
In a traditional financial service model, small, medium, and micro business entities cannot demonstrate their credit capabilities due to a lack of appropriate collateral. The widespread, fragmented distribution of business entities in the supply chain industry leads to asymmetric information sharing and high transaction and management costs for financial institutions.
Solution
IoT Chain enables credible inclusive financial solutions through asset digitalization and creditization. Both upstream and downstream entities can contribute equally in data sharing. This data is synchronized to a dedicated distributed data store which is transparent, traceable, and tamperproof. The data store can ultimately be used to provide a reliable credit rating by validating the repayment ability of the entity.
Due to the nature of the IoT Chain data classification scheme, financial institutions cannot acquire, use, or verify credit and asset information without permission from the data provider. Using IoT Chain smart contracts, lenders and borrowers can reach an online credit agreement to clarify rights and avoid repeat pledges. Moreover, authorized financial institutions can conduct real-time reconciliations, follow up on related asset flows, and strengthen post-lending management.
Share Economies
Industry Pain Point
Many sharing economy mechanisms are centralized and use undisclosed market mechanisms which leads to a non-transparent distribution of benefits and price discrimination. The incentive mechanism for a true sharing economy should be open and transparent, and not altered arbitrarily. This will encourage participation and utilization of idle resources, ultimately paving the way for a greener society based on efficient use of finite resources.
Solution
IoT Chain (ITC) provides a decentralized resource sharing solution that supports peer-to-peer value exchange. The incentive mechanism in IoT Chain is open, transparent, and tamperproof because it is stored on the blockchain. IoT Chain preserves the incentive income of participating users, protecting value from bad actors and preventing others from changing the rules in the ecosystem.
Institutions and users alike can participate fairly in market transactions and data sharing. Through exclusive collections of distributed data, all circulating information such as profit distribution and transaction pricing is open, transparent, and traceable. Using the IoT Chain data classification solution, shared data can be purchased, accessed, and used through ITC token transactions after an encryption-based desensitization process.
Lastly, IoT Chain helps users and agencies form agreements in advance on how data revenue is distributed, ensuring fair and transparent income distribution where users receive their fair share.
Photovoltaic Energy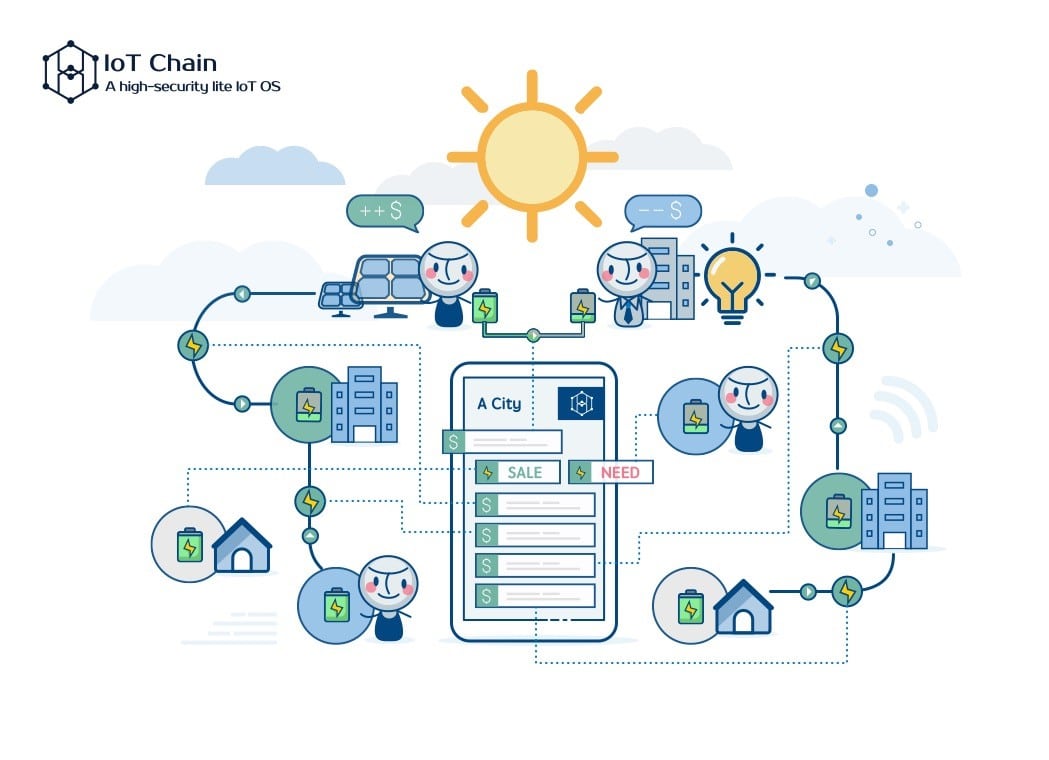 Industry Pain Point
When photovoltaic cells are used to generate electricity, the energy output rarely matches demand perfectly, which results in waste. Traditional energy systems are dominated by large institutions, and their centralized operation does work efficiently with a distributed power model, leading to wasted residual energy.
Solution
Using IoT Chain, photovoltaic energy partners can build decentralized green energy sharing communities. Direct peer-to-peer transactions can be used to match users with electricity demands to those with a surplus. ITC tokens are used for settlement, and transactions are secured by smart contracts that optimize energy matching to reduce waste. Moreover, the community is able to share data on equipment and assets, creating a collaborative collection of distributed data that is open, transparent, and traceable. The IoT Chain data classification solution ensures that sensitive information is controlled and protected at all times.